Sheet Pan Chili Paste Chicken with Sweet Potatoes is a flavorful, healthy meal that's simple enough for anyone to prepare at home. This sheet pan dinner is a great weeknight meal for families and couples to share. You can easily cut this recipe in half or double it, depending on how many people you're cooking for.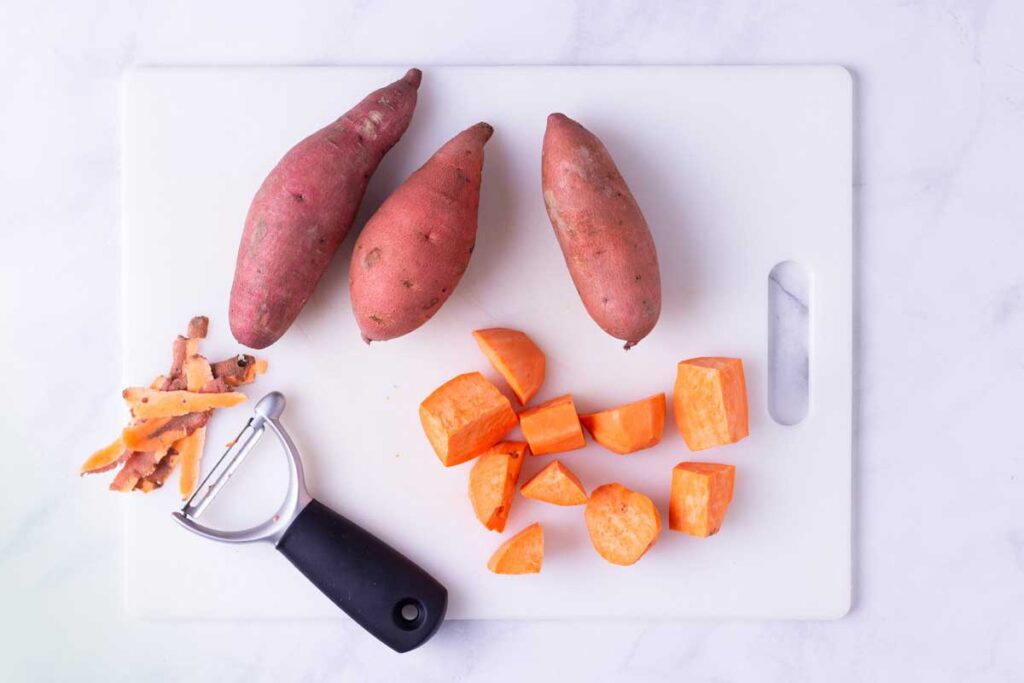 Ingredient Notes and Recipe
Boneless, skinless chicken thighs or breasts could both be used in this recipe. You can also use bone-in, skin-on pieces of chicken. If doing so, we suggest cutting the potatoes and onion slightly larger, 1 ½ inches and ¾ inch thick respectively. Cook the chicken longer, until the juices run clear and the center registers 165°F.
Feel free to substitute regular potatoes for sweet potatoes, depending on your preference. You could also use white onion instead of red, or omit the onion entirely.
Cumin and paprika are totally optional in this recipe, but provide smokey, earthy flavor which works well with the chili paste. If you don't have smoked paprika, any paprika will due. You can even use chili powder instead of, or in addition to, the paprika.
Serves 4
Prep time: 15 minutes
Cook time: 30 minutes
Total time: 45 minutes
Ingredients:
1 ½ lbs boneless, skinless chicken thighs or breasts
1lb sweet potatoes, peeled and cut into ¾ to 1-inch cubes
½ medium red onion, cut into ½ inch thick slices
¼ cup extra virgin olive oil
1-2 tbsp chili paste (adjust based on desired spice level)
½ tsp ground cumin
½ tsp ground smoked paprika
½ cup loosely pack cilantro leaves
2 scallions, thinly sliced
6oz plain yogurt
2 limes, cut into wedges
Salt and pepper to taste
Directions:
Preheat oven to 425°F.
Place chicken, sweet potatoes and red onion on a baking sheet. Season with salt and pepper.
In a small bowl, whisk together oil, chili paste, cumin and paprika. Pour over chicken and vegetable mixture. Toss to coat.
Bake in preheated oven for about 30-40 minutes or until chicken and potatoes are cooked through. If chicken is not browning as desired, place under the broiler for the last 3-5 minutes of cooking.
Scatter over cilantro and scallions. Serve with yogurt and lime wedges, as desired.