Email Verification Giveaway Official Rules
NO PURCHASE NECESSARY TO ENTER OR WIN. A PURCHASE DOES NOT INCREASE YOUR CHANCES OF WINNING. VOID WHERE PROHIBITED OR OTHERWISE RESTRICTED BY LAW. The details of the prize and how to enter the Giveaway are described below.
HOST: Stater Bros. Markets, 301 S. Tippecanoe Ave., San Bernardino, CA 92408
SPONSOR: Stater Bros. Markets
TIMING:
The Giveaway is for "Submission Promotion Period" from January 8, 2021 (12:00am) – February 5, 2021 (11:59pm) for First Round; February 6, 2021 (12:00am) – March 5, 2021 (11:59pm) for Second Round; March 6, 2021 (12:00am) – April 6, 2021 (11:59pm) Online entries received prior to January 8, 2021 or after Third Round's April 5, 2021 "Submission Promotion Period" are disqualified. Winners will be selected randomly. Winners will be announced on or around February 6, 2021; March 6, 2021; April 6 respectively.
This will either take Entrants to manage account or sign in page if they aren't signed in. They need to see "Verified" to be entered. Individuals already verified are already entered to win.
Here is what Digital Deals shows to current customers: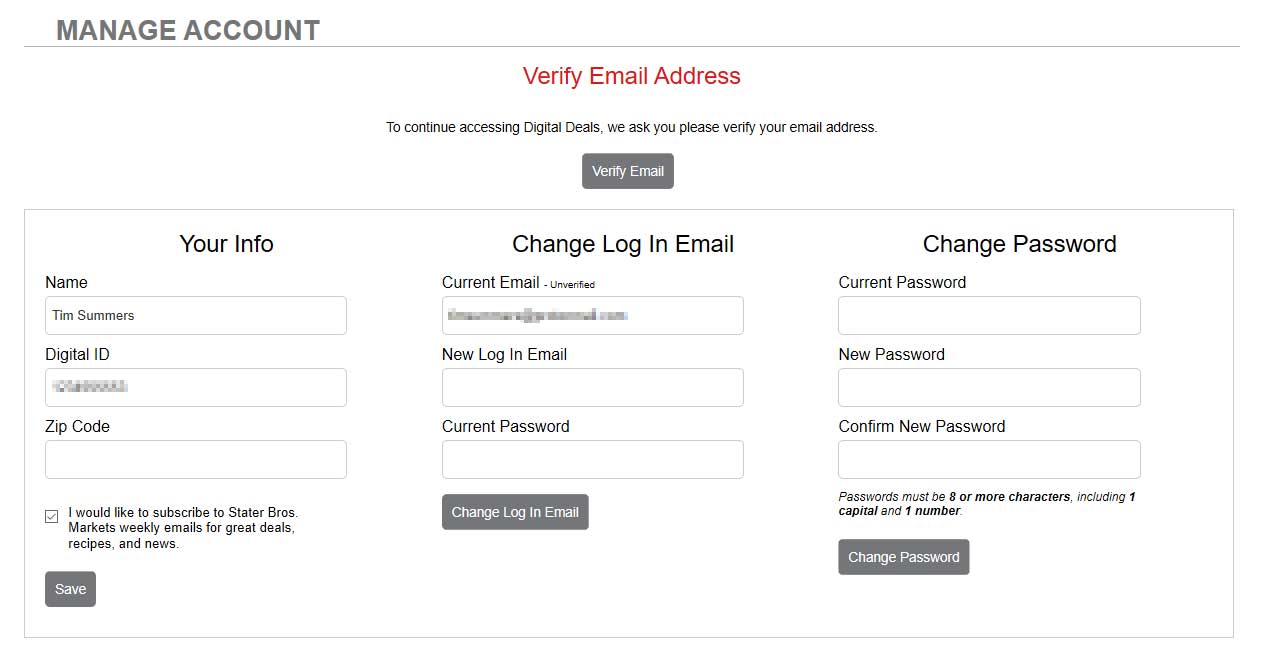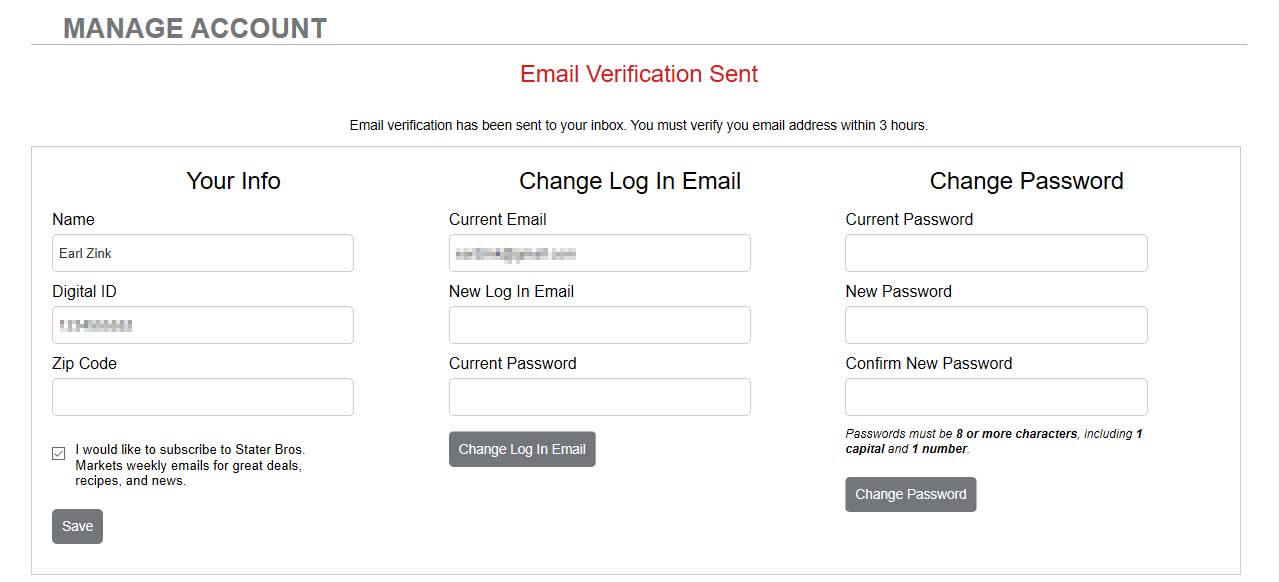 Then Entrants will receive an e-mail to verify their e-mail: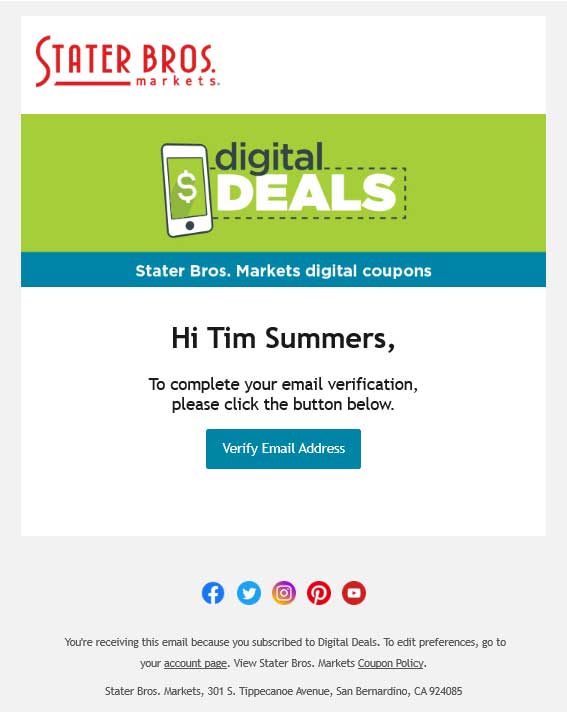 After, Entrants the Manage Account should look like:
For New Customers: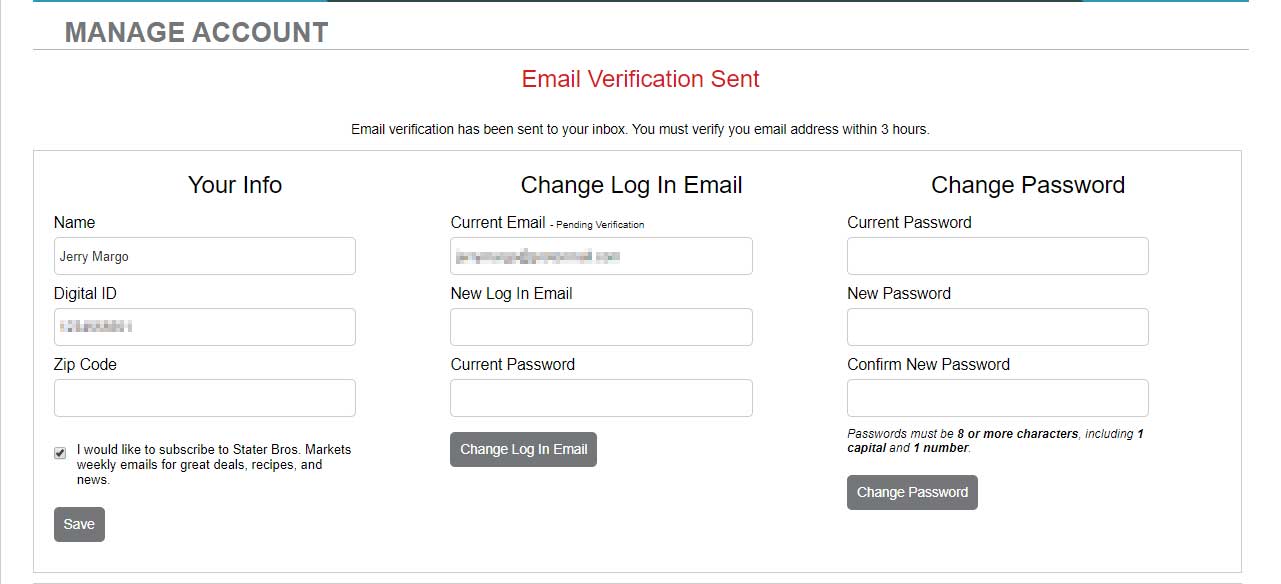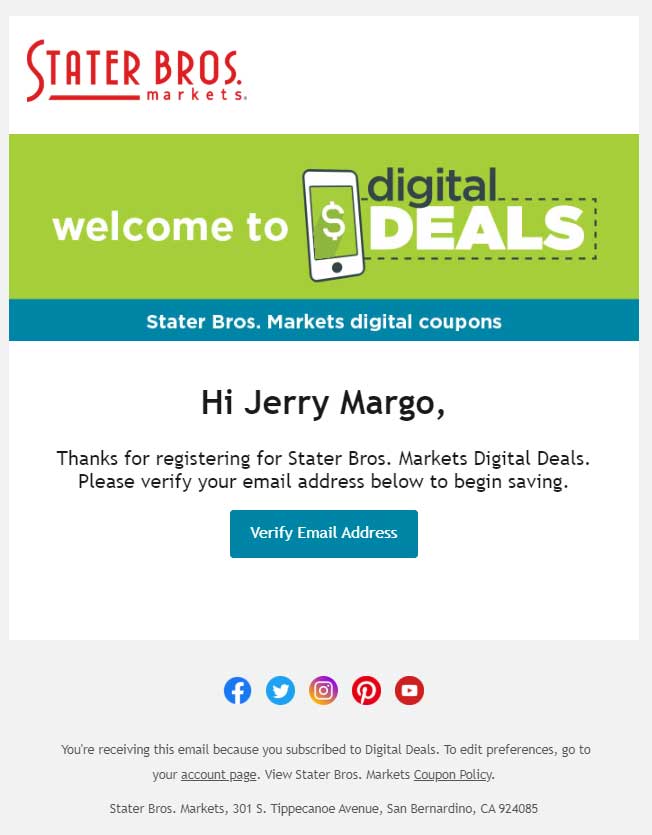 GUIDELINES:

One (1) email verification per individual.
Any attempt by a person to enter more than once with multiple e-mail accounts will result in disqualification.
HOW TO WIN:

After you verify your email. You'll see "Verified" on your "Manage Account"
Example:

ELIGIBILITY:  Open to legal U.S residents of California who are 18 years of age or older at time of entry. Void where prohibited by law.
SELECTION OF POTENTIAL WINNER: One Winner per round will be selected and will be determined based on completeness of entry. All entries will be verified by Digital Team on or about April 8, 2021 for the current round.
Sponsor's decisions as to all matters related to administration of the Giveaway and selection of winner is final. All potential winners must comply with all terms and conditions set forth in these Official Rules and winning is contingent upon fulfilling all requirements.  The potential winner will be notified on or about April 8, 2021. If any of the potential winners cannot be contacted within 24 hours, an alternate entrant will be selected in his or her place from all eligible entries received. If alternate entrant fails to respond, the prize will be retained by the host for future giveaways. The odds of winning depend on the number of eligible entries received and random selection.
PRIZES: Limit one (1) prize per person per household.
$200 Stater Bros. Markets Gift Card
RECEIVING PRIZES: We may ask winners to pickup their prize at our Corporate Office located at 301 S. Tippecanoe Ave., San Bernardino, CA 92408. If prize cannot be picked up an alternative may be to direct mail prize to winner. Receiving prize may take a few days to meet the best schedules for both the winner and sponsor.
NO CASH OR OTHER SUBSTITUTIONS ARE PERMITTED, EXCEPT BY SPONSOR, WHO RESERVES THE RIGHT TO SUBSTITUTE THE PRIZE WITH ONE OF EQUAL OR GREATER VALUE.
 All federal, state and local taxes related to the Prize and the other prizes are the sole responsibility of the Photo Contest winner(s).  All other expenses and costs, not expressly listed above are the Photo Contest winners' sole responsibility. No refunds or credit for changes are allowed.  No transfer of the Prize is permitted. Return of any prize notification as undeliverable may result in disqualification and selection of any alternate winners.
GENERAL CONDITIONS: Participation in the giveaway constitutes entrant's full and unconditional agreement to and acceptance of these Official Rules and to be contacted by e-mail and/or telephone. A potential winner may be requested to provide the Sponsor, Stater Bros. Markets, with proof that the potential winner is the authorized account holder of the e-mail address associated with the winning entry and is an eligible United States resident.
Entrants acknowledge that Sponsor is not liable for reimbursement of any prizes otherwise payable to contestants who are in violation of this provision.
Stater Bros. Markets ("Sponsor") are not responsible for late, incomplete, or misdirected entries, or for any error, human, technical or otherwise, which may occur in the processing of Photo entries.  Proof of sending will not be deemed to be proof of receipt. All entries become the exclusive property of Sponsor and do not have to be acknowledged as received.
USE OF DATA: Sponsors will be collecting personal data about participants (including, without limitation, e-mail addresses) when they enter online.  By participating online, entrants hereby agree to all information uses by Sponsor and their affiliates.
PUBLICITY: Acceptance of a prize constitutes permission for the Sponsor and their advertising and promotional agencies to use submission, winner's name, address (city and state), likeness and/or voice for advertising and promotional purposes for this giveaway  only, without additional compensation or approval, except as otherwise prohibited by law.
 PRIVACY POLICY: Any personally identifiable information collected from entrant during participation in the Giveaway will be used by Sponsor to administer the Giveaway and in accordance with Sponsor's Privacy Policy as stated at https://www.staterbros.com/privacy-policy/.
 The Giveaway is governed by the laws of the State of California, and participants in the Giveaway hereby consent to the exclusive jurisdiction and venue of the Superior Court of San Bernardino County, California, for any causes or controversies arising out of the Giveaway. Each participant waives any and all objectives to jurisdiction and venue in these courts. All applicable federal, state and local laws and regulations apply. Giveaway may only be entered in or from the United States and entries originating from any other jurisdiction are not eligible for entry.
Except where prohibited by law, each winner grants to Sponsor and its advertising agencies the right to use and publish their photos, proper names, likeness, voices, opinions, answers to questions, and biographical information in any media to promote Sponsor and the Giveaway without additional compensation.
By entering, participants release and hold harmless Sponsor, their subsidiaries, affiliates, directors, officers, employees, and agents from any and all liability for any injuries, loss or damage of any kind arising from or in connection with the Giveaway or receipt or use and/or misuse of any prize.
Sponsor reserves the right to cancel or modify the Giveaway if fraud or any other factor impairs the integrity of the Giveaway as determined by Sponsor in its sole discretion. If, in the Sponsor's opinion, there is any suspected or actual evidence of electronic or non-electronic tampering with any portion of the Giveaway or if technical difficulties compromise the integrity of the Giveaway, the Sponsor reserves the right in its sole discretion to void any entries at issue (including disqualifying any individual who tampers with the entry process), and to cancel, terminate, modify or suspend the Giveaway, in whole or in part, at any time without notice.  In the event of such cancellation, Sponsor reserves the right to award prizes in a random drawing from all eligible entries received before the time of cancellation. The odds of winning depend on the number of eligible entries received.
 Sponsor assumes no responsibility for any error, omission, interruption, deletion, defect, delay in operation or transmission, communications line failure, theft or destruction of, unauthorized access to, or alteration of, entries.  Sponsor is not responsible for any problems or technical malfunction of any network or lines, computer online systems, servers, or providers, computer equipment, software, failure of any e-mail or entry received by Sponsor on account of technical problems or traffic congestion during Promotion Period or at any website, any combination thereof, or otherwise, including any injury or damage to entrant's or any other person's computer related to or resulting from participation or downloading any materials in the Giveaway. This promotion is in no way sponsored, endorsed or administered by, or associated with, Instagram or Facebook.
CAUTION: ANY ATTEMPT BY AN ENTRANT TO DELIBERATELY DAMAGE ANY WEBSITE OR UNDERMINE THE LEGITIMATE OPERATION OF THE SWEEPSTAKES MAY BE A VIOLATION OF CRIMINAL AND CIVIL LAWS AND SHOULD SUCH AN ATTEMPT BE MADE, THE SPONSOR RESERVES THE RIGHT TO SEEK DAMAGES FROM ANY SUCH PERSON TO THE FULLEST EXTENT PERMITTED BY LAW.