Dry January is an increasingly popular New Year's resolution for those looking to take a break from drinking alcohol. As a way to reset after the holidays, it's a great opportunity to focus on your health and wellbeing. Not only does it give you a chance to give your body a break from alcohol's effects, but it also encourages you to find other alternative ways to destress.
Non-alcoholic options are becoming more widely available, offering a variety of flavors and experiences that can make it easier to stick to your dry January commitment. Follow along as we explore the benefits of taking part in Dry January and provide some tips for finding alcohol-free alternatives that can provide just as much enjoyment.
What are the beneficial reasons to participate in dry January?
There are long-term health benefits.
According to a study done by the BMJ Open, they have found that abstaining from alcohol for a month can lead to improved sleep, increased mental clarity, improved mood, decrease blood pressure and increased energy levels. Additionally, cutting out alcohol for a month can lead to better digestion and improved liver function and skin health.
Going alcohol free will save you money.
Drinking habits can be costly and it adds up fast when budgeting your money. With no money being spent on alcohol for a month, you might find your wallet with a few extra dollars in it.
Replace old habits with healthier ones.
January is the ideal time to jumpstart a new habit for yourself, whether it's going to the gym or developing a new skill. Alcohol can lead to sleepiness and when you stop drinking you may notice that you have more energy. With this newfound energy, there's a whole heap of other hobbies you can engage in.
Alcohol-free mocktail recipes to enjoy during dry January.
Alcohol-free Cantaloupe and Lime Sparkling Mocktail
Ingredients:
1 Cantagold cantaloupe melon, cubed
1 1/2 cups water
1/2 a lime, juiced
1/2 ounce agave nectar
Small bundle of mint leaves
Splash of Liquid Death lime sparking water
Directions:
Blend together the cantaloupe melon and water until smooth, strain out pulp with a fine mesh strainer. To a cocktail shaker, add 2 ounces of cantaloupe juice, lime juice, agave nectar, a few mint leaves, and ice. Shake until combined and chilled. Strain into a coupe glass rimmed with sugar and fill to the top with lime sparkling water.
Minty Cucumber-Lime Agua Fresca
Ingredients:
1 English cucumber, coarsely chopped
1/4 cup fresh lime juice plus additional wedges (optional)
3 tablespoons fresh mint leaves
2 tablespoons Stater Bros. granulated sugar
Cucumber slices for garnish (optional)
Directions:
In blender, purée cucumber, lime juice, mint, sugar and 2 cups cold water on high until smooth; strain through fine-mesh strainer into pitcher. Stir in 1 1/2 cups cold water and lime wedges, if desired; refrigerate at least 30 minutes or until chilled. Makes about 4 cups. Serve garnished with sliced cucumber.
What alternatives to beer or wine should I try during dry January?
If you find it difficult to give up alcohol or just need something to curb your craving, here's what we recommend you try.
Non-Alcoholic Beers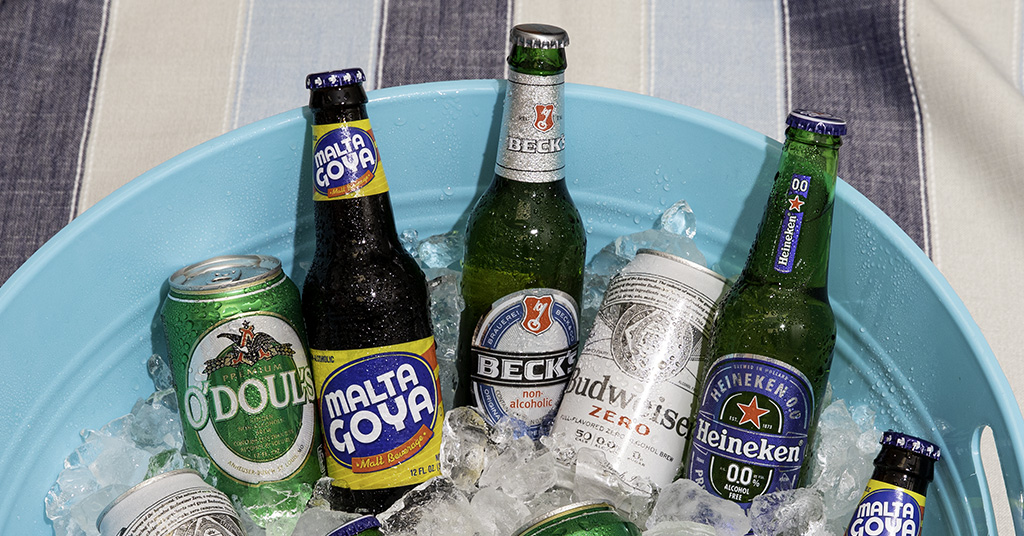 O'Doul's Golden Non-Alcoholic Brew
O'doul's Golden Non-Alcoholic Brew is the perfect choice for those who want to enjoy a refreshing beverage without the alcohol content. These 12 packs of golden brews are sure to tantalize the senses and quench your thirst. This low-calorie, low-carb brew has a smooth, light taste.
Beck's non-alcoholic beer is the perfect beverage for those who want the taste of beer without the alcohol. This 6-pack contains six bottles of crisp, light beer with a mild taste and a full-bodied finish. Its amber color and smooth texture make it a perfect accompaniment to any meal.
Budweiser Zero is the perfect choice for those looking to enjoy the flavor of Budweiser without the alcohol. This 12-pack of refreshing beers has zero sugar and zero carbs, making it a great choice for those looking for a healthier alternative.
Heineken Alcohol Free Beer 6 Pack is perfect for those who desire the delicious, full-bodied taste of Heineken without the added alcohol. Unlike other non-alcoholic beers, Heineken Alcohol Free Beer 6 Pack is brewed with the same great ingredients and processes as regular beer, including the same yeast strain used in Heineken's regular lager. It has a light, refreshing taste with a hint of bitterness.
This six-pack contains six 12-ounce bottles of O'Doul's Amber Malt Beverage. This amber malt beverage has a full-bodied flavor, with a touch of caramel maltiness and a hint of hop bitterness. It contains no alcohol and is made with a blend of barley and wheat malt.
Malta Goya Non-Alcoholic Malt Beverage
Malta Goya Non-Alcoholic Malt Beverage is an ideal choice for those looking for a delicious and refreshing beverage without the alcohol content. This beverage is made with barley malt extract, cane sugar, and natural flavors, creating a sweet and full-bodied taste.
Non-Alcoholic Wines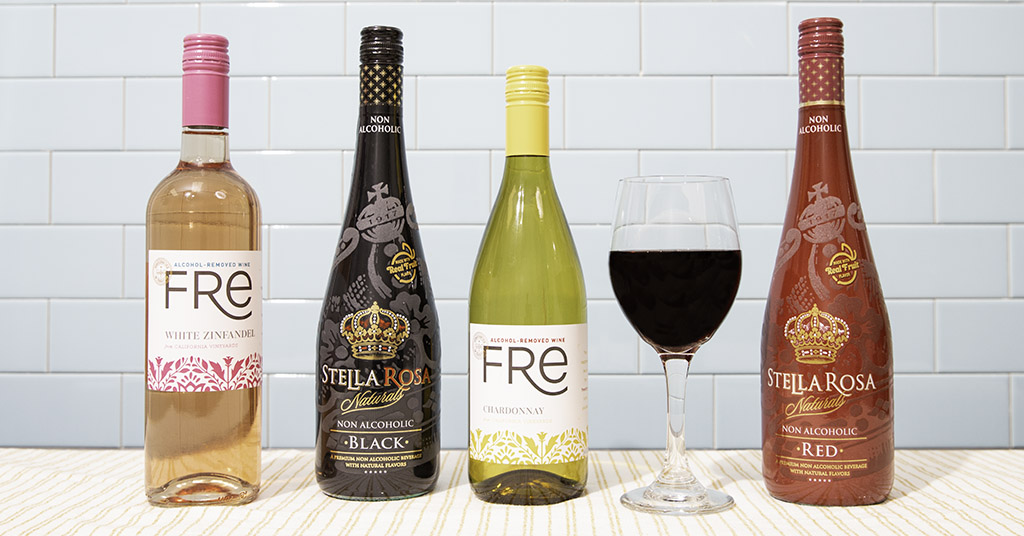 Stella Rosa Non-Alcoholic Red Wine
Stella Rosa non-alcoholic red wine is an exceptional beverage for those who still want to enjoy a delicious and unique wine without the alcohol. This sweet and light-bodied wine is made from a blend of red grapes, giving it a fruity taste with notes of raspberry and cherry. Perfect for sipping on its own or pairing with a variety of foods, Stella Rosa non-alcoholic red wine is sure to please any palate.
Stella Rosa Non-Alcoholic Black
Stella Rosa Non-Alcoholic Black is a delicious sparkling beverage offering a unique blend of natural grape juices and flavors. This beverage is perfect for those looking to enjoy a delicious, refreshing drink without the worry of alcohol. The natural grape juices provide a pleasant sweetness, while the flavors of black currant and elderberry add an extra layer of complexity.
Sangria Senorial Non-Alcoholic Sparkling Sangria
Blended from the juiciest oranges, apples, and grapefruit, this delicious sparkling sangria is sure to tantalize the taste buds of any sangria fan. Their unique recipe also includes a touch of aromatic herbs, adding an extra layer of flavor to each sip.
Fre Alcohol-Removed Chardonnay
Our Fre Alcohol-Removed Chardonnay provides a full-bodied, juicy and plush taste in a non-alcoholic format. Made in California from premium Chardonnay grapes, this wine offers a refreshing balance of tropical flavors and citrus aromas, with notes of green apple and ripe pear.
Fre Alcohol-Removed White Zinfandel
This Fre Alcohol-Removed White Zinfandel is a delicious, low-calorie alternative to traditional white zinfandel. Rich and fruity, this alcohol-removed version offers the same great taste of a white zinfandel with the same bold flavor of raspberries, red apples, and peaches.
Will you be doing a Dry January challenge this year? Let us know by tagging us on Facebook, Instagram, and Twitter! All of these products can be found at your local Stater Bros. Markets.