Hi, if you're the type to skip breakfast in the morning or you just have a cup of coffee or tea; keep reading as you should consider modifying your morning eating habits. Starting your day with a nutritious meal improves your heart health, reduces brain fog, and lowers your risk for diabetes according to the Cleveland Clinic. So there very may well be truth to the saying we've all heard; "Breakfast is the most important meal of the day." Your body needs fuel in order to power you through the day and a nutrient packed breakfast is a superb way to help you lose or maintain a healthy weight. So try these 5 heart healthy breakfast recipes for weight loss; they're delicious, nutrient dense, and can help you reach your health goals.
1. Bircher Muesli
What is muesli?
Muesli is a popular heart healthy breakfast food from Europe that consists of a combination of oats, dried fruits, nuts and seeds. You can create your own custom muesli blend with oats or other whole grains, your preferred dried fruits like cherries, cranberries and figs, nuts and seeds, think chia, flax, and hemp. Just make sure that you store your muesli mix in an air-tight container to keep it fresh. Alternatively, we conveniently carry a few options for pre-mixed muesli blends; our favorite is Bob's Red Mill Old Country Style Muesli and a gluten-free version is also available, Bob's Red Mill Gluten Free Muesli.
What is Bircher muesli?
Back in the 1900s, a Dr. by the name of Maximilian Bircher-Benner was hiking through the Swiss Alps and was served a meal that inspired him to create his version of muesli. He believed that in addition to caring for his patients with medicine and treatments, a nutrient rich diet prepared with whole foods could help aid recovery and prevent them from becoming more sick. Dr. Bircher created a nourishing recipe packed with essential nutrients for gut health, a stronger immune system, cardiovascular (heart) health and plenty of fiber.
What is the difference between Bircher Muesli and regular muesli?
Bircher Muesli is different than regular muesli because of the addition of fresh fruits, milk, yogurt, fruit juice, and toppings. Plus, it's usually served cold. Regular muesli is often served hot and prepared with only water or milk.
What is Bircher Muesli made with?
Bircher muesli is made with milk, yogurt, fresh fruits, fruit juice, nuts, and toppings. It's completely customizable to your liking! We recommend focusing on including in season fruits for the best flavor and when they're at peak nutrition.
Common ingredients include:
Fruits like strawberries, blackberries, raspberries, cherries, and grapes. Stone fruits like peaches, plums, and apricots work well too.
Shredded apples or pears, which gives the dish a nice texture. Alternatively, carrots would be a great option.
Milk, whole to non-fat. It's your choice!
Plain yogurt, especially Greek or European-style. It's best to stick to plain yogurt so the flavors of the fresh fruit really shine through however, vanilla or honey flavored yogurt works just as well.
Fruit juice, specifically a citrus as they provide a nice tartness to the dish. Oranges, tangerines, and mandarins work well.
Nuts like walnuts, pecans, almonds, and cashews work well.
Popular toppings include shredded coconut flakes, honey, granola, and dark chocolate chips.
Is Bircher Muesli vegan?
Using the standard recipe, it is not. However, it's very easy to veganize Bircher Muesli! Simply substitute any milk product for your favorite dairy-free alternative and voila, it's vegan.
How to make Bircher Muesli?
Ingredients:
2 cups muesli oat blend (bob's red mill brand)
1 cup plain Greek yogurt or non-dairy yogurt
1 cup milk or non-dairy milk, plus more if needed
1 granny smith or honey crisp apple, grated
1 Orange, squeezed
2/3 cup chopped walnuts or pecans
1 cup total of blackberries, strawberries, and/or raspberries cut in half
1/4 cup maple or agave syrup
Handful of shredded coconut flakes
Makes approximately 2-3 servings. Additional berries, coconut flakes, nuts, and maple syrup for serving.
Directions:
In a large bowl with a lid, combine muesli oat blend, yogurt, milk, apple, orange juice, nuts, berries, maple syrup and coconut flakes together. Allow to cool and soak in the fridge for at least one hour and preferably overnight. When serving, loosen up the Bircher Muesli by adding an additional splash of milk if it's too thick. Top with additional desired toppings and serve.
2. Huevos A La Mexicana (Mexican Scrambled Eggs)
What are huevos a la Mexicana?
Huevos a la Mexicana is a popular breakfast food dish from Mexico. It's made by sautéing vegetables like onions and tomatoes along with jalapenos and cilantro for a protein-packed and heart healthy breakfast. Think of Huevos a la Mexicana as an upgraded and healthier version of regular scrambled eggs. Huevos a la Mexicana is commonly served with a few sides like beans, a nopal (cactus) salad, queso fresco (fresh Mexican cheese), tortillas, avocados and salsa.
What vegetables are used in Huevos a la Mexicana?
Huevos a la Mexicana is traditionally made with tomatoes, onions, jalapeno or serrano peppers, and cilantro. However, it's completely adjustable to your liking. Veggies like poblano peppers, bell peppers, nopales, zucchini, and mushrooms would work just as well.
How to make huevos a la Mexicana?
Ingredients:
3 large eggs, beaten
1/4 white onion, chopped
1 tomato, chopped
1 jalapeno or serrano pepper, chopped
1 small garlic clove, minced
small handful of cilantro, chopped
1 tbsp. heart healthy oil like avocado or extra virgin olive
salt and pepper, to taste
Optional Sides and Garnishes:
fresh salsa
warmed corn tortillas
sliced avocados
pinto or black beans
freshly crumbled queso fresco
Directions:
Heat oil on a large nonstick skillet over medium flame, add onions, and cook until they've slightly browned. Then, add tomato, jalapeno or serrano pepper, and garlic. Continue to sauté until the tomatoes become tender and lose some of their juice. Add in the eggs, cilantro, and spices. Scramble the eggs until they're fully cooked. Serve with your favorite sides.
3. Turkey Bacon and Veggie Egg Bites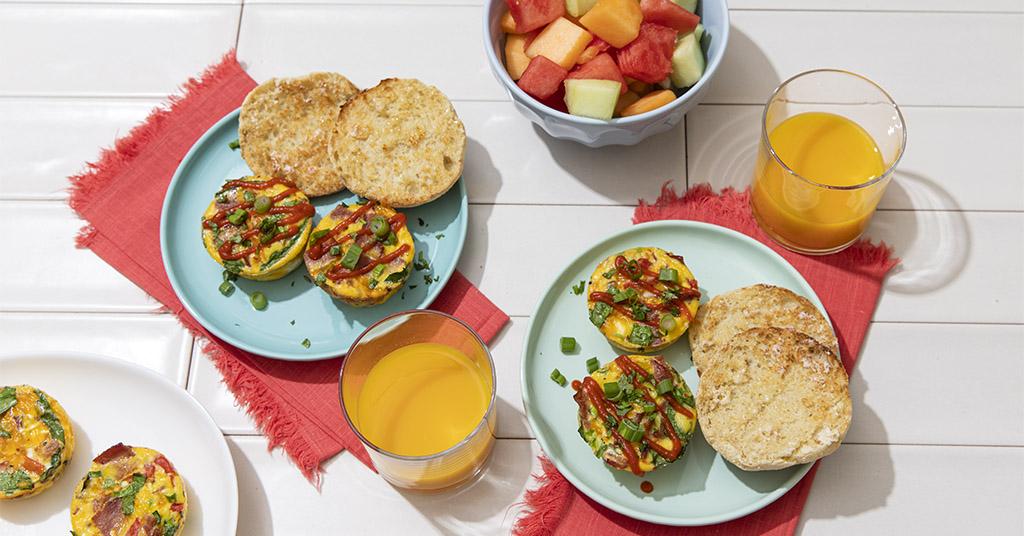 What are egg bites?
Egg bites are the perfect to-go breakfast if you're always on the go. They're made by mixing protein-packed eggs, veggies, light turkey bacon, greens, and spices. Think of them as a miniature omelet you can make beforehand, pop into the microwave, and take anywhere. And there is no special equipment you need to make them! Our recipe uses small muffin tins to perfectly portion the egg bites. Also, the recipe is completely customizable to your liking and can be made plant based by using substitutes.
Are egg bites gluten free?
Our egg bite recipe is 100% gluten free. We used Full Circle Uncured Turkey Bacon, Full Circle Olive Oil Spray, and Stater Bros. Shredded Cheddar Cheese in this recipe, which are all gluten free. However, we always recommend you double-check each ingredient you use to make sure it's gluten free.
Can you freeze egg bites?
Absolutely! Egg bites are a great breakfast to food freeze and quickly reheat when you're ready to eat them. Before you freeze the egg bites, allow them to completely cool and store them in either an air-tight container or zipper freezer bag.
How to make egg bites?
Ingredients:
8 large eggs, beaten
1 cup Stater Bros. cheddar cheese, shredded
1/3 cup Stater Bros. half and half
2/3 cup tomatoes, diced
1/2 packed cup fresh baby spinach, chopped
1/3 cup green onions, thinly sliced
1/2 package Full Circle Market turkey bacon, cooked and chopped
1 tsp. garlic powder
1 tsp. onion powder
1/2 tsp. red chili flakes
1/4 tsp. salt
freshly ground pepper, to taste
Full Circle Market olive oil cooking spray
Optional Garnishes:
Sriracha
Freshly minced cilantro or parsley
Directions:
Preheat your oven to 350 degrees Farenhieght, spray a 12 count muffin tin with the oil cooking spray, and set aside. In a large bowl and whisk the eggs, half and half, salt, pepper, and spices together until well combined. Add the diced tomatoes, green onions, spinach, cheese, and turkey bacon; and combine by stirring with a large spoon. Scoop equal amounts of the egg mixture to each muffin cup and bake until they're set, golden, and puffed (about 15 to 18 minutes). Egg bites will deflate after they cool.
Now that you've got some healthy recipes to start your day off strong, continue eating well and check out our tips for easy and healthy meal prepping blog for your lunch.