Iced Coffees are the best way to keep cool during warm weather and get energized! The refreshing combination of rich tasting coffee and ice on a hot summer's morning is unlike any other. Pair these iced coffees with your favorite pastries, a good book, and favorite outside chair for the perfect summer morning.
Horchata Cold Brew with Torani Vanilla Syrup
Rice. Cinnamon. Oat milk. Cold brew. Torani vanilla syrup. We can't think of a better combination! Horchata is a popular drink from Mexico made with blended rice, cinnamon, and milk. Mixed together with cold brew and sweetened with Torani vanilla syrup makes it simply amazing.
Ingredients
1 cup uncooked white rice
1 cup filtered water
1 1/2 cups oat milk
1 whole cinnamon stick (sub. 1 tsp. ground cinnamon if unavailable)
2 ounces Torani vanilla syrup
Cold brewed or iced coffee
Ice
Directions
Prepare cold brewed coffee using favorite method. If you're new to cold brew check out our 4 Ways to Brew Coffee blog.
In a bowl, soak the rice with water and cinnamon stick. Allow the rice to soak for at least an hour, ideally overnight. In a blender add the soaked rice and cinnamon mixture, Torani vanilla syrup, and oat milk. Blend until as smooth as possible. Strain the mixture through a fine mesh sieve. Add ice to a tall glass, fill halfway with cold brewed coffee and fill to the top with the horchata creamer. If you like your coffee sweeter, simply add more Torani vanilla syrup as desired.
Mint Mojito Iced Coffee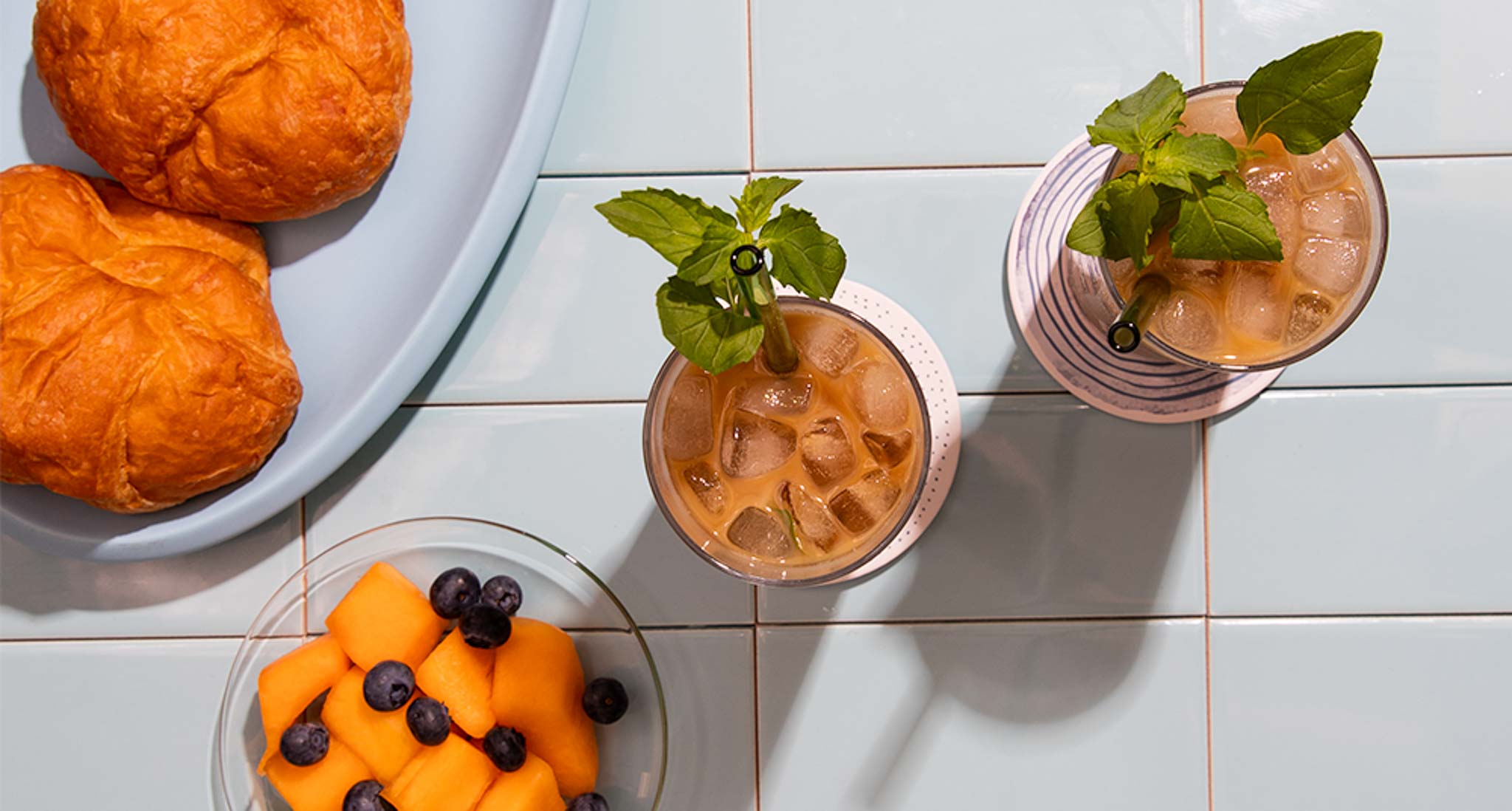 Hear us out! We know this sounds like an odd combination or rather, it is one. The mint pairs perfectly with iced coffee and cream. Think of the flavor sort of like a chocolate mint. We're convinced once you try it, there's no going back!
Ingredients
Fresh mint
Simple syrup
Oat milk or half and half
Ice
Cold brewed or iced coffee
Directions
In a tall glass, add a few mint leaves and desired amount of simple syrup. Muddle carefully to allow the mint's flavors and oils to be expressed. Fill the glass with ice, pour in iced coffee or cold brew, and top with desired amount of milk. Stir to combine and garnish with a mint sprig.
Iced Mexican Mocha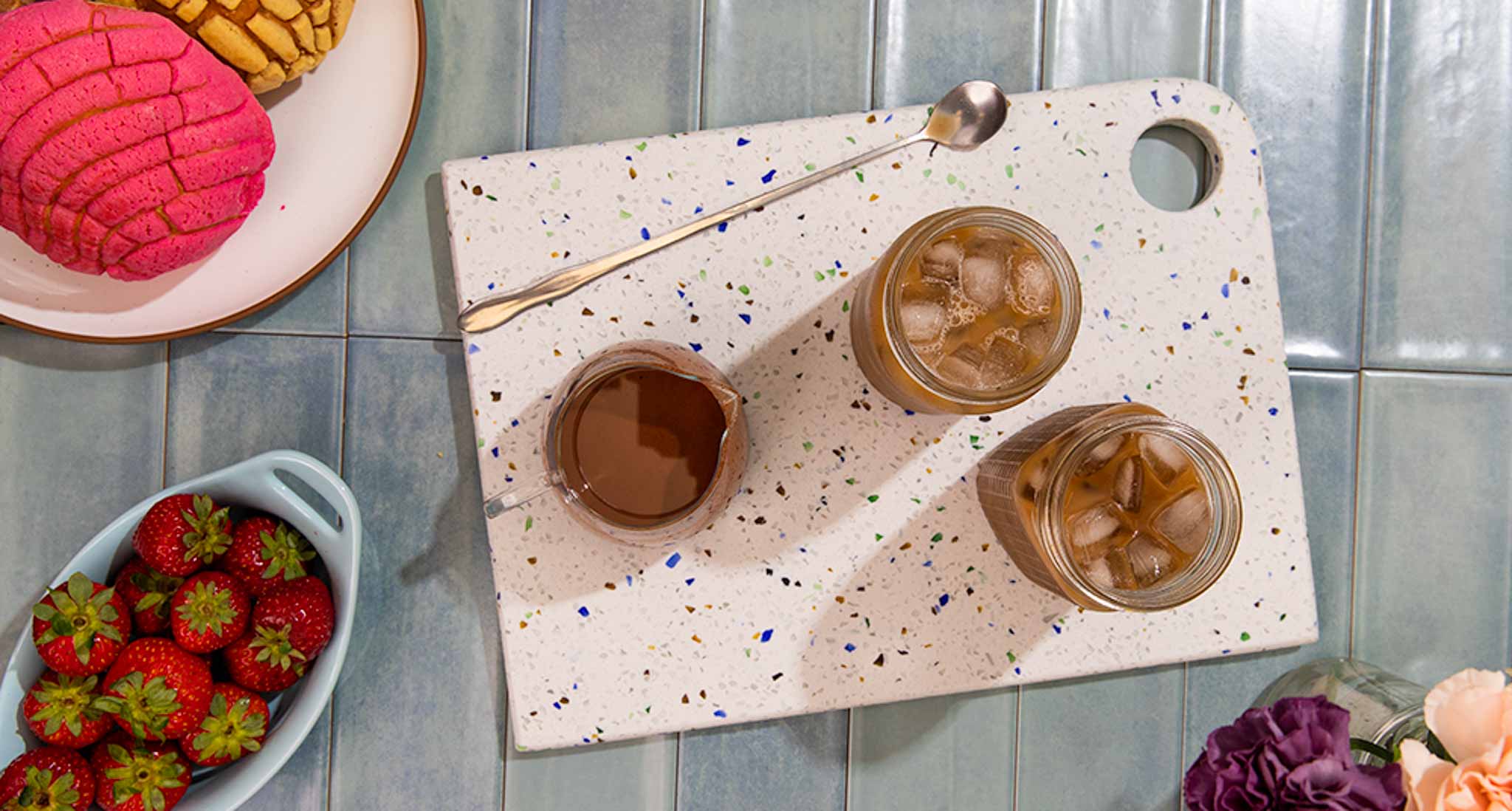 The secret to this iced coffee is Mexican spiced chocolate bars. It's rich, sweet, and made with warm spices. We're sure you're going to love it with your iced coffee!
Ingredients
1 Mexican chocolate bar (Ibarra or Abuelita)
1 1/2 cups filtered water
2 Tbs. sugar
Oat milk or half and half
Ice
Cold brew or iced coffee
Directions
Prepare the Mexican mocha sauce by adding water, Mexican chocolate bar, and sugar to a saucepan over medium-low heat. Stir the chocolate and sugar until it's fully dissolved. Allow the mixture to simmer until it reduces slightly. Fully cool the sauce before next step.
Fill a tall glass with ice, desired amount of cold brew coffee, Mexican mocha sauce, and milk. Stir to combine.
Iced Coffee Lemonade
Iced coffee and lemonade may sound like an odd combination but the tart lemon brings out the bright notes in the coffee. Sparkling tonic water takes it one step further!
Ingredients
1/4 Cup lemon juice
2 Tsp. Full Circle Market pure cane sugar
1/2 Cup cold brewed or iced coffee
1/4 Cup sparkling tonic water
Ice
Directions
In a tall glass squeeze lemon juice and mix with sugar. Top with ice, cold brew, and tonic water. Stir to combine.
If you make one of our iced coffee recipes please be sure to tag us on our social channels! We'd love to see your cool-looking coffee glasses. Interested in learning more about coffee? Check out our 4 Types of Coffee Roasts Explained.