Cinco de Mayo is a festive and fun holiday that is focused on delicious Mexican food and drinks! It commemorates the Mexican Army's victory over the French Empire at the Battle of Puebla. Many people associate Cinco de Mayo with authentic Mexican flavors like street tacos and refreshing margaritas. Although we love carne asada tacos, Mexican dishes range in so many varieties of flavors. This blog will share some delicious alternative recipes for you to enjoy this Cinco de Mayo that are not tacos.
Pineapple-Jalapeño Margarita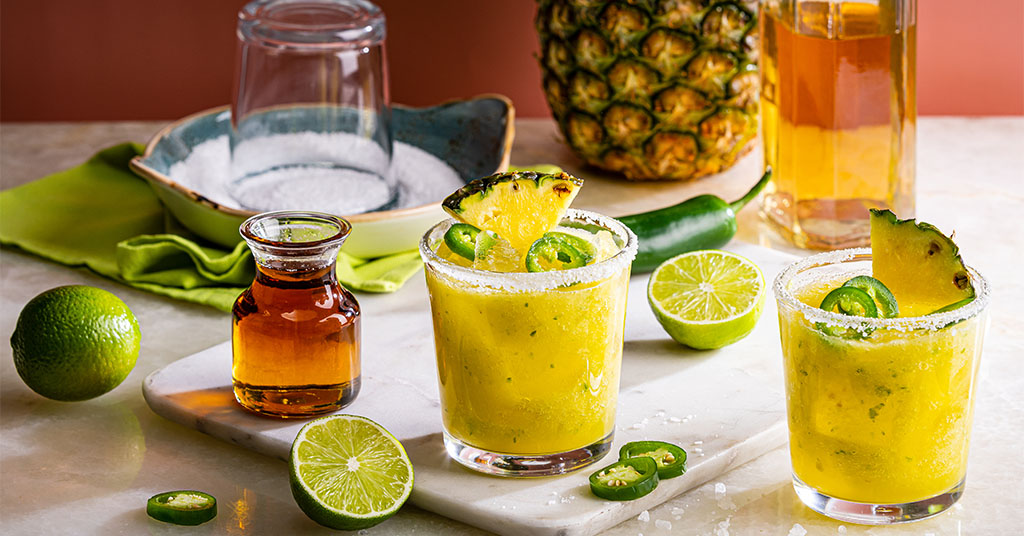 You can't celebrate Cinco de Mayo without a refreshing margarita! This Cinco de Mayo margarita has a unique twist with a spicy kick. This delicious drink combines the sweetness of pineapple with the spiciness of jalapeño to create a refreshing flavor that will leave you wanting another glass.
Ingredients:
ice
3 cups chopped pineapple plus 4 wedges for garnish (optional)
3/4 cup gold or silver tequila
1/2 cup fresh lime juice
1/4 cup orange-flavored liqueur such as Grand Marnier™ or Triple Sec
2 small jalapeños, 1 seeded and coarsely chopped, and 1 thinly sliced crosswise
Directions:
Start by spreading salt on the plate; dampen the rims of 4 rocks glasses with water and dip the rims of glasses into salt to coat. Add ice to the glasses.
Next, in a blender, purée pineapple, tequila, lime juice, agave, and liqueur on high until smooth. Add chopped jalapeño; purée on high until small pieces of jalapeño remain. Makes about 4 cups.
Lastly, pour pineapple mixture into prepared glasses; garnish with sliced jalapeño and pineapple wedges, if desired.
Pineapple Mango Agua Fresca
Agua fresca de piña y mango. This delightful and refreshing drink originated in Mexico. The name "Agua Fresca" literally means "fresh water" and it's become a popular drink to enjoy. This beverage is typically made by blending fresh fruit with water, sugar, and ice. Pineapple and mango are two tropical fruits that pair perfectly. Enjoy this refreshing drink for any occasion, you could even add a shot or two of tequila!
Ingredients:
Directions:
Start by cutting mangos and pineapples into chunks. Next, add to blender combined with 2 cups of water, sugar, and lime juice. Blend until very smooth. Add to the pitcher with the additional water and ice. Enjoy ice cold, served in a glass rimmed with chamoy and Tajin.
Huaraches Con Carne Asada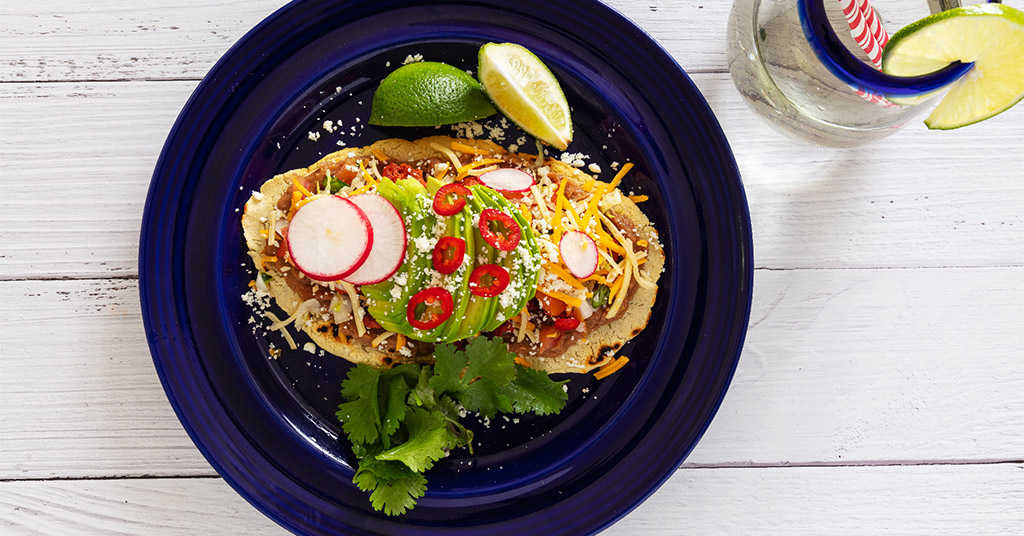 Huaraches are a popular Mexican dish that is loved for its unique texture and delicious flavor. They are a type of flatbread that is made with masa (corn dough). They are usually topped with beans, cheese, meat, salsa, and various fresh vegetables. This makes huaraches the perfect Cinco de Mayo food choice to enjoy!
Ingredients:
Directions:
Start by combining the masa harina, salt, and 1 cup warm water in a large bowl, and stir until a smooth dough forms. Knead dough in the bowl until very smooth but not sticky, about 2 minutes. Divide dough into quarters and shape each quarter into a 7"-long, 1⁄4"-thick oval. Heat a 12" cast-iron skillet over medium-high heat. Add 1 huarache to the skillet, and cook until brown spots appear on the bottom, about 3 minutes. Flip and cook the other side.
Next, set the skillet to high heat and add 2 tbsp. oil. Season steaks with salt, and add 2 steaks to skillet; cook, turning once until browned on both sides and cooked through, about 3 minutes. 
Lastly, spread refried beans on top of the huarache, add meat, pico de gallo, shredded cheese, Cotija cheese, and top with sliced radish and avocado. Plate with lime wedges.
Birria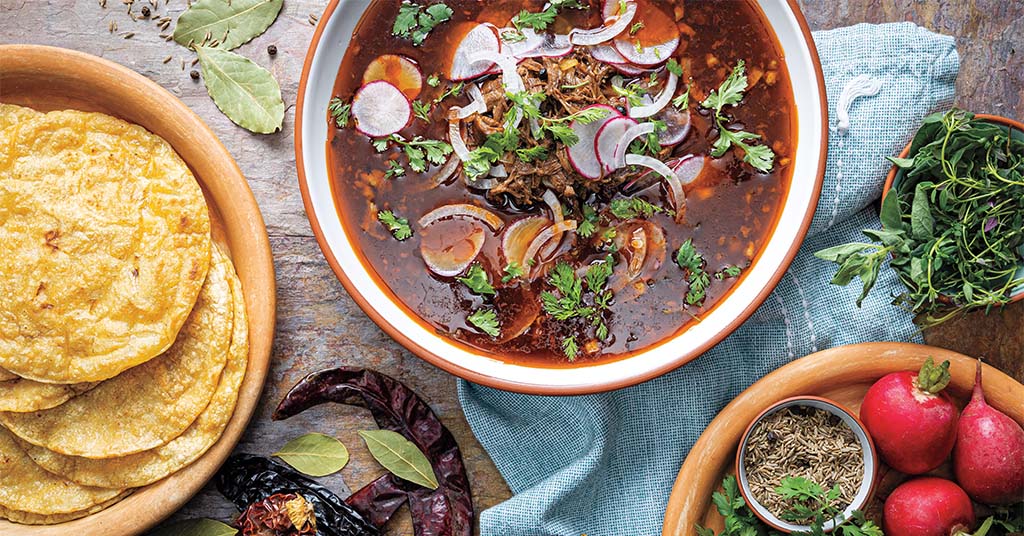 Include this delicious and savory dish in your Cinco de Mayo menu. Birria is a plate that has become increasingly popular in recent years, and it's easy to understand why. Birria is a spicy and savory stew that originated in Mexico. Traditionally, this dish can be made with goat, beef, or lamb meat. The flavorful taste of this plate comes from the stew that is made with chiles, garlic, and spices and is slowly cooked. Enjoy this meal throughout the year.
Ingredients:
Directions
In a medium saucepan, heat chiles, garlic, and 3 cups water to a simmer over medium heat; cook 10 minutes or until chiles are tender. Transfer the chile mixture to a blender and blend on high until smooth; strain through a fine-mesh strainer. Makes about 3 cups.
Next, in a large saucepot, heat oil over medium-high heat; in 3 batches, add beef and cook for 4 minutes or until browned, turning once. Return seared beef to saucepot. Add bay leaves, oregano sprigs, thyme sprigs, 1/2 the onion, salt, cumin, peppercorns, chile mixture, and 6 cups water; heat to a simmer.
Lastly, reduce heat to low; cover and cook for 3 hours or until beef is very tender, stirring occasionally. Remove bay leaves, oregano sprigs, thyme sprigs, and beef bones; with 2 forks, shred beef in a saucepot. Makes about 10 cups.
Churros with Dulce de Leche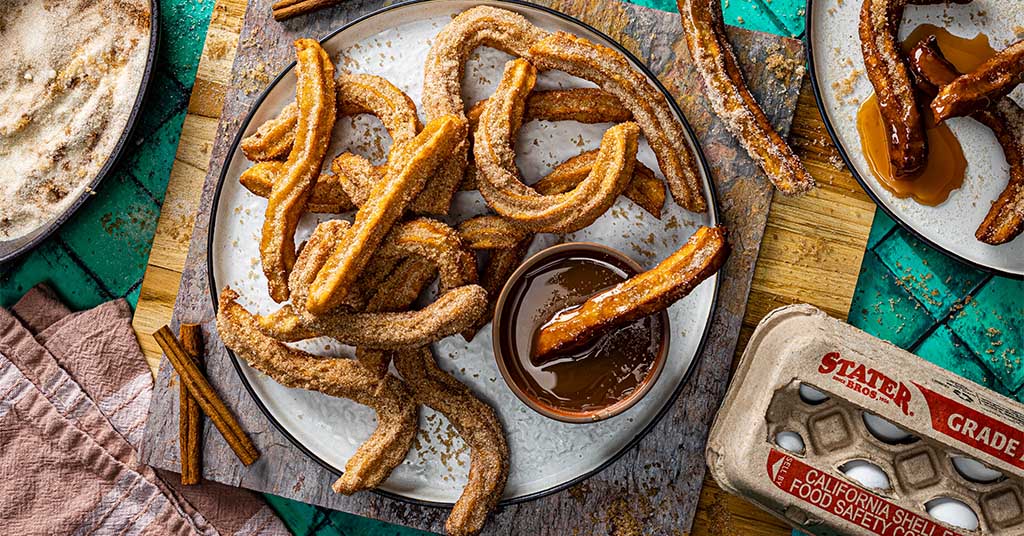 You can't celebrate Cinco de Mayo without some sweet and crunchy churros! Churros are a popular Mexican dessert that is deep-fried and coated with cinnamon sugar. They are crunchy on the outside, and soft and fluffy on the inside. You can dip them into some of your favorite sauces like dulce de leche, which is caramelized milk. Now that you have your delicious churros, it's time to enjoy the festivities!
Ingredients:
Directions:
First, line the rimmed baking pan with parchment paper; line the second rimmed baking pan with a paper towel. 
In a medium saucepan, heat 2 tablespoons oil, 2 tablespoons sugar, salt, and 1 cup water to a simmer over medium-high heat. Stir in flour and 1/4 teaspoon cinnamon; remove from heat and stir until incorporated. Let this sit for a few minutes and then, add egg; stir until incorporated.
Next, attach the deep fryer thermometer to the side of a high-sided large skillet; add the remaining 2 cups oil and heat over medium heat for 10 minutes or until the oil temperature reaches 350°.
Then, transfer the dough to a piping bag fitted with a large star tip; pipe 5-inch-long churros, 1 inch apart, on a parchment paper-lined pan. Makes about 24 churros.
In a wide, shallow dish, whisk the remaining 2/3 cup sugar and 1/2 teaspoon cinnamon.
Next, in 4 batches, add churros to oil and cook for 4 minutes or until golden brown, turning frequently; immediately dredge churros in sugar mixture to cover. Transfer churros to a paper towel-lined pan and keep warm.
Finally, serve churros with dulce de leche and enjoy!
While tacos are a delicious and popular choice for Cinco de Mayo, there are plenty of other authentic Mexican dishes for you to enjoy. Creating any of these recipes will surely impress your guests. Make sure you pick up all your festive needs at Stater Bros. or shop online at Staterbros.com/shop.