Brought to you by NESTLÉ® LA LECHERA®
We are always up for some treats. But when we really want to make treat time special, we add that element of sweetness that makes everyone fall in love with our creations. And, of course, there is nothing better to accomplish this wonderful sweet experience than using La Lechera Sweetened Condensed Milk and La Lechera Dulce de Leche.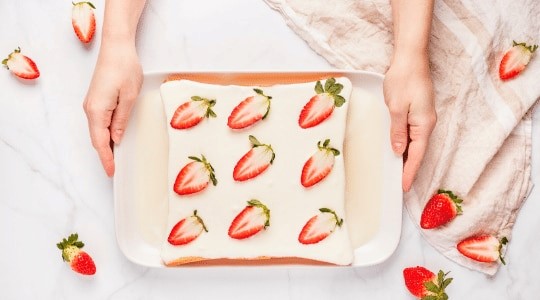 Serves 12
Ingredients:
Cake:
6 large egg whites
1/2 cup granulated sugar, divided use
6 large egg yolks
1 cup all-purpose flour, sifted
Cream:
1 can of NESTLÉ® LA LECHERA® sweetened condensed milk (14oz)
1 can of NESTLÉ® Media Crema (7.6 oz)
2/3 cup Carnation evaporated milk (5 oz)
1/4 cup brandy
1 teaspoon vanilla extract
Cover:
1 cup heavy cream to whip
2 tablespoons granulated sugar
1/2 teaspoon vanilla extract
Chopped strawberries for garnish
Directions
Cake:
Preheat oven to 375° F. Grease a hook pan with 9-inch flour. Whisk the egg whites and 1/4 cup of the sugar in a large bowl until stiff peaks form.
Combine egg yolks and remaining sugar in a large bowl, beat until light yellow. Add the egg white mixture and the flour alternately into the egg yolk mixture.
Pour into the previously greased mold. Bake for 15-20 minutes or until just lightly browned and a wooden toothpick inserted in the center comes out clean. Remove from the oven to a rack.
Cream:
Combine the sweetened condensed milk, Media Crème, evaporated milk, brandy, and vanilla extract in medium bowl; stir well.
Poke the cake with a wooden toothpick, poking several holes until it touches the bottom around the cake. Pour 2 cups of the previously made cream mixture over the cake. Let stand 30 minutes or until cake absorbs cream. Remove the side of the pan
Cover:
Beat the cream, sugar, and vanilla extract in a small bowl until stiff peaks form. Spread over the top and sides of the cake.
Serve immediately and garnish with strawberry or favorite fruit.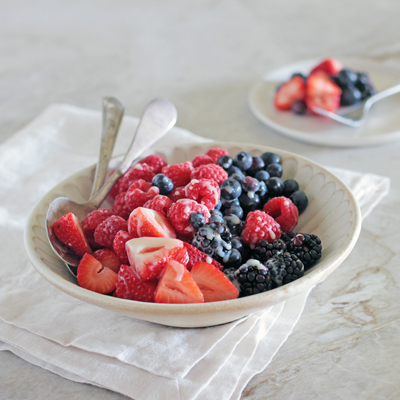 The second way to enjoy La Lechera is to simply add it on some of your favorite sour frutas (fruits). Try enhancing your fruit bowl by adding La Lechera to sweeten things up. All you need is your favorite fruits, a squeeze of lime, and La Lechera sweetened condensed milk. Enjoy!
Fresh Fruit with Lime & Sweetened Condensed Milk
Serves 4, about 1 cup per serving
Ingredients
Fresh berries
Lime juice
La Lechera
Directions
A sweet and tart combo that your mouth will flip over. Simply mix fresh berries with lime juice and La Lechera for a healthful snack.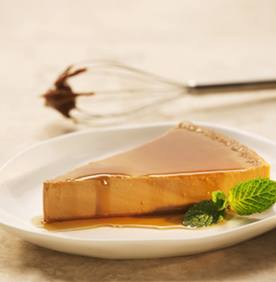 Flan is a Latin baked custard that is bursting with caramel flavor, that dates to the times of the Roman Empire, cool right? What originally started as a savory recipe transformed into one of the most popular Mexican desserts. The custard dessert has a unique gelatin like substance, rich and creamy, one bite and your taste buds are spinning in a moist, caramelized flavor, topped off with a burnt sugar taste, that is balanced out perfectly. Flan contains eggs, sugar, NESTLÉ® CARNATION® evaporated milk, but the real secret is NESTLÉ® LA LECHERA® Dulce de Leche, see the recipe below.
Dulce de Leche Flan
Serves 12
Ingredients
3/4 cup granulated sugar
2 cans (12 fluid ounces each) NESTLÉ® CARNATION® Evaporated Milk
1 can (13.4 ounces) NESTLÉ LA LECHERA Dulce de Leche
6 large eggs
Directions
Bottom of Form
PREHEAT oven to 350° F.

Heat sugar in small, heavy-duty saucepan over medium-low heat, stirring constantly, for 3 to 4 minutes or until dissolved and caramel-colored. Pour onto bottom of 9-inch-round cake pan; quickly swirl around bottom to coat.

Place evaporated milk, dulce de leche and eggs in blender; cover. Blend for 5 seconds. Pour into prepared pan; cover lightly with foil. Place pan in large roasting pan; fill roasting pan with warm water to about 1-inch depth.

Bake for 60 minutes or until knife inserted near center comes out clean. Remove flan from water. Cool on wire rack. Refrigerate for 4 hours or overnight.

To serve, run small spatula around edge of pan. Invert serving plate over pan. Turn over; shake gently to release.