As the year comes to a close, it's time to start thinking about your New Year's Eve festivities. Appetizers are an essential part of any successful party and can make the evening a truly memorable one. To help get your celebration off to a great start, we've put together a list of some of the most delicious and easy-to-prepare New Year's Eve appetizers. From savory finger foods to delicious desserts, these recipes are guaranteed to bring a festive cheer to your celebration.
So, grab your favorite ingredients and get ready to make some mouth-watering treats that your guests will love.
Charcuterie Board
Charcuterie boards are the perfect addition to any party or gathering. Not only do they provide an aesthetically pleasing display of delicious cured meats, cheeses, fruits, vegetables, and crackers. But they also offer a variety of flavors and textures that will wow your taste buds.
How to make a charcuterie board?
To make a charcuterie board, you're going to first need a good-sized board to be able to fit and showcase all the snacks. If you don't have a big board, cutting boards, slabs, or platters will work as well. Next, you will need to gather all the snacks you want to showcase, we recommend using a variety of cured meats such as prosciutto, coppa, salami, sweet soppressata, or pepperoni. Also, we will need a selection of cheeses like feta chunk, asiago, gruyere Swiss style, parmesan, and fontina. A combination of fresh fruit will also add sweetness to your board's taste pallet.
Watch along as we assemble a traditional charcuterie board: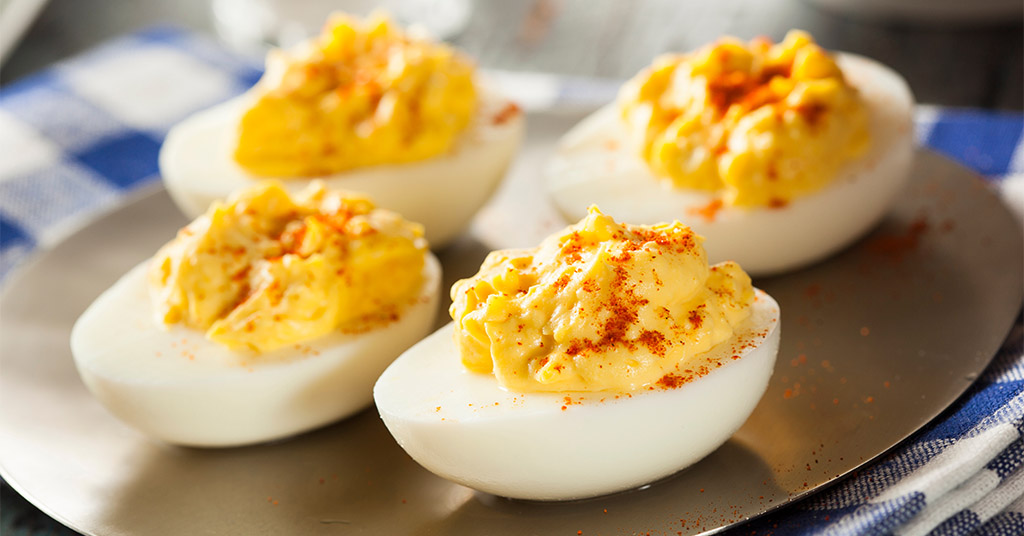 Deviled eggs are a classic appetizer that has been enjoyed across cultures for centuries. Whether they are served as part of a party platter or on their own, this deviled eggs recipe is sure to always be a crowd-pleaser.
How do you make deviled eggs?
To make your deviled eggs, you will need the following things:
To make deviled eggs, start by boiling a pot of water and adding your eggs, for this recipe we will be using 8.

Boil your eggs for 10 – 12 minutes and immediately cool them in cold water.

Once they are cool, peel off the eggshell.

Slice the eggs in half and scoop out the yolks in a mixing bowl.

Combine mustard, mayonnaise, paprika, salt, and pepper with your yolks and mix well.

Scoop the mixture back into the egg whites and garnish with paprika and parsley

Chill your eggs before serving and enjoy!
Spinach Artichoke Dip
This quick 45-minute creamy and delicious artichoke spinach dip recipe is the perfect appetizer for your next gathering. With the perfect combination of artichokes, spinach, cream cheese, garlic, sour cream, and shallot, this dip is sure to be a hit. It's easy to make and even easier to enjoy! Serve it with crackers, baguette slices, tortilla chips, or raw vegetables for a delicious and healthy snack.
How To Make Spinach Artichoke Dip?
To make your spinach artichoke dip, you will need the following things:
Preheat your oven to 425°F and coat a baking pan with cooking spray.

Mix all ingredients in a large bowl and mix until combined.

Move the ingredients to your baking pan and sprinkle with parmesan cheese.

Place your baking pan in the oven and allow it to bake for 25 – 30 minutes.

Take your dip out of the oven and allow it to cool for 5 minutes before serving.

Enjoy with your choice of crackers, tortilla chips, baguette slices, or even veggies!
Slow-Cooker Buffalo Chicken Dip Recipe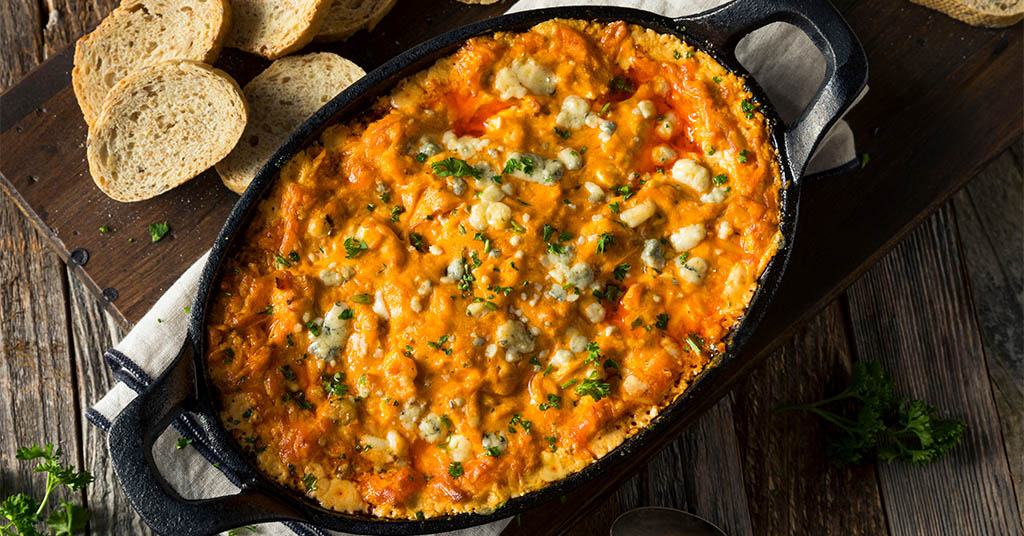 Buffalo Chicken Dip is a classic party favorite that always hits the spot. This easy-to-make, savory dish packs a punch of flavor with the perfect combination of tangy buffalo sauce and savory chicken. It's sure to be the star at any get-together. With only a handful of ingredients and minimal prep, you'll be enjoying this delicious dip in no time!



How to make buffalo chicken dip?
To make your buffalo chicken dip in a slow cooker or crock pot, you will need the following things:
Directions:
Begin by combining the cream cheese, dressing, and hot sauce in the slow cooker on low heat.

Once the ingredients are combined, stir in the pre-cooked chicken.

Cover and cook on low heat for 1 to 2 hours, stirring occasionally.

Lastly, add the shredded cheddar cheese and crumbled blue cheese, stirring until the cheese is melted.

Now you can serve the dip warm with chips, crackers, and celery sticks. Enjoy!
Caramelized Onion & Brie Puff Pastry
Buttery caramelized onions and melty brie cheese are packaged together perfectly in these rich puff pastry tarts.
Here's what you'll need to make this puff pastry:
Julienne 2 onions.

Melt 1 1/2 tablespoons of butter in a pan and add onions.

Season with salt, pepper, and fresh thyme.

Cook until caramelized and set aside.

Cut puff pastry sheets into 2-inch squares and place them into a cupcake tin.

Place caramelized onion into tin and top with brie chunks.

Bake at 400 degrees for 18 to 20 minutes.

Serve warm and top with honey.
Easy Appetizers to Pick Up In-Store
If you don't have the time to cook your appetizers, here are some items we recommend buying in-store for your New Year's Eve celebration.
Looking for the freshest guacamole around? Look no further than our Fresh Cut Station. Our delicious guacamole is made in-house daily and is perfect for fueling your lifestyle.
Restaurant-Style Tortilla Chips
Our restaurant-style tortilla chips are crispy and full of flavor, dip them into a variety of dips and salsas from our service deli. They are the perfect tasty snack to have and pair perfectly with our freshly made guacamole.
When it comes to fried chicken, there's nothing quite like the taste of our Cleo & Leo fried chicken. It's always fresh and never frozen. Our chicken is fried to perfection and has a crispy, juicy texture and flavor that makes it irresistible. Grab it as a quick meal or snack option, or order ahead for your next gathering.



Party Size Crav'n Flavor Mozzarella Sticks
These quick and easy snacks have all the flavor of homemade mozzarella sticks, with a cooking time of fewer than 15 minutes! Just pop them in your oven and you're done. You can also deep fry or air fry them if you'd like. We recommend serving them with a side of marinara sauce.
Jalapeños and cheese are a dynamic duo that should be served at every party! These poppers are covered in breadcrumbs giving them a nice golden crust when baked. Enjoy them deep-fried or baked fresh from your oven, either way, they're sure to be a hit. We have two flavors regular cheddar cheese and cream cheese.
Pretzels are perfect for a salty snack craving, and will go great with your charcuterie board!
If you don't want to make your own charcuterie board, pick up one of our premade party trays by our service deli. This one showcases Hormel hard salami, Hormel Genoa salami, Sargento Colby jack cheese, Sargento pepper jack cheese, and round crispy crackers.