With the weather already heating up in sunny Southern California, it's never too early to have a burger and a drink poolside. At Stater Bros. Markets, we have 6 gourmet meat patties, all with their unique flavor. We have our Traditional Angus Burger, Steakhouse Burger, Bacon and Cheddar Burger, Jalapeno Burger, Cracked Garlic Pepper Burger, and of course our Butter Burger. All of these unique flavors deserve a unique drink pairing that compliments their flavor profile. This is why we've crafted the ultimate Gourmet Burger & Drink Pairing list that will delight your tastebuds.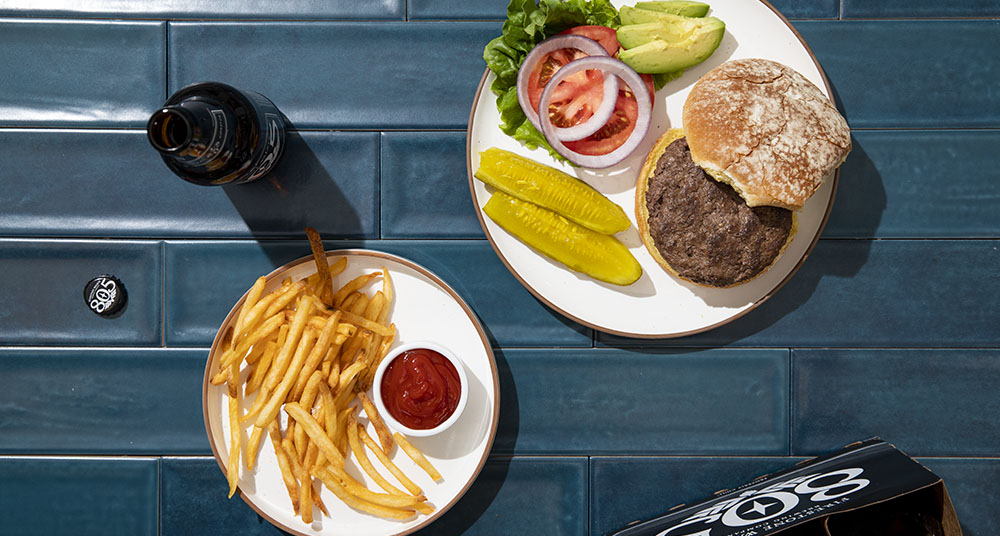 Traditional Gourmet Angus Burger & Firestone 805
For a traditional Angus burger, we had to go with something original. This is why we paired it up with Firestone 805. Firestone 805 is a laid-back, light, and refreshing beer that pairs perfectly with our traditional gourmet Angus burger. The slight bitterness of the 805 works with the savoriness of the burger to excite your tastebuds.
Steakhouse Seasoned Gourmet Angus Burger & Hangar 24 Orange Wheat
Our steakhouse seasoning has a very smoky, bold flavor that takes our regular Angus burger patties to another level. It's only right to pair it with Hangar 24 Orange Wheat. Hangar 24 is the perfect summer beer with its subtle orange flavor and crisp carbonation, it's perfect under the sun. The smoky flavor of the burger compliments the subtle sweetness of Hangar 24 very well.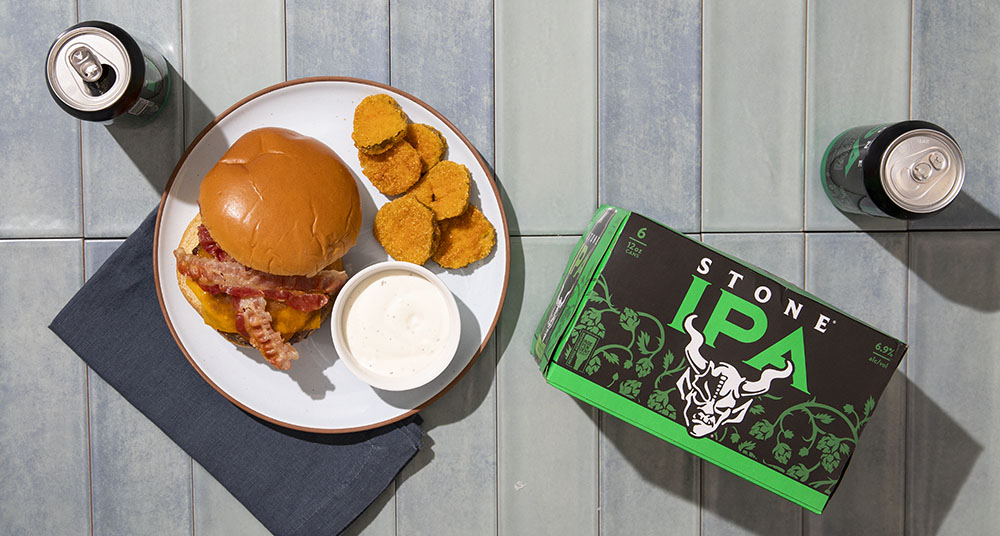 For this burger, we knew we needed a classic. Nothing says classic more than Stone IPA. Since debuting in 1997, Stone IPA has been hailed as the king of IPAs. Stone IPA's earthy, pine aroma pairs wonderfully with the boldness of the bacon and cheddar burger. This savory and earthy matchup is one you got to try.
Cracked Garlic Pepper Gourmet Angus Burger & Karl Strauss Red Trolly
This burger and drink pairing will not only tantalize your taste buds, but it will stimulate your nose as well. Our Cracked Garlic Pepper burger has a strong, bold flavor with a nice kick. Meanwhile, Karl Strauss Red Trolly has a sweet flavor with hints of caramel and toffee. These opposites attract to ignite your senses with a sweet and savory masterpiece.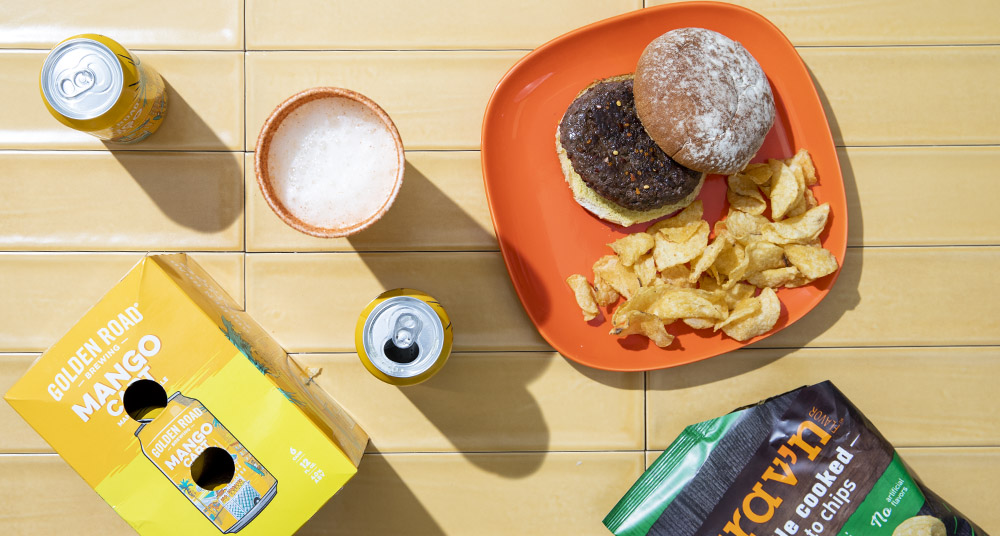 Do you like to spice things up? If so, this burger and drink pairing is for you.
Spicy. Sweet. Savory. This matchup checks all of those boxes. The sweetness of the Mango Cart helps control the spiciness of our Spicy Jalapeno burger. This burger and drink pairing is everything you need if you're a spice lover. Try pouring the Spicy Mango Cart into a Michelda cup to really heat things up!
The ultimate sweet and savory pairing is here! The Butter Burger is one of the most savory burgers we have so we matched it with a sweet, easy-to-drink beer. This cream ale boasts a vanilla, citrus cream flavor that has little to no taste of alcohol. The savoriness of the Butter Burger plays well with the sweetness of the Cali Creamin' Creamsicle, giving you the flavor of a salted creamsicle ice cream.