The holiday season is all about sharing delicious foods and making memories with your family. It's a time to cherish with your loved ones, friends, and neighbors. So this holiday season, let California Ripe Olives bring a little more joy to your table. We're sure your family will love these festive and delicious recipes for years to come.
Cheesy Stuffed Green Chile Olive Bread
Best served warm, this pull apart bread is filled with sharp cheddar cheese, flavorful green chiles, and piquant black California Ripe Olives. We're promise it's going to be irresistible.
Prep Time: 2 Hours | Cook Time: 35-40 Minutes | Makes 12 Rolls
Ingredients:
2 1/2 tsp. Active Dry Yeast
2 tbsp. Granulated Sugar
1 cup Whole Milk
1 cup Green Chiles, drained
2 cups Sharp Cheddar Cheese
1 cup Black Olives, sliced
2 Eggs
5 cups All-Purpose Flour
1 tsp. Salt
2 tbsps. Salted Butter, room temperature
Sprigs of Fresh Thyme
Filling:
1 1/2 cups Sharp Cheddar Cheese
3 tbsps. Salted Butter, room temperature
1/2 cup Black Olives, diced
2 tsp. Garlic Powder
Directions:
In a mixing bowl, gently whisk together active dry yeast, lukewarm milk, and sugar. Allow yeast to bloom for about 10 minutes (it should be foamy and bubbly).
Fit a stand mixer with the dough hook attachment and add the yeast mixture, drained green chiles, sharp cheddar cheese, olives, eggs, and salt. Add one cup of flour at a time and begin mixing on low speed and gradually increase to medium speed once dough begins to form. Continue to mix for 5-8 minutes. Dough should be smooth and should pull away from the bowl.
Add 2 tablespoons of butter, one at a time, and continue to mix for an additional 5 minutes. If dough is still sticking to the bowl, add an additional tablespoon of flour.
Add dough to a well oiled bowl and allow dough to rise in a warm place for about 1 hour, until it has doubled in size. (Tip: Leave in the oven with the light on and allow dough to rise in the oven.)
While dough is rising, make the filling by combining the sharp cheddar cheese, butter, black olives, and garlic powder in a bowl and mix until combined.
Preheat oven to 350ºF.
Once dough has risen, add dough onto a well floured work surface. Use a rolling pin to roll dough into a 12 x 18 rectangle. Lightly coat the dough with the cheese/olive filling. A light layer is all that is needed.
Roll into a log by rolling the dough lengthwise. Cut log into 1 inch rolls and pinch the sides and roll into a ball. (if the sides aren't sticking, wet your fingers with water and pinch again). Add rolls to a cast iron skilled OR 9 x 13 baking lined with parchment paper. Allow dough to rise again for 20 minutes.
Brush dough with a beaten egg and bake for 35-40 minutes. Garnish with fresh thyme, additional butter, and flake salt.
Spicy Olive Meatballs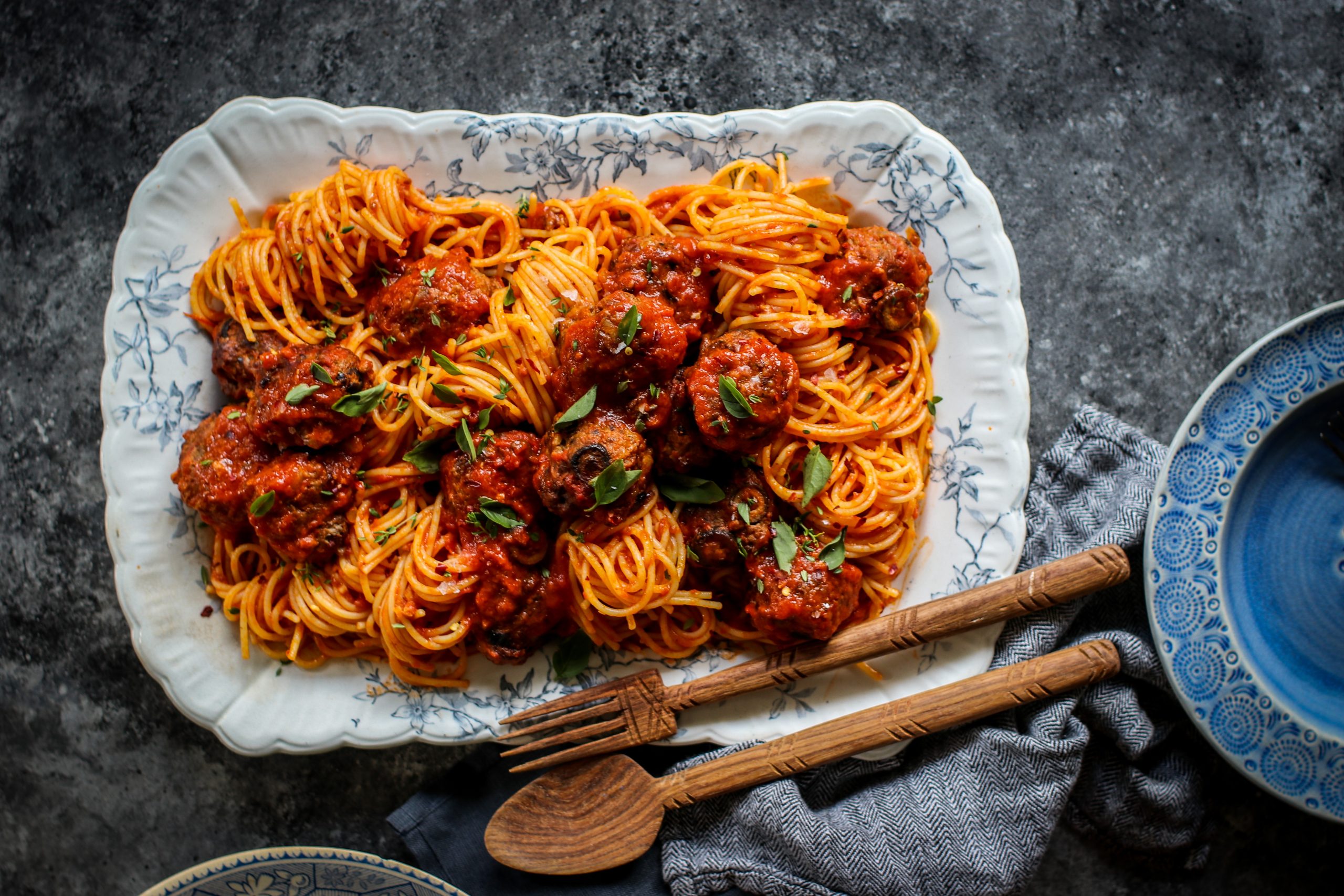 Black California Ripe Olives lend their delicate brininess to hearty beef meatballs prepared with traditional Italian spices and accoutrements. Best served over a plate of al dente pasta with tomato sauce and an extra helping of freshly grated parmesan cheese.
Ingredients:
1 tbsp. Olive Oil
1 1/2 cups Onions, chopped
1 1/2 tbsps. Garlic, minced
1 1/2 tbsps. Dried Oregano
1 cup California Black Ripe Olives, sliced
1 1/4 pounds Extra Lean Ground Beef
3/4 pound Ground Pork
1/2 cup Dried Breadcrumbs
1/4 cup Parmesan Cheese, grated
1 Egg, beaten
1 Egg White
Kosher Salt and Crushed Red Pepper Flakes, to taste
3 cups, Prepared Marinara Sauce
Directions:
Heat 1 teaspoon of olive oil in a medium-sized sauté pan.
Add onions and cook for 4-5 minutes until tender. Stir in garlic and oregano and continue cooking for 1 minute, then remove from heat.
Mix in California Ripe Olives and set aside to cool slightly.
In a large mixing bowl, combine cooled olive mixture with beef, pork, breadcrumbs and parmesan cheese.
Stir in eggs, and season to taste with salt and pepper flakes. Form into a dozen 3-inch meatballs and set aside on a clean plate.
Heat remaining oil in a large high-sided sauté pan over medium high heat.
Place each meatball into pan and brown for 4-6 minutes, turning occasionally until evenly seared.
Pour marinara sauce over the top and bring to a boil.
Cover, turn heat down to a simmer and cook for 30 minutes until heated through.
Herbed California Ripe Olives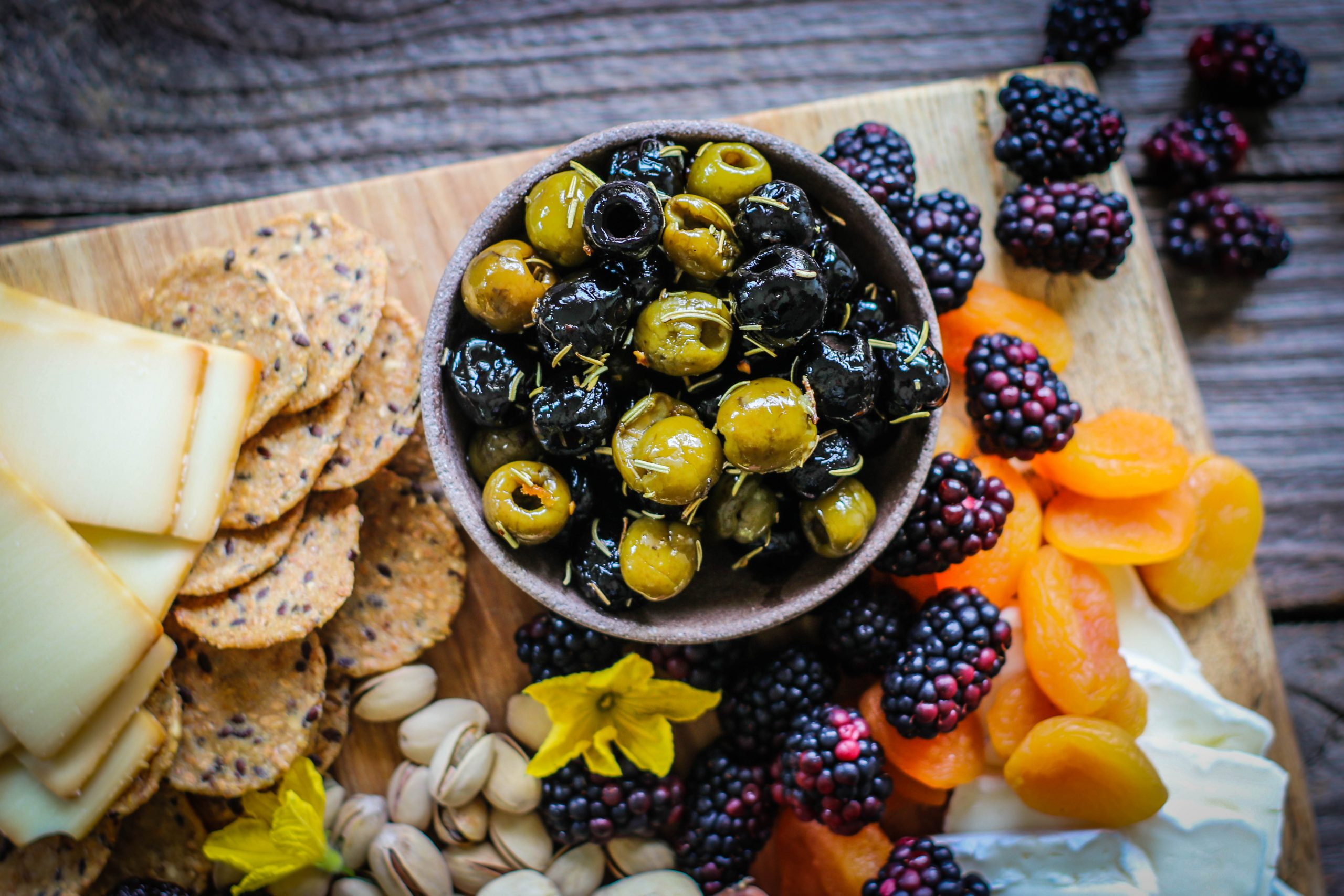 A fine addition to any charcuterie board, these easy herbed California Ripe Olives are prepared with rosemary, garlic, and a drizzle of olive oil.
Ingredients:
1 6-oz. can Black California Ripe Olives
1 6-oz. can Green California Ripe Olives
1 tbsp. Extra-Virgin Olive Oil
1/2 tsp. Crushed Dried Rosemary
1/8 tsp. Fine Sea Salt, or to taste
1 Clove Garlic, minced
Directions:
Preheat oven to 325°F and line a baking sheet with parchment paper. Drain olives well and pat very dry between paper towels. Place on baking sheet and bake for 45 minutes. Add remaining ingredients to olives and toss well to coat as evenly as possible; bake for 10 minutes more. Let cool before transferring to an airtight container. Store in the refrigerator until ready to serve.
Looking for more holiday inspiration? Visit our holiday page for more recipes and helpful hosting tips.