Charcuterie boards, pronounced as "SHAR-coo-tuh-ree," are sharable boards full of different colors, flavors, and tastes. Although, at first glance you may be intimidated by how impressive the boards look, you shouldn't be! They are much easier to create then they appear. Originally assembled with cured meats, cheeses and crackers has now evolved into a customizable experience. From a more traditional approach to breakfast boards, kid snack boards and holidays boards, the options are endless.
Before you start your charcuterie board, first pick out your board. Don't worry if you don't have a big board, use what you have such as cutting boards, slabs, or platters. Add some Simply Done parchment paper to the bottom of your board for easy clean up. Next, consider what kind of board you want to make. Consider the occasion and who the board is intended for. Grab some extra bowls varying in sizes to fill. Stack, layer, slice and cut your ingredients into fun shapes and sizes and place them in various directions. Most importantly, don't forget to have some fun and get creative. Explore the following Charcuterie boards for some inspiration.
Traditional Charcuterie Board: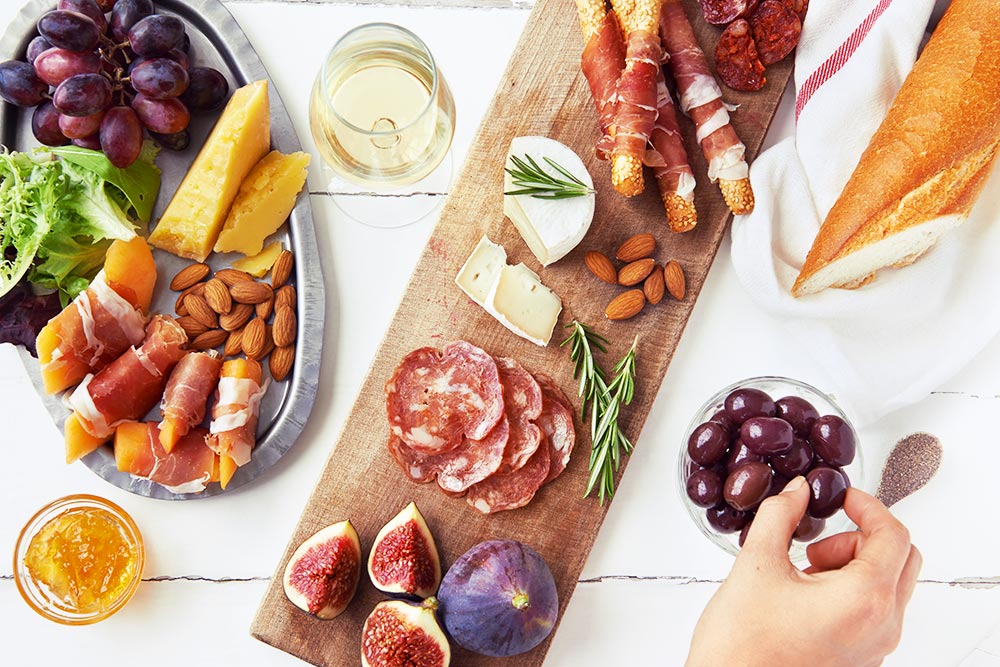 A Traditional Charcuterie board is assembled with a variety of cured meats such as prosciutto, rillettes, saucisson sec, salami, or pepperoni. Next, add a variety of your favorite cheeses. Culinary Tours has a great selection of cheeses available such as Feta Chunk, Original Mozzarella, Gruyere Swiss Style, Garlic & Herb Goat and Original Havarti. Adding something sweet such as your favorite fresh or dried fruits will enhance your board with a pop of color and sweet taste. Crackers and breads along with spreads will help complement the range of flavors. Lastly, don't forget to add a mixture of dried, salted, caramelized and even chocolate covered nuts and seeds. Adding other options that are your personal favorites will set your traditional charcuterie boards from the others.
Breakfast Charcuterie Board:
So, what's a breakfast charcuterie board? For starters, it's the perfect way to start your morning! Used for breakfast or brunch, this board will truly become a favorite. Start by adding some traditional must haves such as waffles, pancakes, French toast, or crepes. Next, add some essentials such as eggs, potatoes, crispy bacon, sausage or even chorizo. Fill in the empty spots with fresh fruits such as sliced berries and oranges. Lastly, don't forget to include your preferred spreads such as hazelnut, butters, and syrups.
Movie Night Charcuterie Board: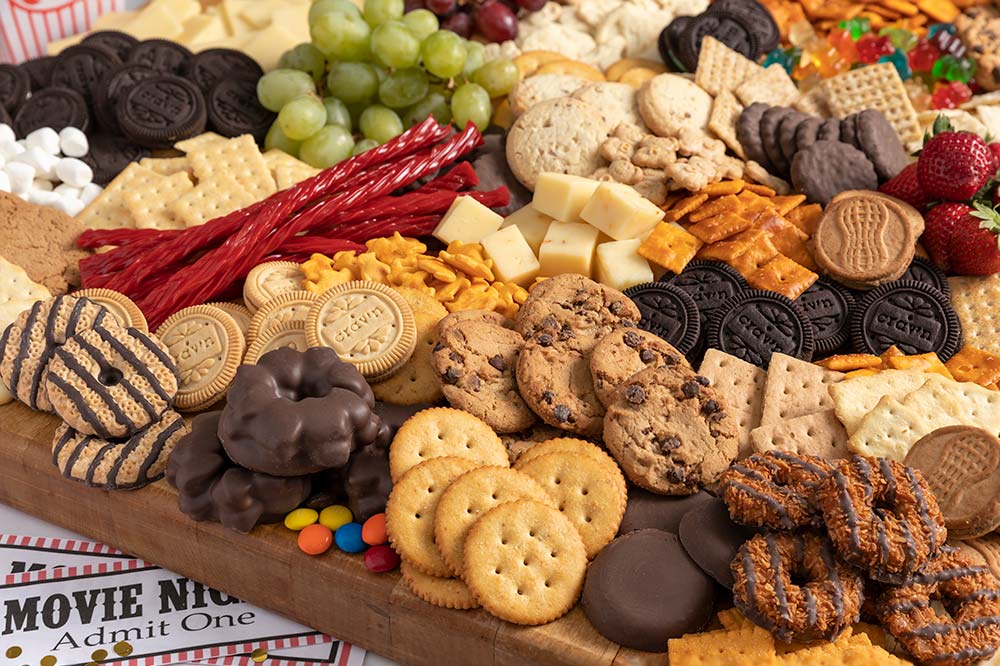 This might just become your family's favorite charcuterie board. This board is perfect for those at home movie nights. Adding everyone's favorite Crav'n Flavor snacks is a must! Start by filling up your board with some bite sized snacks such as Crav'n Flavor pizza bites, pretzel nuggets or potato skins. Next, add some dipping sauces to your board like ranch, marinara sauce, and nacho cheese. Fill up missing gaps with a variety of sweet and salty options like double stuffed chocolate sandwich cookies, cheese crackers, chewy chocolate chip cookies, and you can't forget about the popcorn. You can even sneak in some vegetables; no one would even notice! Finally add their favorite candy, press play and enjoy the show!