Chances are you've probably had a tamale or two…or three during the holiday season. For many Southern Californian families with Latin heritage, it's a tradition to gather around the kitchen with family and prepare dozens of sweet and savory tamales. And if you're new to tamale making, starting can be quite intimidating. But we've got you covered, we're listing out everything you need to know from soaking your corn husks to folding and steaming them. Here's your beginner's guide to making homemade tamales.
What are tamales?
Simply put, tamales are a traditional dish from Latin America (many countries have their own version) that is made with a nixtamalized corn dough, prepared both sweet or savory, with and without fillings, and steamed in a corn husk or banana leaf. In our guide, we're covering Mexican-style tamales prepared with corn husks.
Tamale Making Basics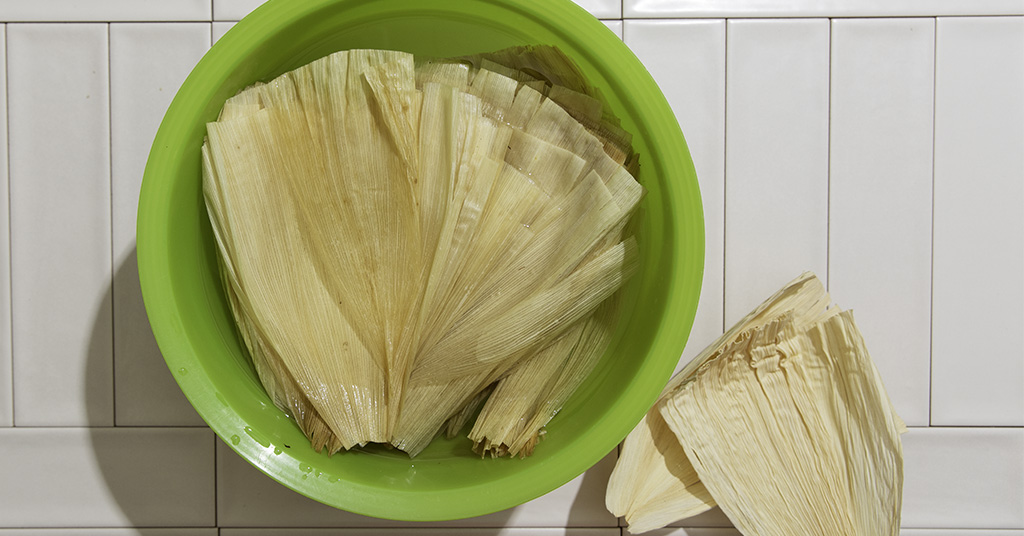 How long do you soak corn husks when making tamales?
Corn husks can't be used right out of the bag. They need to be soaked in hot water for at least 1 hour prior to tamale making so they don't crack when you fold them. Just fill a large container with hot water and submerge the corn husks by placing a heavy weight bowl on top to keep them under the water. Corn husks should be much softer and easier to fold once they're ready. You can keep the corn husks in the water the entire time you're preparing tamales to keep them soft and moist.
How to make masa for tamales?
Masa is a main ingredient in tamales and it's important to have enough prepared on hand. If you're making your own masa mixture, we recommend picking up a few bags of Maseca.
Serving Size: Makes approximately 16 tamales, considered 1 batch.
Ingredients:
4 cups Maseca corn mix
3 to 3 1/2 cups of water (or chicken broth if you're making savory tamales)
2 tbsp. baking powder
2 tsp. salt
1 1/3 cups lard or vegetable shortening
Directions:
Masa is best mixed by hand! In a large mixing bowl, combine all dry ingredients and mix. Add the water or chicken broth and mix thoroughly with your hands until there is a soft-moist dough and set aside. In a separate bowl, mix lard or vegetable shortening until its texture is light and fluffy. Incorporate the lard or vegetable shortening to the masa mixture and mix by hand until it's smooth and slightly sticky. The end texture you're looking for is a soft, moist, and pliable masa that sticks to your fingers. It shouldn't be too wet where it's runny and not too dry where it crumbles easily, if necessary add more liquid or corn mix to reach the desired consistency. To keep the masa moist, keep it covered with a damp cloth while it's not in use.
Alternatively, you can pick up already prepared masa at our meat department and skip this step entirely!
How to make green chicken (chile verde) tamale filling?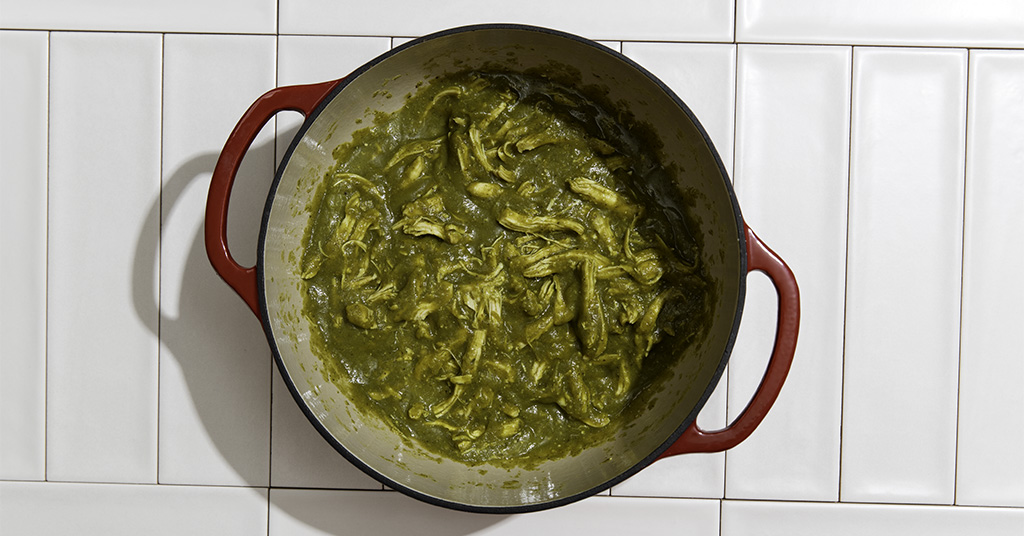 Using a blend of spicy green peppers, onion, garlic, cilantro and Mexican spices gives this chicken its unique color and flavor! Make the filling the night before you assemble the tamales so it's easily on hand when you need it.
Chile Verde (Green Chile) Chicken Recipe
Ingredients:
2 lbs. chicken breasts, poached and shredded
1 1/2 lbs. tomatillos, peeled and washed
1 quarter of a white onion
2 jalapeño peppers
2 serrano peppers
2 poblano (pasilla) peppers
2 cloves garlic
handful of fresh cilantro
1 tsp. chicken bullion
1 tbsp. neutral oil
salt, to taste
pepper, to taste
1 tsp. cumin
Directions:
In a large stockpot, simmer chicken breasts with salt until cooked through. Remove chicken from the water, allow to cook, and shred into bite sized pieces. Meanwhile, preheat oven to 400 degrees farenhieght. Place the tomatillos, jalapeños, serranos, poblanos, and garlic on a roasting sheet and roast until blistered and cooked through. Remove the stems and seeds of the peppers if you wish to reduce the heat. Once they are finished roasting, place the poblano peppers in a heat safe container with a lid and allow them to steam for a few minutes. Peel the skin off from the poblano (pasilla) peppers, remove the top of the pepper, and devein. Place the all the peppers, onion, tomatillos, garlic, cilantro, cumin, and chicken bullion powder in a blender and puree until smooth. Adding a splash of water if necessary. In a large deep skillet, heat oil over medium heat and add the chicken along with the chile verde sauce. Stir and allow the sauce to simmer for at least 20 minutes, seasoning with salt and pepper to taste.
How to store tamale fillings?
Tamale fillings can be stored in an air-tight container in the fridge for up to 2 days. There is no need to heat the filling before assembling the tamales.
How to make strawberry tamales?
Sweet strawberry tamales are a treat during the holiday season. They are especially good with a morning cup of coffee, topped with a bit of condensed milk, and eaten alongside friends and family.
Ingredients:
1 batch of prepared masa + 1/2 a cup of masa mix
1 lbs. of strawberries, chopped
1 1/2 cups of strawberry jam
1 cup of granulated sugar
2 14 oz cans of Stater Bros. condensed milk, divided
1 stick of unsalted butter, melted
A few drops of red food coloring (optional)
Directions:
Using the prepared masa, mix all of the ingredients except for 1 can of condensed milk. The remaining condensed milk may be used for garnish.
Filling And Folding Tamales
Filling and folding tamales seems to be the part everyone worries about. We promise it's easier than it looks! Once you've got a system down, you'll be making dozens and dozens of tamales in just a few minutes. Better yet, turn it into a tamale making party by getting together with friends and family.
Which side of the corn husk is used to make tamales?
Corn husks have a smooth and a bumpy side. It's best to use the smooth side to spread your masa, and it's easier too! Corn husks naturally fold inward so that the bumpy side is the outer part of the husk.
How to fill a tamale?
If you're preparing a tamale with a filling use approximately 3-4 ounces of masa (use the same size spoon for the accuracy) and spread an even layer of masa on the smooth side of the corn husk. If your tamale has no filling (like our strawberry tamales), use approximately 5-6 ounces of masa. Hold the husk open with one hand, with the widest part on top and begin your masa layer towards the lower center, pushing the masa in an upward motion towards the top. If your leaves are extra large add more masa. Stop spreading before you reach the tip of the husk and making sure to leave an even portion of the husk bare around the masa. You are looking for a rectangular shape of masa, however tamales are forgiving and the masa does not need to be perfectly spread. If you're adding a filling, use approximately 2 ounces of your filling to the center on top of the masa.
How to fold a tamale?
Once you've finished spreading masa on the corn husk, take one of the sides of the husk and begin to close the tamale by holding the husk to the center. Then, take the unfolded side and bring it to the middle to overlap the other side of the husk. Finally, fold the bottom portion upwards toward the folded parts and slightly push the filling upwards.
How to cook tamales?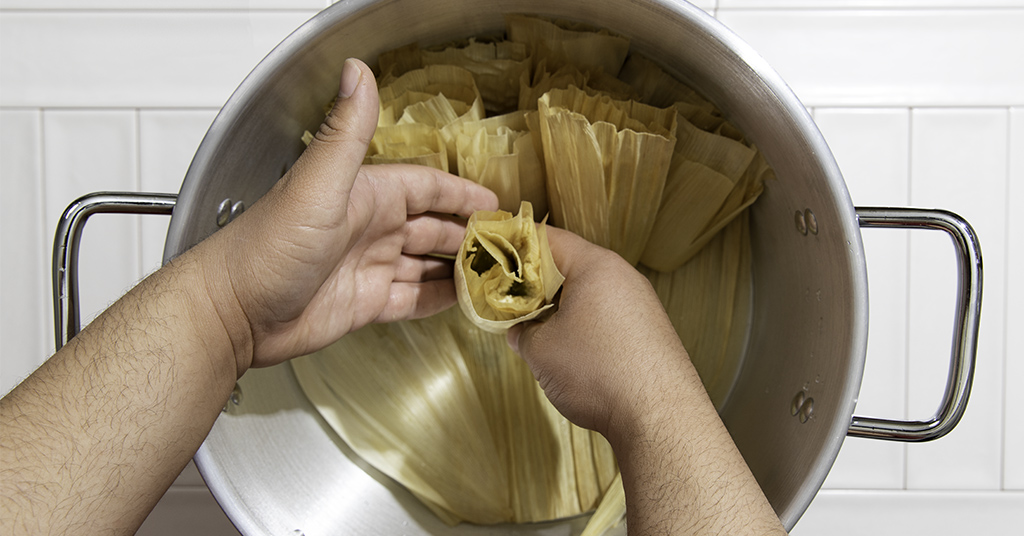 Tamales are steamed and very easy to cook. Simply take a large stockpot with a steam tray, fill it with water (staying below the steam tray), cover the bottom with one layer of husks, and stand tamales up with the open end pointing towards the top. Cover the tamales with a clean damp kitchen cloth, close the lid, and bring to a boil. Allow the tamales to steam for approximately 1 to 1 1/2 hours depending on how many tamales you are cooking. Make sure to keep enough water boiling on the bottom and refill as necessary. To test whether the tamales are finished cooking, carefully remove one from the pot with tongs and pull off the husk. Once tamales are fully cooked, masa easily releases from the husk without any sticking.
Now that you know how to make tamales from scratch, it's time to get your family together and make new memories and traditions. However, be careful because tamales can be quite addicting! If you're looking for more holiday-related fun check out our holiday page for more festive inspiration!