Take your taste buds on a trip across the world and land in Germany's annual Oktoberfest celebration full of beers, brats, and snacks. Oktoberfest is an annual festival held in Munich, Germany that draws visitors from around the world. Typically, the festival is held in the last weeks of September and concludes in the early days of October. There's an endless array of foods like sausages (bratwurst), beer, cheese, pretzels, and other German fare. If traveling isn't in your itinerary this year, bring Oktoberfest to your own back yard with our recipes and festive beer picks.
Our Picks for Oktoberfest Beers
Samuel Adam's Oktoberfest is their take on the traditional beer served at the festival. It blends hearty malts for a deep, smooth flavor with notes of caramel that pairs perfectly with pretzels, apple strudel, and pot roast.
New Belgium Fat Tire Amber Ale
Fat Tire's flavor is inspired by the founder's mountain biking trip throughout Europe and the style of beer brewed in Belgium during the 1930s. He crafted an easy-drinking beer with a fresh herbal hop profile, malty-forward notes, and fruity yeast.
Stella Artois is crafted with three ingredients-saaz hops, malted barley, and water. It has a wonderful aroma, well-balanced malt sweetness, crisp hop bitterness and a soft dry finish.
Brats We're Serving for Oktoberfest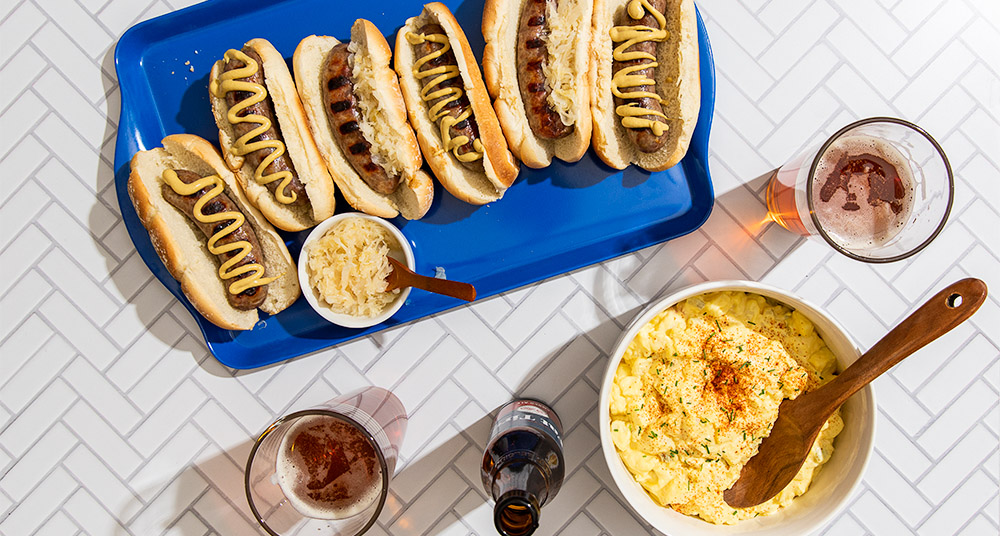 Stater Bros. Markets Original Bratwurst
Premium cuts of pork blended perfectly with traditional spices. Bratwursts are the traditional sausage to serve at any Oktoberfest festival big or small. We recommend simmering them with onions, butter, and beer then finishing the sausages off on the grill to achieve a nice crispy exterior.
Aidells Smoked Chicken Sausage, Roasted Garlic & Gruyere
This sausage is made with whole roasted garlic cloves and hardwood smoked chicken, which is filled with melt-in-your-mouth goodness from Gruyere and Swiss cheese.
Beyond Sausage Plant-Based Bratwurst
Made from simple plant-based ingredients – like peas, brown rice and fava beans. Beyond Sausage has no GMOs, soy or gluten. Each pack contains 4 plant-based links that can be thrown in a bun for your Oktoberfest celebration.
Don't forget to add buns, mustard, sauerkraut, and potato salad for a full authentic experience!
Beer Cheese Dip with Pretzels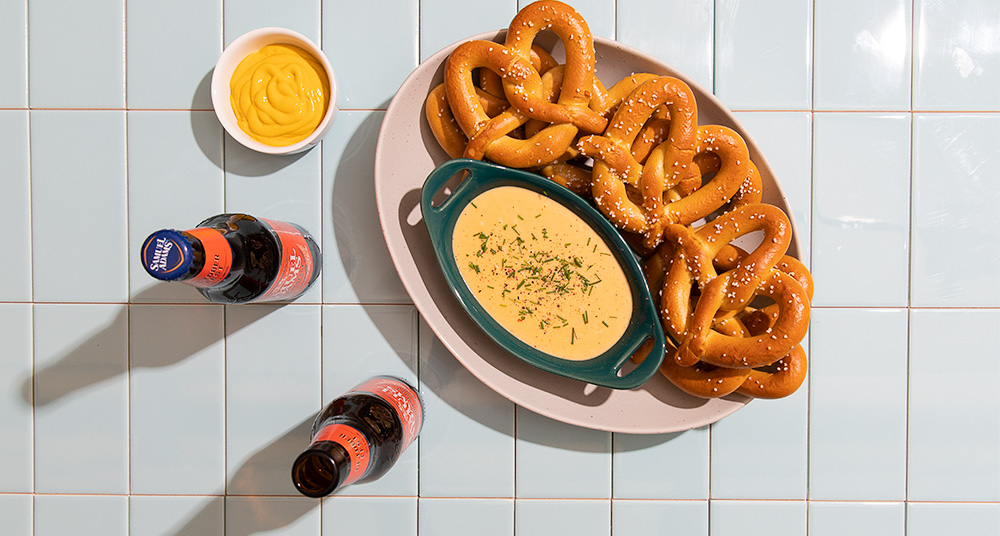 Made with beer, nutty gruyere, sharp cheddar, and creamy half and half, this beer cheese dip is the perfect snack to serve at your backyard Oktoberfest. Serve with your favorite soft pretzels, chips, and fries.
Ingredients
4 tbsp. unsalted butter
1/4 cup all purpose flour
1 12 oz. bottle of your preferred dark beer, we recommend Fat Tire
1 1/2 cups Stater Bros. Markets half and half
1 tsp. dijon mustard
1 tsp. Worcestershire sauce
1/4 tsp. garlic powder
1/2 tsp. kosher salt
1/4 tsp. cayenne pepper
1 cup gruyere cheese, shredded
1 cup sharp cheddar cheese, shredded
Finely chopped chives, for garnish
Freshly cracked black pepper, for garnish
Directions
Melt butter in a saucepan over medium heat, add flour and whisk until combined. Whisking constantly until the mixture turns into a golden color, approximately 5 minutes. Continue whisking and add beer and half and half. Add the mustard, Worcestershire sauce, garlic powder, salt, and cayenne pepper. Stir constantly until it comes to a boil, then reduce to a simmer. Keep stirring until it's thick enough to coat the back of a spoon. In increments, add cheese, stir, and repeat until all cheese is incorporated. Serve in a bowl and garnish with chives and cracked black pepper.
Just like that, a whole Oktoberfest celebration without the travel time to Germany! If you've been inspired to throw your own mini festival, tag us in our social accounts, we'd love to see it.