Winter is here, bringing with it colder weather, gatherings, and of course tasty food! It's a busy part of the year for sure, so having delicious winter meals that are simple to prepare is essential for having a calm winter season. As the temperatures drop and the days get shorter, it can sometimes be hard to find the motivation to cook. But with one pot meals, you can have a delicious and comforting dinner on the table in no time. Here are some of our favorite winter soups, perfect for dinner with friends or family!
Zuppa de Toscana
Zuppa de Toscana is a hearty and delicious Italian soup that is perfect for family-friendly dinners. The traditional recipe typically includes ingredients such as Italian sausage, potatoes, kale or spinach. Its simple preparation makes it easily modified to tweak it to your tastes.
Ingredients:
Directions:
In a single pot, add the oil and heat it over medium-high heat. Add sausage, making sure to break it up, and cook until no longer brown.
Next, add onion and cook for about 5 minutes until soft, and then add the garlic and cook an additional 2 minutes. Stir in the potatoes and chicken broth. Bring the whole pot to a boil, then reduce the heat to a simmer until the potatoes are nice and tender.
Stir in the kale and let it all cook until the kale is wilted. Finally, season to taste with salt and pepper! Pairs perfectly with sandwiches from our deli.
Pho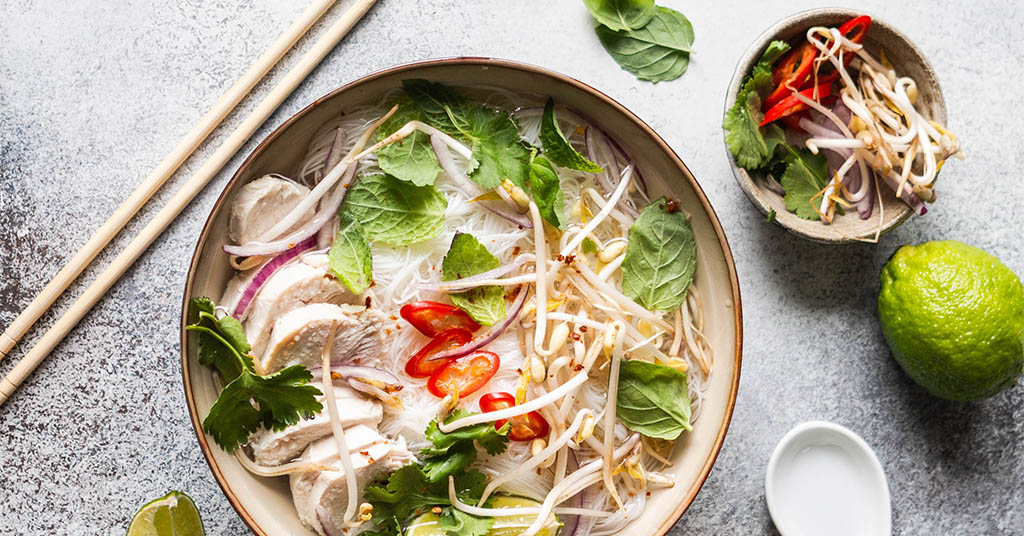 If you're looking for a delicious one pot meal, you can never go wrong with pho. Pho is a traditional Vietnamese noodle soup that consists of broth, noodles, herbs, and meat. It's a comforting and filling meal that's perfect for cold winter nights. Here is a recipe for a Chicken Pho that makes for a great winter dinner!
Ingredients:
Broth
2-star anise
2 thumb-sized ginger, cut in half
2 chicken breasts
1 stick of cinnamon
1 tablespoon of peppercorns
1 whole white onion, cut in half
1 stem of green onions
1 teaspoon of Stater Bros. Brown Sugar
a handful of rice stick noodles
6 cups of water
Fish sauce, to taste
Garnish
Bean sprouts, blanched
White onions, sliced
Green onions, chopped
Cilantro, chopped
Directions:
Char the onions and ginger slices on a stove burner, then set them aside. Heat a pan over medium heat, and heat the star anise, cinnamon stick, and peppercorns together until fragrant, and set them aside.
Place the chicken into a pot and pour in the water, bringing it to a boil. Skim off any residue from the top. Lower the heat and put the remaining broth ingredients into the pot, allowing it to simmer with a cover on, for about 25 minutes.
For the sake of saving time, in a separate pot blanch the bean sprouts and set them aside, and using the same pot boil the rice noodles for 8 to 10 minutes until soft and tender, and set aside in a prepared bowl. After the chicken is cooked, shred it and strain the broth to remove the spices, and then put the broth back into the pot, letting it simmer.
To prepare the pho itself, put the noodles into a serving bowl, top them with the shredded chicken and garnishes, pour the soup over it and enjoy. Squeeze some lime into the soup to further brighten the flavors.
Pozole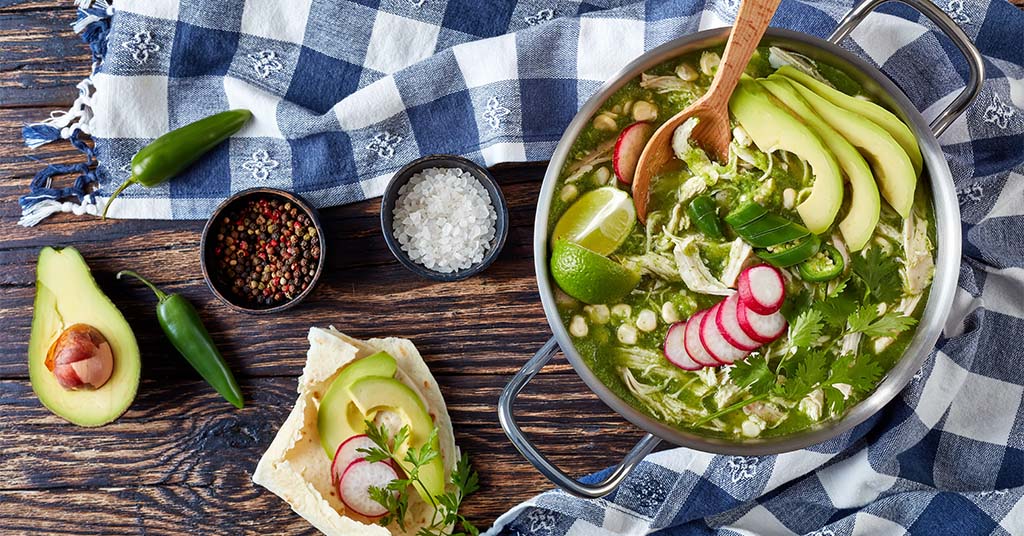 Few dishes can rival the deliciousness of pozole. Chile verde pozole is a traditional Mexican soup that is made with hominy, pork or chicken, and green chiles. This dish is traditionally served with toppings such as shredded cabbage, sliced avocado, radishes, cilantro, and lime. This recipe is perfect for a dinner with family or friends!
Ingredients:
Soup
3 pounds boneless chicken thighs
1 ½ pound of tomatillos, peeled and quartered
1 large sweet onion
6 cloves of garlic, minced
6 poblano peppers, seeded and chopped
2 jalapenos, seeded and chopped (optional)
2 bay leaves
1 tablespoon of dried oregano
½ cup of chopped cilantro
2 15-ounce cans of white hominy, drained and rinsed
salt and pepper
2 tablespoons of olive oil
6 cups of water (or chicken broth)
Garnish
Tortilla Chips
Shredded Cabbage
Sliced Avocado
Sliced Radishes
Chopped Cilantro
Lime slices
Directions:
Heat a 6-to-8-quart Dutch oven over medium heat. Add the oil to the pot. Add in the chopped onion and garlic, and sauté for 2 minutes. Add in the chopped poblanos and jalapenos, if you're using them, as well as the cilantro. Continue sautéing for another 8 minutes, making sure to stir regularly.
Place the chicken thighs, chicken broth (or water), bay leaves, tomatillos, oregano, and one teaspoon of salt in the pot, and then cover it with a heavy lid and bring the pot to a boil. Once boiling, lower the heat and simmer for about an hour, until the chicken is soft enough to shred (don't forget to keep the pot covered!).
Remove the chicken thighs and bay leaves, and proceed to shred the chicken into small chunks. Add the shredded chicken back into the pot, and then add the rinsed hominy, stirring to make sure everything is combined. Simmer for another few minutes to warm the hominy, and then season with salt and pepper to taste.
When serving, put the pozole into bowls and then garnish with your preferred garnishes, and enjoy! Consider using our freshly made tortilla chips from our deli to garnish your pozole.
Menudo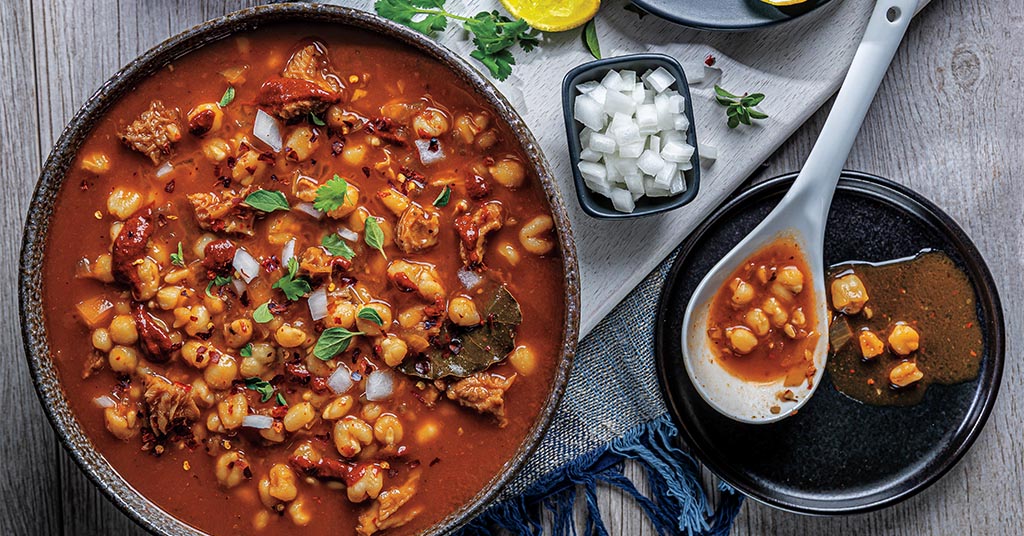 If you love pozole and want to try something new, you should try this menudo recipe! Menudo is a traditional and loved Mexican soup that is made with tripe, and hominy in a chili broth. This recipe uses an Instant Pot, making the whole process very simple. Menudo is considered a comfort food and it is often enjoyed during colder winter months. Top this dish with some diced onions, cilantro, a squeeze of lime, and enjoy!
Ingredients:
4 oz honeycomb tripe
2 quarts of water
1 medium-sized white onion, roughly chopped
½ cup dried Guajillo chili, ground into a powder
2 tablespoons of cumin
2 tablespoons of chopped garlic, in water
2 tablespoons of kosher salt
1 tablespoon of Mexican oregano
2 tablespoons of black pepper
2 15½ ounce cans of hominy, drained and rinse
Garnishes
diced onion
diced radish
lime wedges
chopped cilantro
Directions:
Before cooking everything, it's good to prepare the tripe. Place the tripe inside a large pot, fully immerse in water, along with a ¼ cup of salt. Bring the pot to a boil, and let the tripe boil for 15 minutes. Afterward, take the tripe out of the pot, remove any non-white parts, and rinse the tripe with cold water.
Add the tripe and water to the Instant Pot, and stir in the rest of the ingredients. Cover and cook on the soup/stew normal setting for 1 hour, or until the internal temperature reaches 160F. Serve immediately, with preferred garnishes.
Gumbo
This traditional stew originated in Louisiana and is the perfect dish for the cold winter season. It typically contains a mixture of vegetables, meats or seafood and is packed with spices which give this dish its bold flavor. Like many of the other recipes listed here, it is highly customizable to your personal taste.
Ingredients:
½ lb kielbasa, sliced
½ lb Stater Bros. Smoked Sausage, sliced
1 tablespoon Full Circle Market Organic Extra Virgin Olive Oil
1 onion, chopped
4 cloves of garlic, minced
½ cup olive oil
½ cup, flour
2 bottles of dark beer
2 cans of diced tomatoes (leave in the liquid)
1 7oz can diced chili, drained
1 cup celery, diced
¼ cup brown sugar
1 bunch of fresh parsley
1 lb of fresh shrimp, peeled, de-tailed and de-veined
preferred hot sauce (to taste)
Directions:
In a large pot, saute the onion and sliced sausage using 1 tablespoon of olive oil for 4 minutes on medium heat. Add in the garlic, and saute for an additional minute.
Pushing aside the meat mixture, add in the rest of the olive oil and the flour, whisking to combine everything. Next, stir in 1/4th cup of the chicken broth (to help stop the flour from clumping), then add the remaining broth. Add the diced tomatoes, celery, chilies, creole seasoning, parsley, and sugar.
Add in the salt, pepper, and hot sauce to taste. Next, bring to a boil, cover, turn down the heat to a simmer, and let everything simmer for 30 minutes (remember to stir often). This can be a good opportunity to add more seasoning. After simmering, add the beer and the shrimp, and stir.
Cover and simmer for an additional 10 minutes. Let everything cool, then serve.
One pot meals are easy to make and easier to clean up! These recipes are great all year round, especially during wintertime. So next time you're looking for a comforting and easy winter meal, give one of these one pot meals a try!
Pick up all your fresh ingredients at your local Stater Bros. Markets.