Looking for something refreshing and delicious? Look no further. Our top summer salads are fresh, tasty, and are light meals that are perfect for this hot season. Enjoying salads can be a healthy and tasty addition to your diet. Add some of your seasonal produce favorites like watermelon, berries, and arugula. Perfect for you and your family to have during barbecue gatherings when you need an easy meal or side dish. Take these salad recipes with you, wherever your summer adventures take you!  
Watermelon Arugula Feta Salad
Your seasonal favorite, watermelon, just got better! While you are grilling your favorites, make this easy Watermelon Arugula Feta Salad. This recipe is sure to become your new favorite. It's refreshing taste makes this the perfect salad to enjoy during those hot summer days. Within minutes, you will have a mouthwatering salad that's full of flavor.
Ingredients:
5 cups watermelon, diced into 1/2 inch cubes
1 5 oz. package of Full Circle Market arugula
6 oz. Culinary Tours crumbled feta cheese
1/4 cup chopped mint leaves
2 oz. Stater Bros. sliced almonds
Vinaigrette Ingredients:
1/3 cup Full Circle Market olive oil
1 lemon, juiced
1/4 cup red wine vinegar
1 shallot, chopped small
2 tbsp Full Circle Market honey
1 tsp salt
1/2 tsp pepper
Directions:
Make the dressing: In a small bowl, whisk together olive oil, lemon juice, red wine vinegar, shallots, honey, salt, and pepper, and set aside.
In a bowl, combine your watermelon, arugula, feta cheese, mint leaves, and sliced almonds.
Drizzle vinaigrette over salad and toss to coat.
Green Salad With Strawberries And Goat Cheese
Here is one of our berry favorite recipes! Make this Green Salad With Strawberries And Goat Cheese for your next gathering. This lively salad is the perfect balance between sweet and refreshing. Add some nuts on top and add your favorite protein, like chicken, to make this your go-to summer meal.
Find the recipe here
Grilled Chicken Taco Salad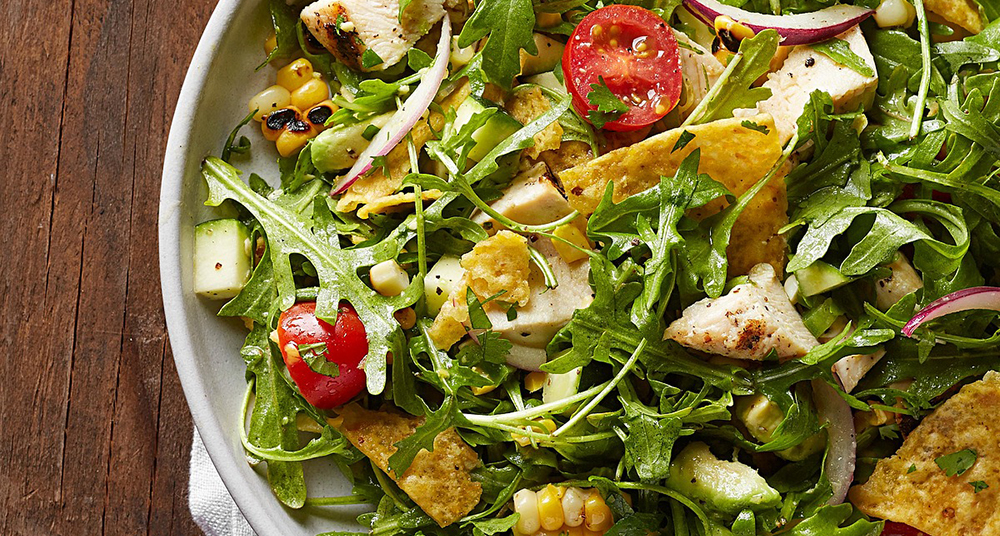 You cannot enjoy summer without trying this next recipe. It's full of your favorites like cherry tomatoes, zucchini, avocado, corn, and arugula. Enjoy this taco salad without the guilt. The peppery arugula and corn along with the tangy dressing make this a delicious healthier twist. You can even add some salsa on top, for adding spice.
Find the recipe here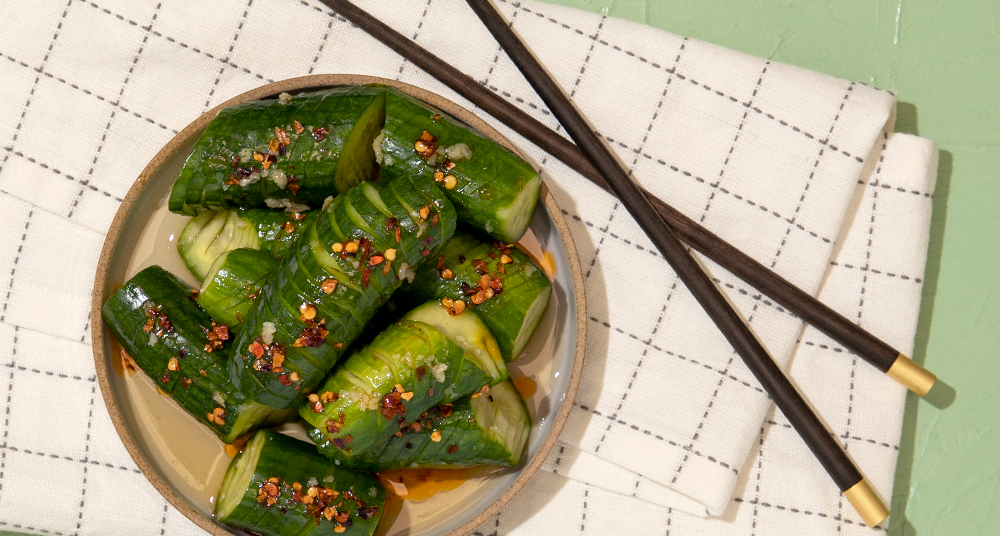 This next salad is trending all over social media, and it's clear to see why. This simple cucumber salad is refreshing and has a delicious crunch that will leave you wanting more. Made easily with mini cucumber to give you that crispy taste and is seasoned to perfection. This salad can be an easy snack or side dish.
Ingredients:
6 mini cucumbers
1 tbsp salt
4 tbsp rice vinegar
soy sauce
1/2 tbsp sugar
2 cloves garlic
chili oil
Directions:
Wash and cut ends off of cucumbers
Practice your knife skills and make diagonal cuts, being sure not to slice off the way through.
Repeat on the other side and then cut into thirds.
Mix cucumbers with salt and water and let sit for 15 minutes.
Rinse cucumbers with water twice.
To the cucumbers add rice wine vinegar, soy sauce, sugar and garlic.
Marinate in the fridge for 30 minutes to 1 hour.
Drizzle with chili oil and dig in.
Recipe by @derekkchen on Instagram and TikTok
Watch video here