Show your loved ones you care in the best love language of all- by feeding them. The great thing about this recipe is that your guest will think you spent hours making this when really it takes about 45 minutes.
Why This Works
This recipe pairing works great for a multitude of reasons. The bright, tangy lemon and salty capers act as the perfect balance to the rich, creamy risotto. Without added acidic flavors on the plate, heavy cheese dishes like risotto can quickly become too rich to eat.
This recipe also gets an added boost from the fortified broth. Risotto is a simple dish with a lot of nuances. At its core, it's simply butter, onion, rice, wine and broth. To get an ultra-tasty risotto, start with a high-quality broth. If you have ever been tempted to try making broth or stock at home, this would be a great recipe to use it in. The flavor of your broth will greatly affect the flavor of your risotto, so taste it! If you wouldn't drink the broth, it's not going to help your risotto much. By adding in the rind from your Parmigiano-Reggiano and the trim from your leeks while you heat the broth, your risotto will have restaurant-quality flavor without hours of simmering. This trick will save you time and use up your scraps!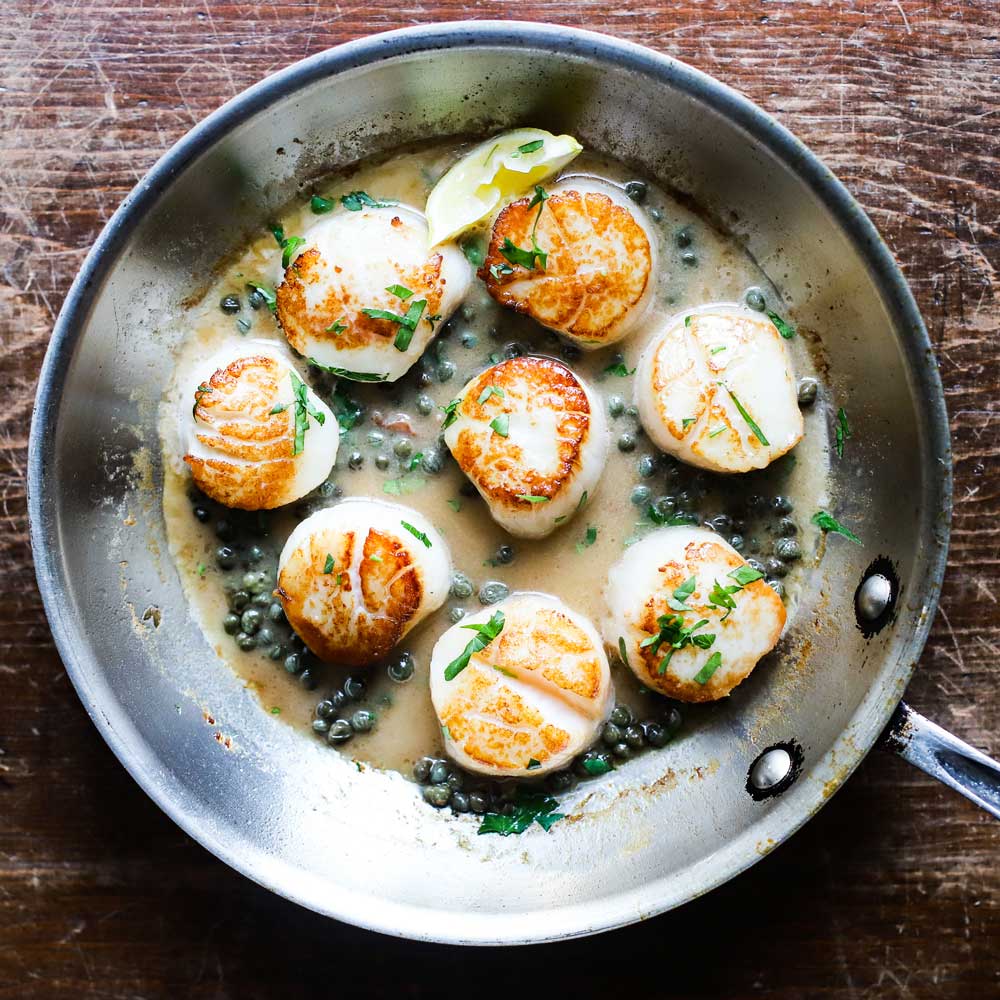 Scallop Piccata with Parmesan Risotto and Asparagus
Serves 2
1 lb asparagus, trimmed
Kosher salt and pepper
4 cups chicken or vegetable broth
8 Tbsp unsalted butter
1 large leek, white and very light green parts only (reserve trim)
1/2 yellow onion, finely chopped (reserve any scraps or trim)
1 cup arborio rice
1/2 cup white wine
2 oz Parmesan cheese, grated (about 1 cup) (Note: if possible, buy Parmigiano-Reggiano with a rind)**
2 Tbsp olive oil
8 large scallops, cleaned and dried
2 tbsp capers, packed in brine, drained
1 lemon
1/4 cup parsley, finely chopped
In an 8-inch saucepan, add enough water to fill up about 2-inch high, then place on the stove over high heat. When water is simmering, add a pinch of salt and the asparagus (there should be enough water to cover). Simmer until slightly tender, about 4 to 5 minutes, then drain and rinse with cold water. Set aside.
In the same saucepan, heat broth over medium heat with leek and onion trim. Cut off the Parmigiano rind (if using) as close as possible to the edge. Simmer for about 10 minutes until ready to use. Leave the pot on your stove and use a ladle to scoop the broth directly into your risotto, being careful not to pick up any leek or onion trim.
In a heavy-bottomed Dutch oven or pot, melt half the butter (4 Tbsp) over medium heat. Add leeks and onion and a pinch of salt and sauté until softened and translucent. Add the rice and stir until rice is coated in the butter. Add the wine, turn the heat to medium-low and stir constantly until almost evaporated, then pour in about 1/2 cup of the hot broth. Continue to stir, adding another 1/2 cup of broth every few minutes until it's mostly all absorbed. Remove from heat and stir in the cheese.
Finally, in a large sauté pan, heat olive oil over medium-high heat. Prepare the scallops by patting them very dry and seasoning with a pinch of salt. When the oil barely begins to smoke, add scallops one at a time, making sure to place them directly into oil. When the scallops are golden brown and release from the pan easily, flip them over and lower the heat to medium-low. Add 2 Tbsp butter and capers and let scallops simmer until just you can see just a sliver of uncooked scallop around the center. Remove from heat and let sit 1-2 minutes, then dress with lemon and parsley.
To serve, melt remaining 2 Tbsp butter and toss with asparagus. Transfer the risotto to a shallow bowl or plate, then top with scallops and drizzle with pan sauce. Serve with asparagus on the side and a sprinkle of fresh-cracked pepper.
**When referring to hard cheese, the rind is the hard inedible outer layer that protects the cheese inside when aging. With Parmigiano-Reggiano (and some others), you can cut the rind off and use it to flavor soups, sauces and broths. It will add a rich and savory flavor and is a great trick for vegetarians too!