Christmas cookies are at the top of Santa's favorites list, and rightfully so. Who could resist the delicious taste of chewy, soft, freshly baked cookies? The aroma alone will bring warmth and comfort to your home. Christmas festivities wouldn't feel complete without the delicious homemade cookies that make the season feel special. Whether you're a seasoned baker or are just learning, Christmas is the season to bake and start new traditions. Baking cookies for Santa on Christmas Eve is a memory that you and your loved ones can cherish for years to come. The following cookies are Santa's favorites, baking any of these recipes will surely secure your spot on the nice list.
Before You Bake:
Here's some common baking questions and answers.
Is baking powder the same as baking soda?
Baking powder and baking soda are not the same, baking soda is a bicarbonate and in a recipe helps neutralize the process by creating carbon dioxide. Baking powder is a combination of baking soda and a dry acid combined.
Can you use baking powder instead of baking soda?
You can substitute 1 teaspoon of baking powder for every 1/4 teaspoon of baking soda.
Should you refrigerate cookie dough before you bake?
Chilling dough prior to baking helps prevent cookies from spreading out too thin. Placing your dough in the refrigerator will help the fats like butter cool down, giving you a soft, chewy center.
How long should you refrigerate cookie dough for?
Cookie dough should be chilled for at least 30 minutes.
How to keep cookies soft and chewy?
For soft and chewy fresh cookies, make sure to seal them in an airtight container.
How long do cookies last after baking?
Most homemade cookies will usually last 4-5 days if they are stored in an airtight container, at room temperature. However, these cookies will probably be gone overnight.
Can you freeze freshly baked cookies?
Want to save some for later? You can freeze cookies in an airtight plastic container or wrap cookies tightly with plastic wrap for up to 8 months of freshness.
M&M Christmas Cookie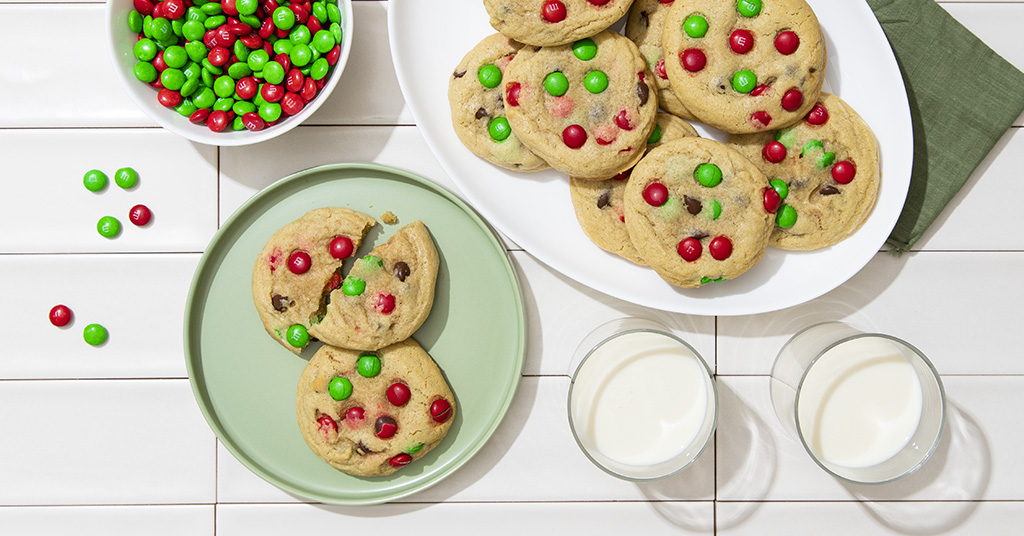 Santa's going to love this twist to his favorite chocolate chip cookies. Adding red and green M&M's to a traditional chocolate chip recipe gives an added Christmas touch. These cookies are soft, chewy and are completely delightful. Combine chocolate chips and M&M's for a rich chocolate taste in each and every bite.
Ingredients:
Directions:
Preheat oven to 375°F. Beat softened butter and both sugars until creamy. Add eggs and vanilla extract. Beat again until smooth. Add dry ingredients (flour, baking soda & salt) and carefully mix into butter mixture. Add M&M's and chocolate chips and mix together. Let dough chill in fridge for 30 minutes.
Using a large scooper, place dough onto a parchment lined cookie sheet 2 inches apart. Gently press down on dough to create a flat surface and add additional M&M's on top of each dough ball. Bake for 16 to 18 minutes or until the edges just begin to turn golden brown. Remove from oven and leave on cookie sheet for 5 minutes. After 5 minutes transfer to a wire cooling rack. Don't forget to leave some cookies out with a warm glass of milk for Santa.
Hot Chocolate Cookies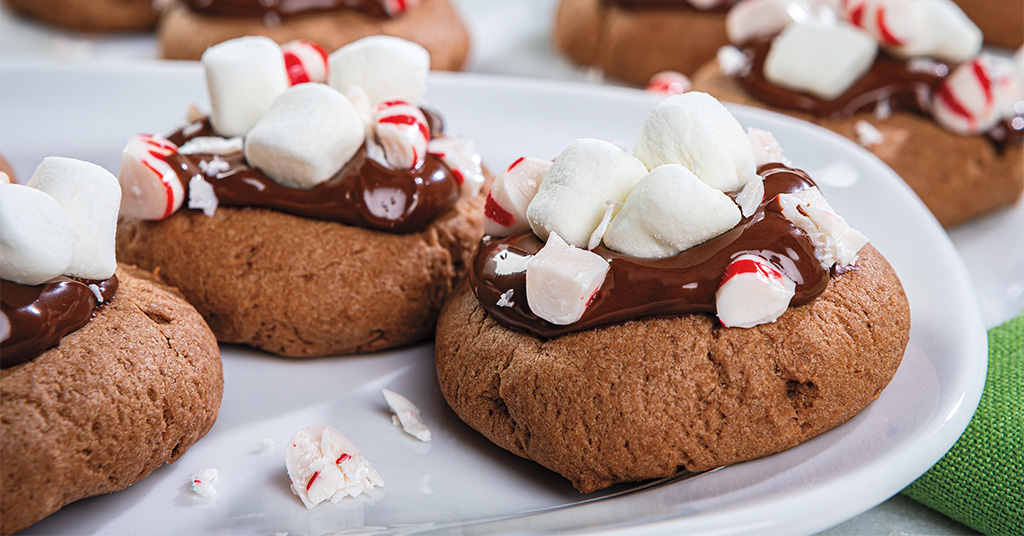 'Tis the season to enjoy some warm hot chocolate cookies. These cookies are a unique and delightful addition to any holiday gathering. Made with a rich chocolate cocoa base and embellished with chocolate drizzle, marshmallows, and crushed candy canes to bring the taste of the holiday season to your home. Both kids and grownups will have trouble saving some of these for Santa.
Ingredients:
Directions:
Preheat oven to 350°F. Line rimmed baking pan with parchment paper. In large bowl, whisk flour, cornstarch, sugar and cocoa powder. In a separate bowl, with mixer on medium speed, beat butter, milk and vanilla extract 3 minutes or until light and fluffy; add flour mixture and beat just until combined. Cover; refrigerate 30 minutes.
Roll dough into 12 (1 1/2-inch) balls; place 2 inches apart on prepared pan. Firmly press each ball with palm of hand to flatten to 3/4-inch thick. Bake cookies 12 minutes or until sides crack slightly; cool on pan on wire rack 15 minutes.
In a small microwave-safe bowl, heat chocolate chips in microwave on high 1 minute or until melted, stirring every 20 seconds. Spread cookies with chocolate; immediately top with marshmallows and candy.
Red Velvet & Cheesecake Thumbprint Cookies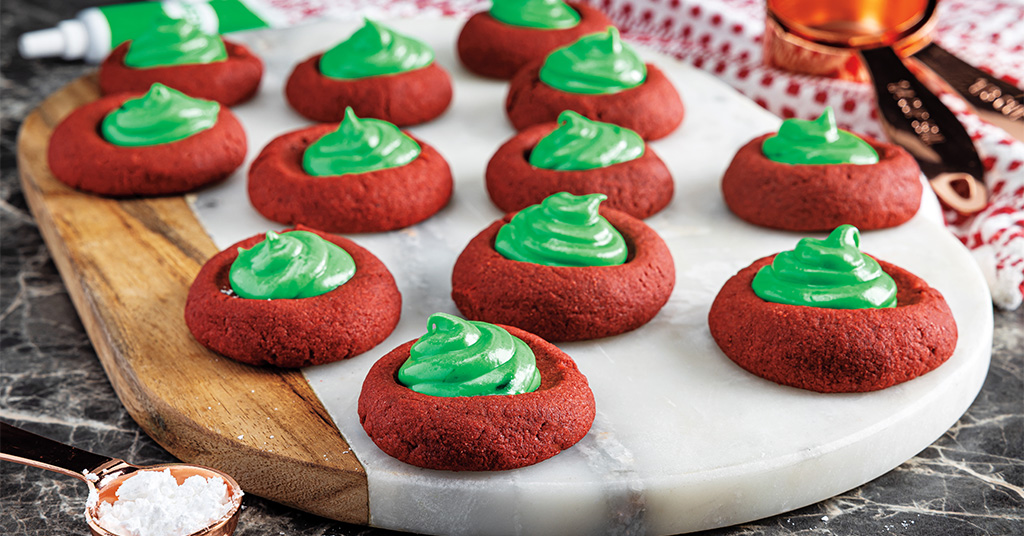 These cookies are the cookie version of Santa's favorite cake. He loves red velvet cakes, and this recipe makes the perfect Christmas Treat. Red velvet and cheesecake cookies have the right amount of rich velvet and cream cheese flavor combined. They are soft and chewy, with a delicious cream cheese center.
Ingredients:
2 1/4 cups Stater Bros. All-Purpose Flour
1/4 cup unsweetened cocoa powder
2 sticks plus 2 tablespoons Full Circle Market Organic Unsalted Butter, softened
2/3 cup Stater Bros. granulated sugar
1 large Stater Bros. Grade AA large egg yolk
2 teaspoons red food coloring
1/2 (8-ounce) package Stater Bros. cream cheese, softened
1 cup Full Circle Market Organic powdered sugar
1/2 teaspoon green food coloring
Directions:
Adjust 2 oven racks to top and bottom positions; and preheat oven to 350°F. Next, Line 2 rimmed baking pans with parchment paper. In medium bowl, whisk flour and cocoa powder. In large bowl, with mixer on medium-high speed, beat 1 cup butter and granulated sugar 2 minutes or until light and fluffy. Add egg yolk, red food coloring and vanilla extract; beat 1 minute or until incorporated.
Reduce speed to low; add flour mixture and beat for 1 minute or until incorporated, scraping down the bowl occasionally. Roll dough into 26 (1 1/2-inch) balls; place 2 inches apart on prepared pans. Press your thumb into the center of each ball to make an indentation, making sure not to press all the way through; freeze for 15 minutes.
Bake for 10 minutes or until bottoms of cookies are slightly browned, rotating pans between upper and lower racks halfway through baking. Cool cookies 10 minutes on pans, then transfer to wire rack to cool completely. In medium bowl, with mixer on medium-low speed, beat cream cheese, powdered sugar, green food coloring and remaining 2 tablespoons butter 2 minutes or until incorporated. Transfer cream cheese mixture to small zip-top plastic bag and snip bottom corner with kitchen scissors: pipe into indentations in cookies.
Gluten Free Mexican Wedding Cookies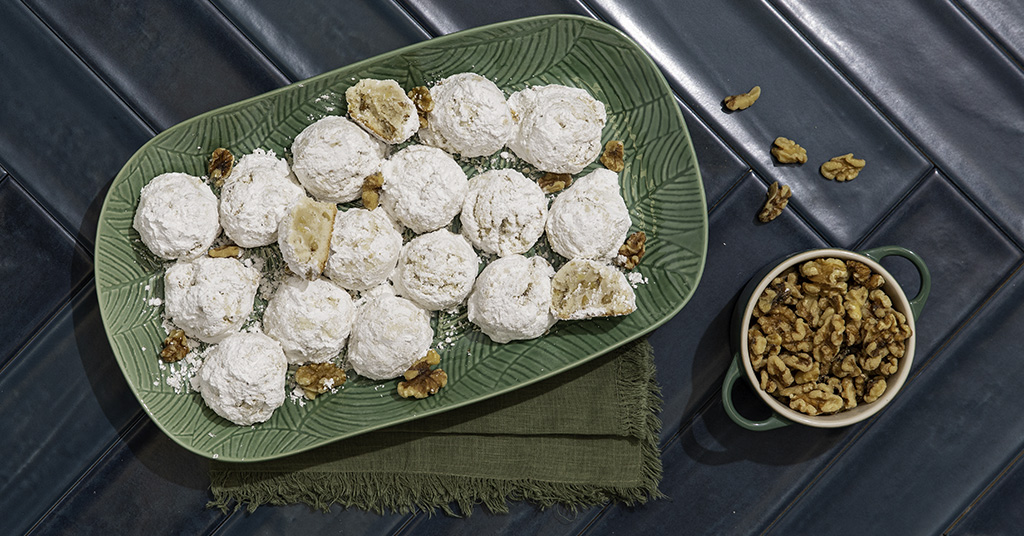 Mexican wedding cookies, also known as Snow Ball cookies, are delicate, crumbly cookies that will melt in your mouth. This easy recipe is even gluten-free! The dough is rolled into small balls, then baked and rolled in powdered sugar which gives these cookies the snowball effect. These cookies are the perfect bite-sized treat for Santa's busy schedule.
Ingredients:
Directions:
Beat butter and powdered sugar. Add vanilla and beat again. Next, add gluten free flour and chopped nuts. Mix to combine and chill for 30 minutes. Scoop dough using small scooper. Roll into even balls. Bake at 325°F for 14 to 15 minutes. Cool completely and roll in powdered sugar.
Vegan Snickerdoodle Cookies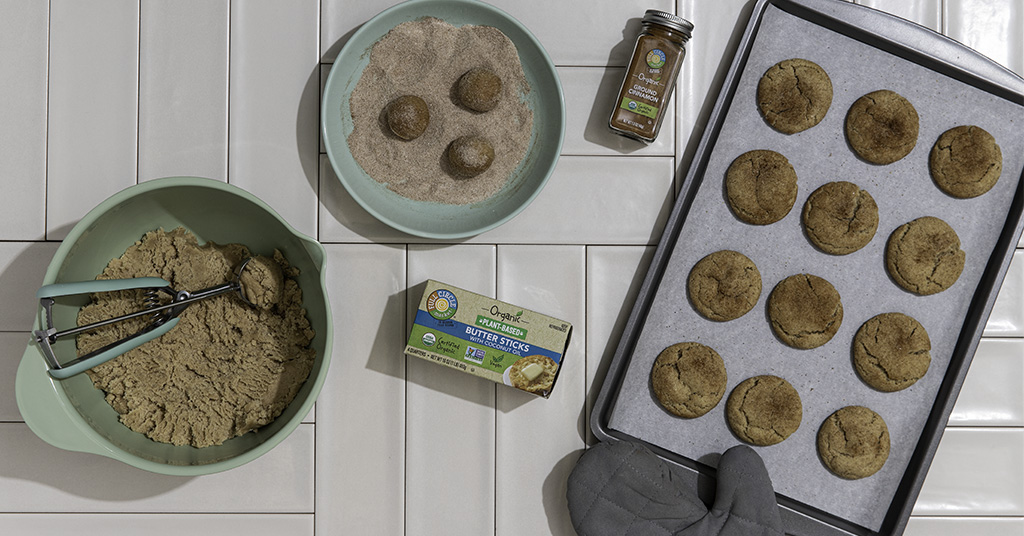 Snickerdoodles are a classic cookie that everyone will love. This tasty treat is vegan and has a soft and chewy light and sweet flavor. The ease of this recipe makes it ideal for anyone new to vegan baking. They'll make a perfect addition to your holiday baking, even Santa can't resist.
Ingredients:
1 teaspoon apple cider vinegar
1 1/2 cups of Full Circle Market all-purpose flour
1 teaspoon cream of tartar
1 teaspoon Stater Bros. baking soda
1 1/4 teaspoons Full Circle Market Organic ground cinnamon
1/4 teaspoon salt
1 tablespoon soy milk or other non-dairy milk
For Rolling:
3 tablespoons Full Circle Market Organic cane sugar
1 teaspoon Full Circle Market Organic ground cinnamon
Instructions:
Preheat oven to 375°F. Beat the butter and sugar. Add vanilla and apple cider vinegar and mix. Next, lightly combine flour, cream of tartar, baking soda, cinnamon and salt until it crumbly dough forms. Pour in soy milk and mix.
Scoop dough and roll into even balls. Then roll the balls into cinnamon and sugar mixture and place them in on a lined baking tray. Bake for 10 minutes or until lightly browned edges.
Baking Santa's favorite cookie recipes are a delicious holiday treat you can share with others this holiday season. It's a time to come together and celebrate the joy and spirit of Christmas. There are no better memories than those created in the comfort of your home.
If you bake any of Santa's favorite cookie recipes, make sure to tag us on our social media channels and share the holiday spirit.
For more holiday ideas and cheer, view our holidays page!