As Thanksgiving approaches, it's never too early to start preparing for the Holiday. And don't forget Friendsgiving, which is a potluck-style dinner celebrated among friends, typically around the same time as Thanksgiving. Whether it's Thanksgiving or Friendsgiving, it's important to keep things simple and focus on spending quality time instead. This is why we made it easy for you to get creative and set up the perfect table by following our helpful tips.
Setting the Table
Tablecloth: Start with a vibrant tablecloth or table runner that fits your aesthetic look and design. You can even opt out of a tablecloth and expose your wooden table for a lovely clean look.
Lighting: Adding candles to your decorations is an easy way to create a warm and inviting ambiance. Not only do they look great, but they also provide a subtle and relaxing scent. Tall candles or shorter candles are perfect way to accent tables. When choosing candles for decoration, be sure to select a style that compliments your overall look.
Silverware: Having the proper silverware for your gathering is essential. It provides a touch of elegance to the table, and makes the presentation look more enjoyable. If you're looking for a more casual look, and don't want to clean up, pick up some of our Simply Done cutlery sets.
Centerpiece: There are endless ways of setting up your Holiday dining room table. If you're going for a more traditional dinner table setting, wow your guest, with a beautiful pumpkin centerpiece. Create your arrangement with your favorite colors and greenery. This arrangement may look difficult, however, it's easy to recreate and it's also easy on your wallet.
For your Friendsgiving table setup, pick up some beautiful bouquets for the table. This year, we are bringing beautiful Friendsgiving arrangements. You can use the arrangements as your table decoration, and then your guest can take them home.
Cornucopia is commonly used as a decoration during harvest festivals and Thanksgiving. It's a horn shaped container, made of wicker and can be filled with seasonal fruits or vegetables. We carry beautiful flower cornucopia arrangements that would go perfectly with your Thanksgiving table setup.
Food
We saved the best for last. Creating memories with loved ones and enjoying a meal together is what makes Thanksgiving special. There are variety of different traditions and meals that are commonly shared. Some of these may include turkey, stuffing, mashed potatoes, cranberry sauce, and of course, pumpkin pie. The options are endless.
Italian Roasted Turkey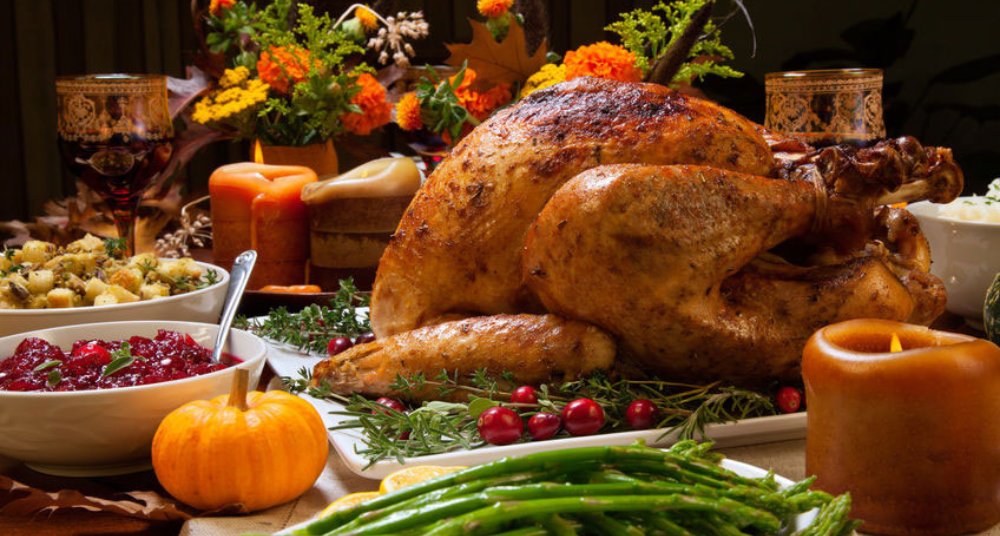 Whether it's your first turkey or you're looking for a simple and delicious recipe, this Italian Roasted Turkey recipe is the perfect centerpiece for your gathering.
Get the recipe Here
Cleo and Leo Macaroni and Cheese Hack
If you're looking for a quick and delicious side dish, we have the perfect recipe for you. Here's a hack on how to make our delicious Cleo and Leo macaroni and cheese pass as homemade.
Ingredients:
2lbs. Cleo and Leo macaroni and cheese
2/3 cups Stater Bros. panko Italian breadcrumbs
2 Tbsp. melted butter
1/4 cups parmesan cheese
Directions:
Pick up 2lbs of Cleo and Leo macaroni and cheese from our full-service deli counter, along with some Stater Bros. panko breadcrumbs. Mix 2/3 cups of breadcrumbs with 2 Tbsp. of melted butter. Add ¼ cup of parmesan cheese and mix. Grab your favorite oven-safe dish and pour in your macaroni and cheese. Evenly spread the breadcrumbs on top of the macaroni and cheese. Bake at 350 degree Fahrenheit for about 20 minutes or until golden brown. This dish will surely be a favorite!
Getting prepared for the Holidays are made easily at Stater Bros. We have all the fresh ingredients you need to make a beautiful meal this Thanksgiving or Friendsgiving. If your short on time, you can trust us to do the preparing for you with our family meals.
During the season it's important to focus on making memories with those that matter most to us. After all, the focus should be on spending time with loved ones, not on spending hours crafting the perfect dinner setting. With that in mind, a few well-chosen pieces can make all the difference.