Halloween time is one of our favorite times of the year! If you're looking for some spooky recipes to make this Halloween, you've come to the right place. These recipes are sure to give you and your guests a fright. Get some help from your little monsters and create the following recipes at your next gathering, or just for fun! These spooky recipes are so good it's scary! From mummy hot dogs to ghost berry pies, we've got everything you need to make this Halloween a scream.
You'll want to grab one of these before they disappear. Ghost berry pie is a delicious dessert that is perfect for the season. These ghost pies are berry sweet, delicious, and easy to make. Use premade pie dough found in the refrigerated section to save some time.
Ingredients
1 can blueberry pie filling
1 egg
frosting
Directions
Use a ghost shaped cookie cutter or create your own template using cardboard or paper. Trace over template onto pie crusts. You'll need two per ghost. With a baking piping tip, cut out eyes and mouth.
Add filling to pie crusts without cutouts. Lightly pat water around the edges. Place crust with cutouts on top of the filling. Pat the edges of the pie together.
With a fork, lightly press the bottom of the ghost. Do an egg wash, and lightly pat egg wash on top.
Bake crust according to package. Top off with favorite frosting.
Candy Corn Marshmallow Cereal Treats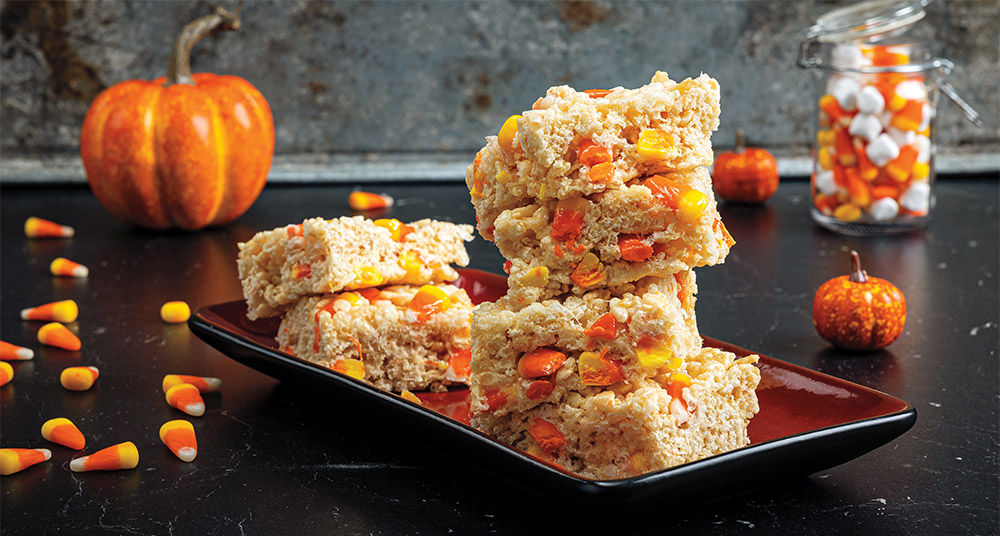 If you like Marshmallow treats, then you're going to love this spin on a favorite. Try this recipe that has candy corn added for a taste that everyone will love. This delicious, melted marshmallow treat is made with just a few ingredients. Make a little bit of a mess and have some fun making this treat with your little ones.
Ingredients
Directions
Line 13 x 9-inch baking dish with aluminum foil so that foil extends about 2 inches over sides of dish; spray with cooking spray.
In large saucepot, melt marshmallows and butter over medium-low heat; fold in cereal and candy corn. Firmly press marshmallow mixture into even layer in prepared dish; refrigerate 2 hours.
Using overhanging sides of foil, transfer cereal bar to cutting board and remove foil; cut into 16 bars.
Red Velvet Mummy Cake Pops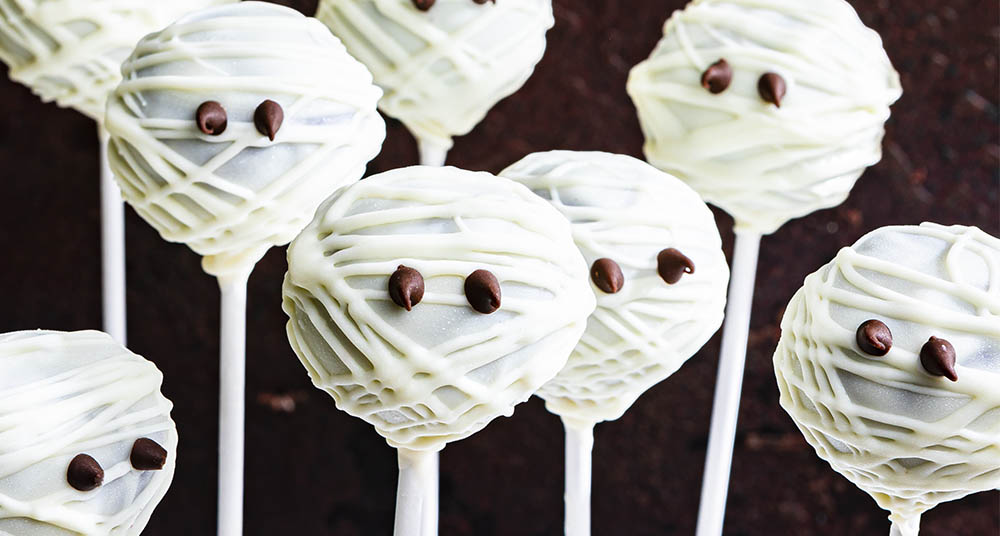 These Mummy Pops are scary good! Try this recipe at your next spooktacular event. The combination of the red velvet cake and vanilla CandiQuik makes these cake pops irresistible. Simply bake your favorite cake, let it cool, and decorate. Get the full recipe here.
Ingredients
Nonstick cooking spray
1 box (15.25 ounces) moist red velvet cake mix
3 Full Circle large brown eggs
1 1/4 cups water
1/2 cup vegetable oil
1/4 cup plus 2 tablespoons creamy cream cheese frosting
1 1/4 packages (16 ounces each) Stater Bros. vanilla CandiQuik
20 Over the Top Essentials cake pop sticks
1/2 tablespoon Stater Bros. semi-sweet mini chocolate chip
Directions
Preheat oven to 350°F. Spray 13 x 9-inch baking dish with cooking spray. Line rimmed baking pan with parchment paper. Prepare cake as label directs with eggs, water and oil in prepared baking dish; cool.
Break up cake into smaller pieces; pulse in food processor until it resembles small crumbs. Transfer cake crumbs to large bowl; with hands, work in frosting until mixture sticks together. Roll cake mixture into 1 1/2 -inch balls; place on prepared baking pan.
Melt CandiQuik as label directs. Dip 1 end of cake pop sticks into CandyQuik, then insert into center of cake balls; freeze 20 minutes.
Melt remaining CandiQuik as label directs, if necessary. Dip cake balls into candy coating to completely cover, allowing excess to drip off; stick upright into 12 x 18-inch block of styrofoam. Refrigerate 10 minutes or until hardened.
Melt remaining CandiQuik as the label directs, if necessary; drizzle over cake pops to create "mummy wrap". Place 2 chocolate chips on cake pops to make "eyes"; refrigerate until ready to serve. Makes 30 cake pops.
Shrunken Head Apple Cider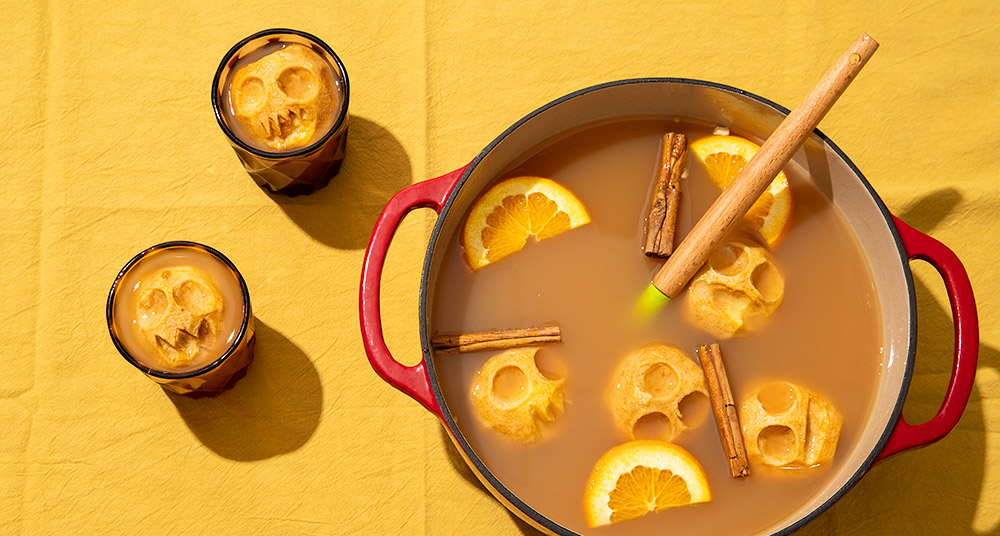 A cup of shrunken head apple cider is the perfect drink for any Halloween party. This cider is made with real apples, and it gets its spooky name from the fact that the apples are shrunken heads. You can even add your favorite rum. This cider is sure to be a hit with your guests, and it will definitely give them something to talk about.
Ingredients
Apples (the more, the better)
Apple cider
Cinnamon sticks
Directions
Preheat oven to 250 degrees. Line a baking sheet with parchment paper and set aside.
Peel and cut apples in half, remove seeds and scoop out the core.
Using a round tip, scoop out two small circles for the eyes. With a knife, cut out mouth.
Place apples onto baking sheet with face-up. Bake apples until they are dry with brown edges, approximately 90 minutes. Let them cool down.
Pour cider into bowl with shrunken head apples. Add desired cinnamon sticks and orange slices.
Sausage Mummies
Mummy hot dogs are a spooky and fun way to enjoy a classic Halloween treat! Made by wrapping hot dogs in pre-made croissant dough, they're easy to make and sure to be a hit with the kids. Simply bake the mummy hot dogs until the dough is golden brown and let them cool before serving. Add some ketchup and mustard for a perfect Halloween feast!