In honor of Military Appreciation Month, Stater Bros. Charities and Reyes Coca-Cola Bottling are partnering for the Give Back program to support local service members and their families. From May 4th through May 31st, 2022, Reyes Coca-Cola Bottling will donate $0.25 for each participating Coke product purchased* to Bob Hope USO. Reyes Coca-Cola Bottling is committed to donating up to $15,000 and Stater Bros. Charities will match every dollar for a combined total donation of $30,000. Together, we can help Bob Hope USO keep service members connected to their families and communities.
What is Bob Hope USO?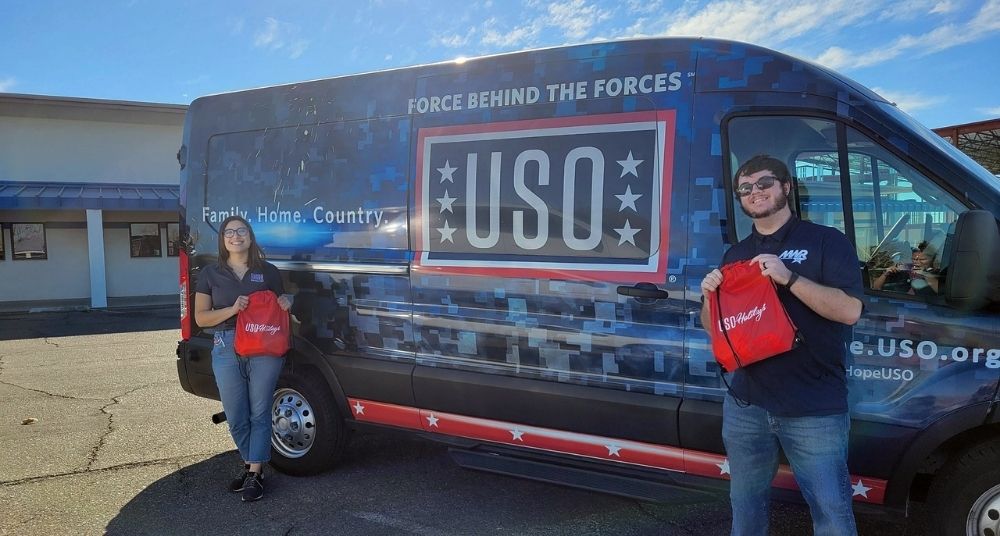 Bob Hope USO is a 501(c)(3) non-profit organization that is Southern California's branch of the USO, stretching from San Luis Obispo to the San Diego County Line. The USO provides services, programming, and outreach at seven centers and dozens of military installations across 51K square miles in Southern and Central California. Their mission is to strengthen service members by keeping them connected to their families and communities throughout their entire service period. From the time they join, throughout their assignments and deployments, and as they transition back to their communities, the USO is always by their side.
About USO Centers and Programs
Bob Hope USO centers serve as an extension of our service member's family, it's a place that feels like home when they're away from home. The centers provide service members access to complimentary meals, Wi-Fi connectivity, an area of rest during extended layovers, and where they're greeted upon return from overseas. The USO also has a variety of morale-boosting programs focused on connection, family building, entertainment, wellness, and discharge transitioning.
Center Locations
March Air Reserve Base
Ontario International Airport
Los Angeles International Airport
John Wayne International Airport
Palm Springs International Airport
Fort Irwin National Training Center
Military Entrance Processing Station of Los Angeles
What do Stater Bros. Charities Donations Support?
Stater Bros. was founded with a kindred spirit of service, our founders were veterans themselves, so nurturing our veterans, active service members, and their families is deeply embedded in our culture. Since 2010, Stater Bros. Charities has donated over $380,000 to Bob Hope USO. These funds support multiple Bob Hope USO centers in Southern California airports, including March AFB, Ontario, MEPS LA, LAX, John Wayne, and Palm Springs.
We're proud to partner with Reyes Coca-Cola Bottling and Bob Hope USO to support thousands of local service members and their families. Starting on May 4th, until May 31, 2022 visit our social pages and show your support by engaging with any Give Back program posts and purchasing select Coca-Cola products*.
*Select products included are Coke, Coke Zero, and Diet Coke in 20oz, .5L – ® 6pack, Mini Cans 6 pack or 10 pack, and 12oz – ® 8 pack.