Imagine that fresh, right out of the dryer smell. The scent of clean and comfort. The satisfaction of a job well done. While doing your laundry may sometimes feel like a daunting task, the result is more that rewarding when it gives you a sense comfort and cleanliness. When you first open that dryer door and smell your crisp, clean towels, or pull a warm, freshly laundered shirt over your head, you feel good, confident, clean, and ready to face the day.

Fabric softeners are an essential laundry product that provides softness for your clothes and fabrics and an amazing fragrance. They are a key element to get that boost of fresh scent. In fact, 84% consumers say they find a long-lasting scent as the most important attribute in fabric softeners 1.

What if you could extend that comforting smell to other areas in your home? Your favorite fabric softener fresh scents don't have to be limited to the laundry room! We have some tips using Ensueño® Fabric Softener, which provides 35 days of long-lasting aroma for your clothes, that will help you get creative and extend that freshness from the laundry room to the rest of your home.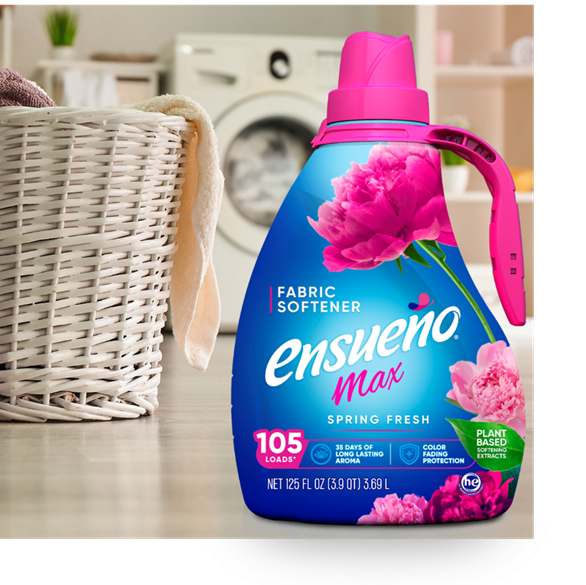 Fabric Softener can double as an easy shower door scum remover
Mix 4 parts water to 1 part liquid fabric softener, spray onto scum, wipe off with a sponge and rinse with warm water
Bad odor coming from your trash can? Never again!
After cleaning your trashcan, add a couple drops of Ensueño® Spring Fresh Fabric Softener to cotton balls and place between the trash bag and can. Smells great every time it's opened
Don't limit the freshness to the laundry process, freshen up your dresser drawers!
Want to prolong that fresh scent? Spray a small hand towel with Ensueño® Fabric Softener and store it inside the drawer with your other clothes.
Take care of your favorite pieces, hand wash delicates with ease
With delicates not suitable for the washing machine, dilute Ensueño® Fabric Softener in water according to the usage on the label. Then, soak and rinse your clothes with this solution.
Say goodbye to static! Reduce static in a snap
No one likes to get zapped by their laundry. To reduce static cling, dilute a drop of Ensueño® Fabric Softener in water, then moisten your hands with the mixture and rub on dry clothes to break the static bond.
Fun fact: did you know, Ensueno® Fabric Softener is made with plant-based softening agents that make your clothes and fabrics bloom with scent. Plus, it's good for the environment with a biodegradable formula and bottles that are made with recycled plastic. Try it today and take comfort in fresh-scented clothing that lasts.

If a picture is worth a thousand words, a scent is worth a million smiles. Take a deep breath. Now you're ready to take on the day!

1Mintel, Home Laundry Products US, 2021