Time is running out! Hatch chiles are only in-store for a limited time, so stop by and purchase yours before they're gone. These seasonal peppers will only be available until late September. Not sure what to do with Hatch chiles? You can roast them and add them to any of your favorites. Hatch chiles pair perfectly with just about any cheesy meal. The following 3 recipes bring out the smokey, spice that's unique to Hatch chiles.
Grilled Stuffed Hatch Peppers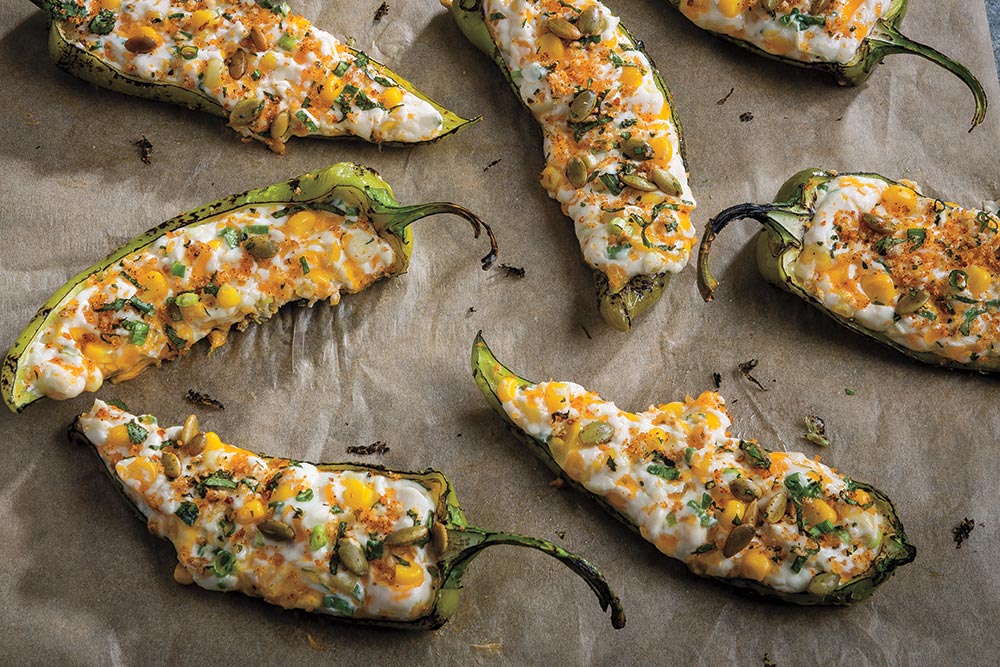 The first recipe brings out that smokey flavor that everyone loves. These stuffed peppers are the ideal summer appetizer, fitting for the grill. The chiles are filled with cream cheese, green onion, cheddar cheese, corn, chèvre and some lime juice. These ingredients combined give you that gooey, cheesy, irresistible taste. Garnish the top and pop them on the grill.
Ingredients:
Active: Time 20m Total Time: 25m Serves: 8
1 tablespoon olive oil
1 garlic clove, minced
1/4 cup panko breadcrumbs
1/4 cup raw unsalted pepitas
1 tablespoon chopped fresh cilantro
1/2 teaspoon ancho chili powder
1 green onion, thinly sliced
1/2 cup cream cheese, softened
1/3 cup shredded Cheddar cheese
1/4 cup fresh or frozen corn kernels
3 tablespoons chèvre
2 tablespoons fresh lime juice
4 large or 8 small Anaheim or Hatch chile peppers, halved lengthwise and seeded
Directions:
Prepare outdoor grill for direct grilling over medium-high heat. In large skillet, heat oil over medium-high heat; add garlic, breadcrumbs and pepitas, and cook 2 minutes or until lightly toasted. Remove from heat; stir in cilantro and chili powder.
In small bowl, stir onion, cream cheese, Cheddar cheese, corn, chèvre and lime juice; transfer to small zip-top plastic bag and snip off bottom corner of bag. Fill pepper halves with cheese mixture; sprinkle with pepita mixture.
Place peppers, skin side down, on hot grill rack; cover and cook 5 minutes or until grill marks appear and cheese melts.
Approximate nutritional values per serving (recipe makes 8 servings): 152 Calories, 11g Fat (5g Saturated), 23mg Cholesterol, 102mg Sodium, 10g Carbohydrates, 1g Fiber, n/a Total Sugars, n/a Added Sugars, 5g Protein, n/a Potassium, 0.5 Carbohydrate Servings
Click here to view recipe video
Hatch Chiles & Cheese Cornbread Waffles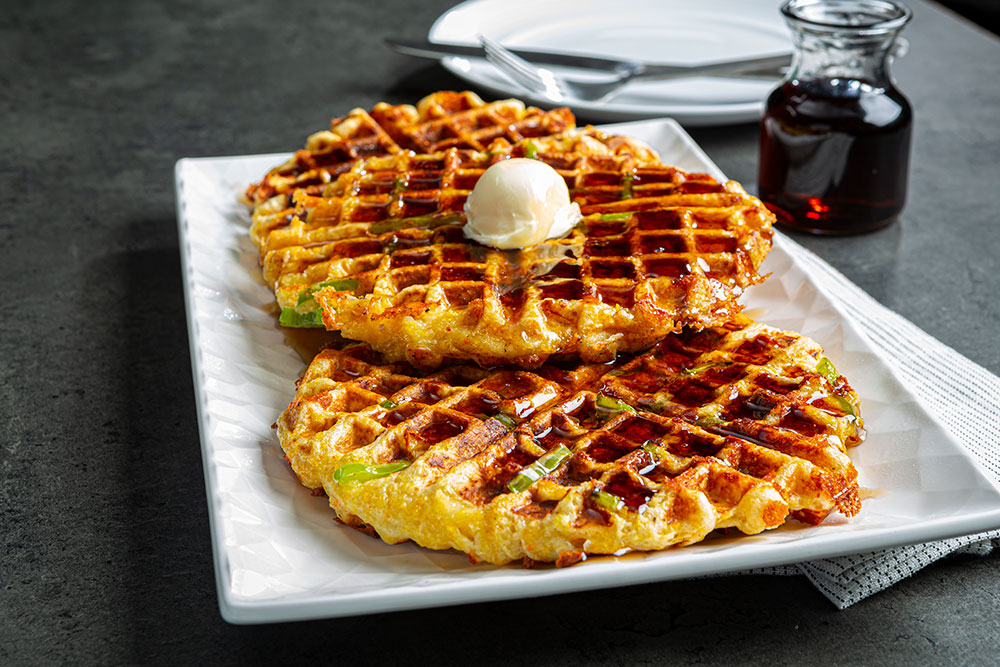 Our second recipe is a savory twist to traditional waffles. Hatch Chiles Cheese Cornbread Waffles are not your ordinary breakfast waffles. They are a cheesy, delicious dish that you didn't know you needed. These cornbread waffles are the perfect brunch meal. A definite must try.
Prep: 15 minutes plus standing Cook: 40 minutes Serves: 8
Ingredients:
2 cups whole milk
1 envelope (1/4 ounce) active dry yeast
3 large eggs
1½ cups all-purpose flour
1½ cups cornmeal
2 teaspoons granulated sugar
¾ teaspoon salt
½ cup unsalted butter (1 stick), melted
2 Hatch chiles, finely chopped
1 cup shredded Monterey Jack cheese
½ teaspoon baking soda
Nonstick cooking spray
1 cup maple syrup
Directions:
In small saucepan, heat ½ cup milk over medium-low heat until slightly warm (temperature of milk should not be above 90°); remove from heat and whisk in yeast until dissolved.
In large bowl, whisk eggs; gradually whisk in remaining 1½ cups milk and yeast mixture.
Into medium bowl, sift flour; whisk in cornmeal, sugar and salt. Whisk flour mixture and butter into egg mixture just until combined; do not overmix (mixture will be lumpy). Let stand 1 hour, uncovered, in warm place; whisk in chiles, cheese and baking soda.
Preheat waffle iron; spray both sides of iron with nonstick cooking spray. Ladle enough batter to cover the surface into iron (about ¾ cup batter, depending on size of waffle iron); close iron and cook 5 minutes or until golden brown. Repeat with remaining batter to make 7 more waffles. Makes 8 (6½-inch) waffles.
Serve waffles with maple syrup.
Approximate nutritional values per serving (1 waffle, 2 T. syrup): 389 Calories, 10g Fat (4g Saturated), 89mg Cholesterol, 437mg Sodium, 65g Carbohydrates, 3g Fiber, 29g Sugars, 12g Protein
Chef Tip: Batter can be prepared, covered, and refrigerated up to 12 hours.
Grilled Sirloin Hatch Chiles-Tomato Escabeche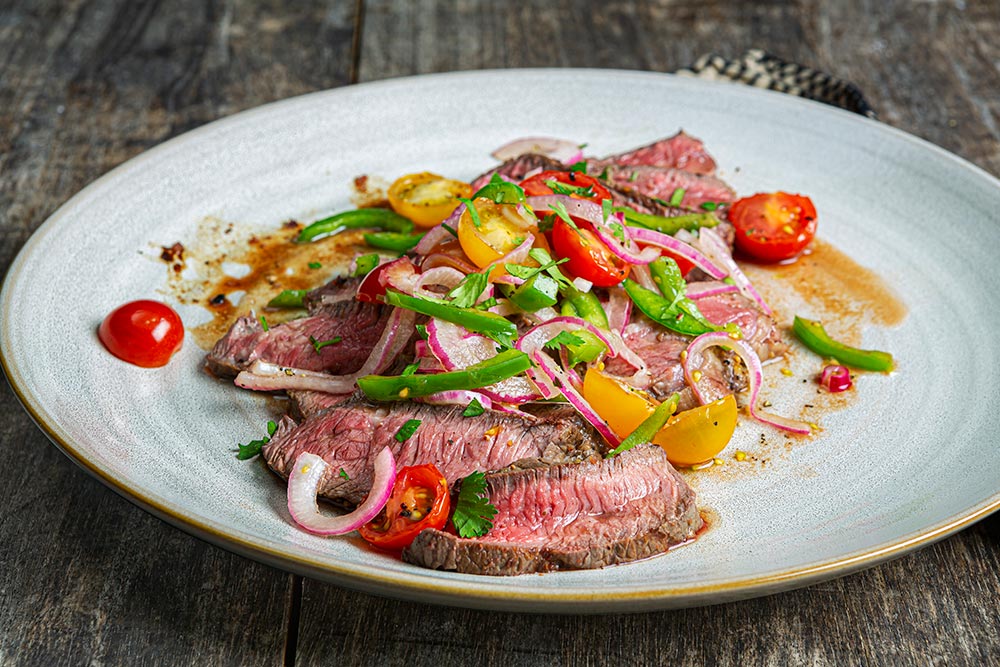 Our third recipe is the perfect meal for a stay-at-home dinner date. The Hatch chiles add that touch of spice that pairs great with any steak of your choice. This recipe brings out flavors of tomatoes, red onions, herbs, and Hatch chiles. Grill this steak outdoors over medium-high heat and enjoy.
Prep: 10 minutes plus standing Grill: 10 minutes Serves: 4
Ingredients:
1 pint cherry tomatoes, halved
½ cup thinly sliced red onion
⅓ cup thinly sliced Hatch chiles
2 tablespoons fresh lime juice
2 tablespoons red wine vinegar
2 teaspoons granulated sugar
1½ teaspoons kosher salt
1 teaspoon fresh ground black pepper
4 boneless top sirloin steaks (about 6 ounces each)
2 teaspoons salt free garlic and herb seasoning
½ teaspoon ground cumin
¼ cup chopped fresh cilantro for garnish
Directions:
In medium bowl, toss tomatoes, onion, chiles, lime juice, vinegar, sugar, and ½ teaspoon each salt and pepper; let stand at room temperature 30 minutes.
Prepare outdoor grill for direct grilling over medium-high heat. Sprinkle steaks with remaining 1 teaspoon salt; let stand at room temperature 20 minutes. Pat steaks dry with paper towel; rub with garlic and herb seasoning, cumin and remaining ½ teaspoon pepper. Place steaks on hot grill rack; cover and cook 10 minutes or until internal temperature reaches 140° for medium-rare, turning once. Transfer steaks to cutting board; tent with aluminum foil and let stand 10 minutes. (Internal temperature will rise 5 to 10° upon standing for medium-rare.)
Slice steaks against the grain; serve topped with escabeche and cilantro.
Approximate nutritional values per serving: 366 Calories, 20g Fat (8g Saturated), 125mg Cholesterol, 802mg Sodium, 8g Carbohydrates, 2g Fiber, 5g Sugars, 38g Protein
If you want to learn more about how to roast and store these peppers, click here.