Graduating is a major accomplishment, whether you or your loved one is completing high school, college, or even kindergarten! It's a time to admire achievements and create lasting memories you'll forever cherish. What better way to do so than with a graduation party to celebrate? So we've gathered 5 tips to host the best graduation party, so you can get the most out of your celebration.
Get your graduation party food catered and order a party tray.
Don't even worry about cooking or cleaning up the kitchen on the day of the party, we can have it ready to go! Our service deli offers various catering and party trays that can be pre-ordered, which makes pick-up simple and stress free. We're sure your grad party guests will love our party trays, there's everything from charcuterie boards to freshly sliced fruits.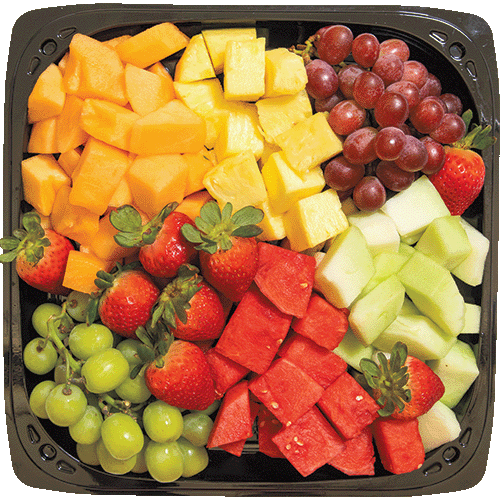 Fresh Fruit Party Tray
Who doesn't love freshly sliced fruits? This party tray is guaranteed to be a favorite and it's perfect for those who want a healthy option at their graduate's party. It's a delectable mix of crunchy green and red grapes, sweet strawberries, ripe honeydew and cantaloupe melons, tart pineapple, and juicy watermelon. It comes in two sizes, small and large, which serve approximately 8-12 or 18-22 guests. It's an especially good option if you're hosting your graduation party outdoors in the warm summer months.
Salami & Cheese Party Tray
Perfect for those who love savory snacks! The salami and cheese party tray has mild cheddar and pepper jack cheeses, Genoa and hard salami, pepperoni, and crackers. It's available in two sizes, which serve 6-10 or 14-18 guests. The combination of a classic assortment of meats and cheeses is a hit with everyone.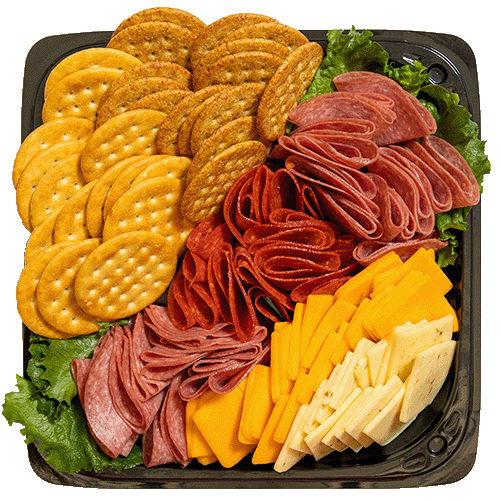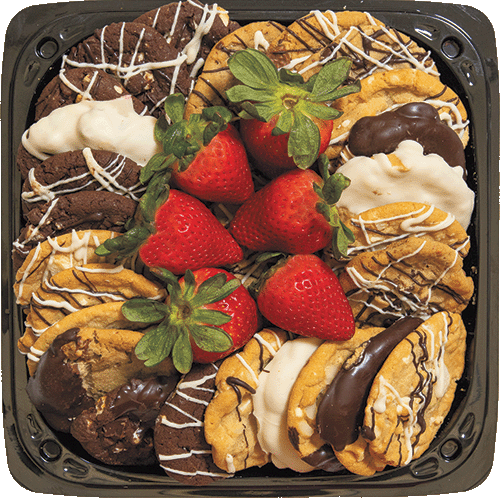 Gourmet Dipped Cookie Dessert Tray
Anyone with a sweet tooth is going to love this party tray! White chocolate macadamia nut, chocolate chunk, and triple chocolate cookies are dipped and drizzled in dark and white chocolate. Served with fresh strawberries. It's available in two sizes that serve 12-16 or 25-30 guests. The cookies are soft, chewy, and have the perfect amount of chocolate.
For a complete list of party trays available click here. Make sure to order your party tray at least 48 hours in advance at the service deli.
Surprise your graduate with a custom cake.
Graduation is a celebration and no grad party is complete without a cake! Surprise your graduate with a custom cake made with their favorite cake flavor, fillings, and decorated with their school's colors. Our bakery offers a wide variety of cake flavors and décor, and you can customize it with a personal message that highlights their scholarly achievements. Whether your graduate prefers vanilla, chocolate, or a combination of both, we've got you covered. Make sure you order your custom cake at least 24 hours in advance.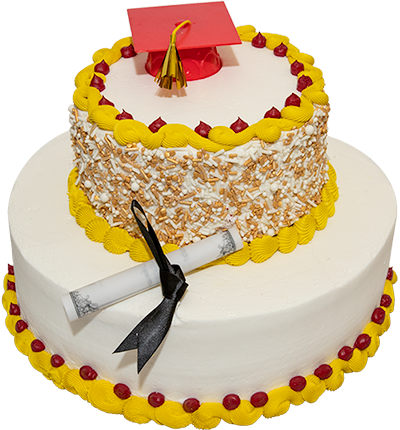 If you're planning a last minute party and need a cake fast, stop by our bakery and pick up one that's ready to go. Our bakers create delicious cakes every day so they're always fresh. Talk to your bakery about adding a personal message, as most cakes can have it added in just a few minutes.
Decorate the party with fresh flowers and balloons.
Give your graduation party that extra 'wow' factor with eye catching decorations! Fresh flowers add a pop of bright colors and balloons give the party an extra festive feeling. It's an easy and affordable way to add some extra excitement to the party and make your graduate feel more special. Choose your graduate's favorite flowers, pick some in their school colors, or opt in for classic bouquets that are sure to delight. Arrange your flowers throughout the party space or make a grand arrangement for major areas of the party like the gift table. Add balloons in your graduate's school colors and center them as a focal point or scatter them throughout to give it that 'party' feeling.
Set up an area or backdrop for photos.
Make sure you're capturing lots of memories on your grad's special day! Create a backdrop destination for guests to take pictures to remember the special day. You can create a backdrop with streamers and balloons, or go all out and make an elaborate setup with custom props like caps and school or year signs. We encourage you to be as creative as you can be! During the peak of the party, gather everyone around to take a large group photo to celebrate.
Make clean up easy with Simply Done plates and cutlery.
After the party is over, the last thing anyone wants to do is spend hours cleaning dishes, cups, and silverware. Make cleaning up a breeze with Simply Done disposable plates, cups, and silverware. They're affordable, sturdy, and come in multiple sizes so you can easily plan on the amount you need for your grad's party. Simply toss them once the party is over.
Now that you've got some expert tips to host the best graduation party, make sure to take plenty of photos and tag us on social media! We'd love to be part of the celebration.