As the weather starts to warm up, it's the perfect time to plan a backyard barbecue. Whether you're hosting a family gathering or a casual get-together with friends, a barbecue is a great way to enjoy the outdoors and indulge in delicious grilled food. Here are some tips to help you plan the perfect backyard barbecue.
Plan your menu!
The first step in planning a backyard barbecue is deciding on the menu. Think about what types of foods you want to serve and how many people you'll be feeding. Grilled meats like burgers, hot dogs, and chicken are classic barbecue staples, but don't forget about vegetarian options like grilled vegetables or veggie burgers. Sides like coleslaw, potato salad, and baked beans are also popular choices. And let's not forget about the drinks and desserts! Lemonade, iced tea, and water are refreshing beverages, while fruit salad, ice cream, or s'mores are great dessert options.
Here's a list of our favorite barbecue recipes to consider!
Korean BBQ Short Ribs
Ingredients
¾ cup Stater Bros. soy sauce
¾ cup water
3 tablespoons white vinegar
2 tablespoons sesame oil
½ large white onion, minced
¼ cup minced garlic
¼ cup dark brown sugar
2 tablespoons white sugar
1 tablespoon black pepper
3 lbs. beef chuck flanken ribs from our full-service meat counter
Directions
Add all ingredients expect ribs into a bowl and whisk until the sugars are dissolved.
Add the ribs into the marinade, cover and refrigerate for a minimum of 5 hours, but 12 hours would be ideal for maximum flavor.
When you're ready to cook the marinated ribs, preheat your grill to medium-high heat.
Take ribs out of the marinade and let the extra drip off.
Place ribs on your preheated grill and cook about 5 to 7 minutes on each side.
Enjoy these delicious ribs with your favorite side dishes.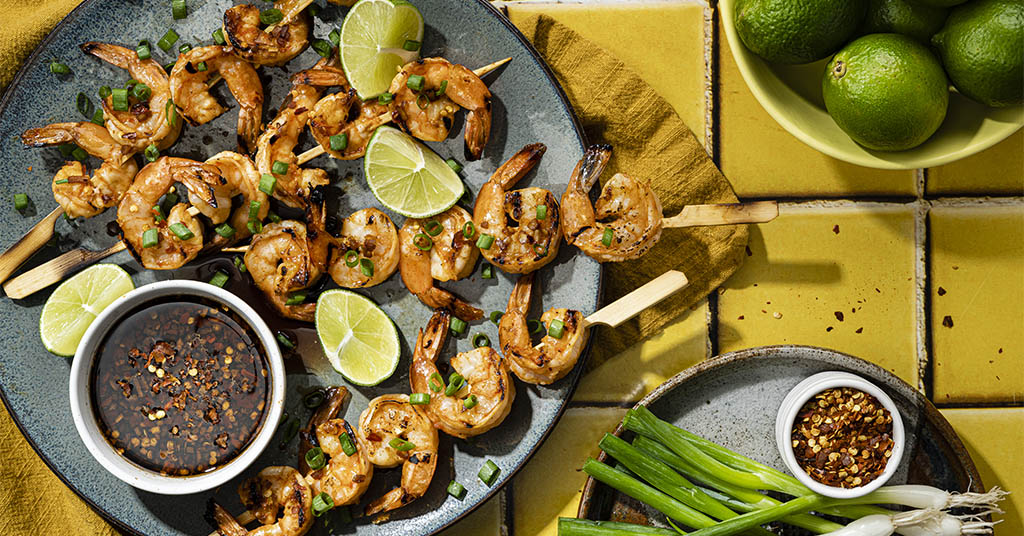 Spice up your grill game with these Sriracha-Lime Shrimp Skewers! Marinated in zesty lime and sriracha sauce, this recipe is perfect for summer grilling. Served with a soy dipping sauce, this dish is bursting with flavor and easy to make.

Get ready for a flavor explosion with Grilled Jalapeño Popper Bacon-Wrapped Hot Dogs! Stuffed with creamy jalapeño and cheddar cheese mixture, wrapped in smoky bacon, and grilled to perfection, these hot dogs are sure to be a crowd-pleaser. Served in a toasty bun and topped with sliced jalapeños, tomatoes, and green onions, this dish is the ultimate summer cookout food.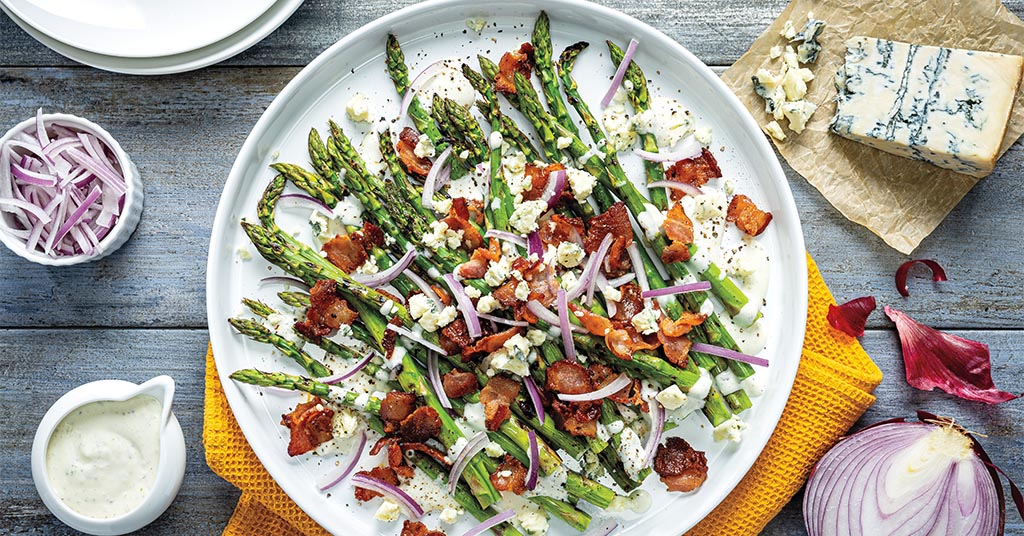 Grilled asparagus and crispy bacon come together in this salad, drizzled with creamy ranch dressing and topped with crumbled blue cheese and sliced red onions. With a hint of smokiness from the grill and a touch of black pepper, this dish is both satisfying and refreshing. Perfect for a quick lunch or a light dinner on a warm summer day!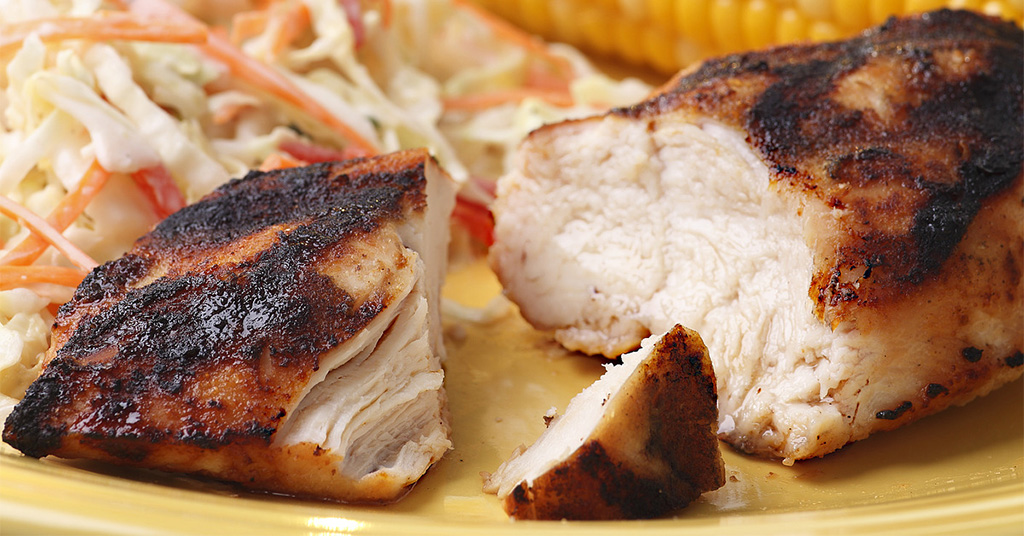 Sweet and savory grilled chicken is an easy and delicious recipe that can be prepared on the grill or in the oven using a broiler pan. This recipe requires only a few simple ingredients, such as brown sugar, dry mustard, onion powder, kosher salt, white pepper, and boneless, skinless chicken breasts.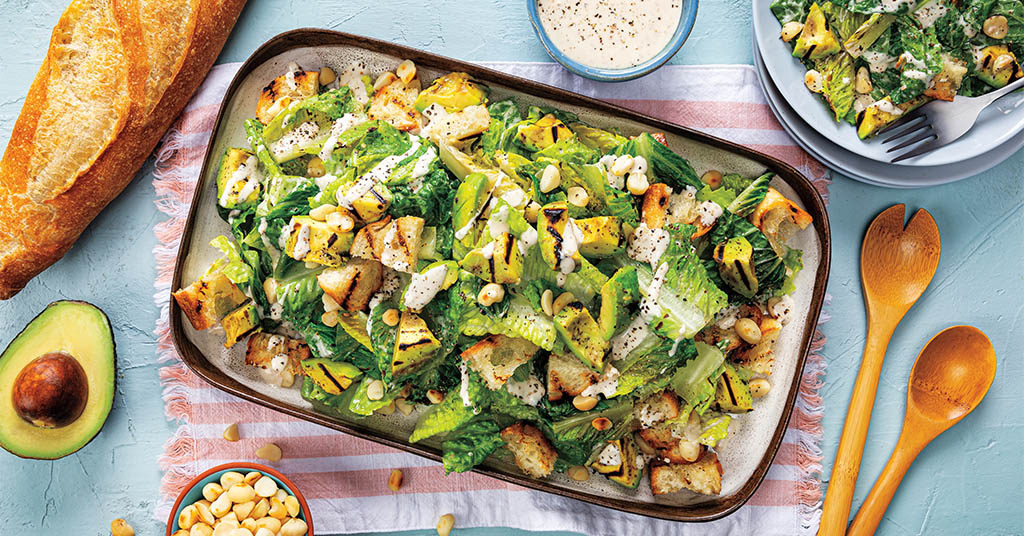 This Grilled Avocado-Romaine Salad recipe from Stater Bros. Markets involves grilling avocado, romaine, and baguette, and tossing them with Caesar dressing, macadamia nuts, salt, and pepper. The recipe serves 4 and takes only 15 minutes to prepare.
These Pineapple Salmon Kabobs are a flavorful and healthy option for a summer barbecue. Marinated in a mixture of pineapple juice, coconut milk, lime juice, garlic, grapeseed oil, and honey, the salmon is threaded onto skewers with red bell pepper, red onion, and fresh pineapple, then grilled to perfection. The reserved marinade is boiled and drizzled over the cooked kabobs, which are finished with a sprinkle of toasted coconut.
Don't Forget to Prep the Grill!
Before your guests arrive, make sure your grill is clean and ready to go. If you haven't used your grill in a while, give it a good scrub with a wire brush and make sure the grates are free of debris. Check to make sure the propane tank or charcoal is filled, and that your grill is functioning properly. You don't want to be stuck with a malfunctioning grill during your barbecue!
Backyard BBQ Shopping List
Have Fun!
The most important part of any backyard barbecue is having fun! Don't stress too much about making everything perfect – your guests are there to enjoy your company and the beautiful weather. Take time to socialize and play games with your guests, and don't worry too much about the food being perfect. As long as it's delicious and everyone is having a good time, that's all that matters!