Being in Southern California means we have pretty great weather all year long. We're no strangers to cloud-free, Instagram post-worthy, bright, and sunny summer days. But let's be honest, it's HOT. So, what's the best way that Californians know how to cool down? A beach trip, of course! While packing for a beach trip may seem like a daunting task, having the right things ready to go can make all the difference in making your trip enjoyable and relaxing. To help get your beach trip started right, we're highlighting our favorite must-have things for your next beach trip packing list.
Beach-ready food and snacks.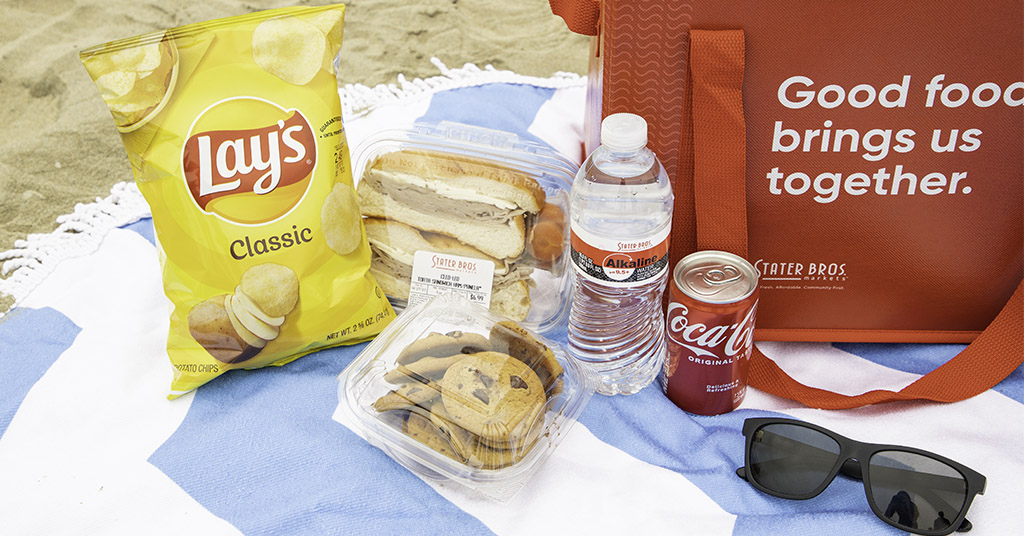 When it comes to packing food and snacks for a beach trip, you want to make sure it's something light to keep you energized and it's easy to eat. Our service deli has many great options to take to the beach, like family or individual-sized Cleo & Leo sandwiches, fresh salads, and crispy fried chicken. Also, don't forget about snacks! Chips, granola bars, and trail mixes are all great options. And for a healthy snack stop by our fresh cut station, where we're hand-slicing juicy watermelons, sweet strawberries, and other fresh fruits each day. Here are our favorite beach-ready foods, however, feel free to swap them for your family's favorites.
Beach umbrellas, towels, and more.

When you're planning on spending a day at the beach, it's important that you set up a nice area where you and your family can relax. Beach umbrellas are great for shade and can protect you from the sun's harsh rays, while beach towels are perfect for spreading out on the sand so you can lounge. Don't forget to pack a beach bag to carry all of your essentials, including your snacks, a change of clothes, and any toys for your kids.
Sun protection.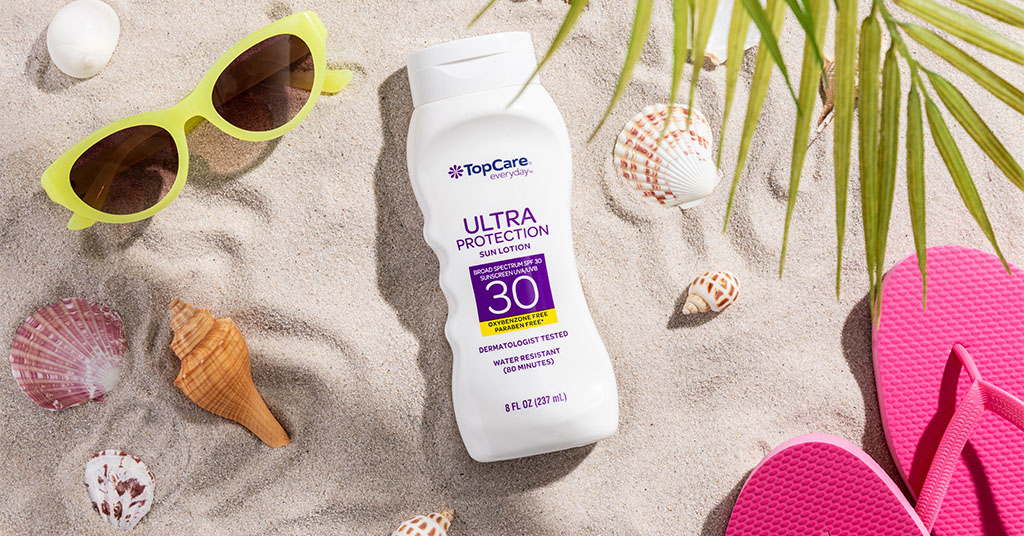 Sunscreen is a non-negotiable for any beach trip. It's essential to protect your skin from harmful UV rays, especially when spending extended periods in the sun. Be sure to choose a broad-spectrum sunscreen with an SPF of 30 or higher. Apply it generously and frequently, especially after swimming or sweating. Don't forget to cover all exposed skin, including your ears, neck, and feet. Facial sunscreen is equally important to protect areas that can easily get burned and it's specially formulated to be safe to apply on your face. Sunglasses and hats are also crucial for sun protection. Look for sunglasses that block 100% of UVA and UVB rays. A wide-brimmed hat will help protect your face, scalp, and neck from the sun.
A cooler packed with hydrating drinks.
Staying hydrated is essential when you're laying out under the sun all day. A cooler packed with ice-cold drinks is a great way to stay refreshed and hydrated throughout the day. Make sure you bring plenty of water, juices, and electrolyte drinks to keep you cool. Coca-Cola sodas are also a great choice for a refreshing pick-me-up. Also, don't forget the ice!