Thanksgiving is a time for gathering with loved ones and indulging in hearty, comforting dishes. Casseroles have long been a staple of this festive holiday, offering a convenient and delicious way to serve up a variety of flavors. In this blog, we're going to explore some mouthwatering Thanksgiving casserole recipes, including options for vegans, those on a gluten-free diet, and classic favorites. Get ready to add some new favorites to your Thanksgiving feast!
Are you tired of the traditional pumpkin pie? This mouthwatering creation combines the natural sweetness of sweet potatoes with the rich, nutty crunch of pecans, all bound together by a heavenly brown sugar and butter topping. It's a harmonious blend of flavors and textures that transforms a humble root vegetable into a decadent and unforgettable side dish, perfect for any autumn gathering.
Vegan Sweet Potato Casserole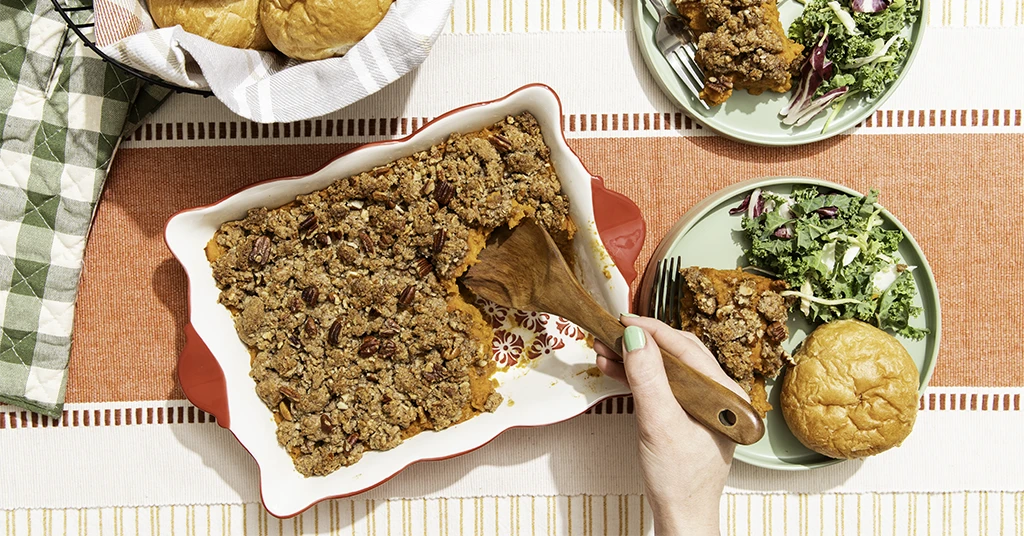 The holiday season is a time of warmth, gratitude, and coming together with loved ones. While it's customary to enjoy a lavish feast, it's also essential to consider the dietary preferences and restrictions of your guests. Offering a variety of options ensures that everyone can partake in the festivities without compromise. This casserole is a sweet option to share with everyone on your dinner table.
Ingredients:
For the sweet potatoes:
6 cups peeled and cubed sweet potatoes (about 3 large or 4 medium)
½ cup Full Circle Market unsweetened canned coconut milk
2 tablespoons packed Full Circle light brown sugar
2 tablespoons Full Circle maple syrup
2 tablespoons Full Circle plant-based butter
2 teaspoons vanilla extract
1 teaspoon ground cinnamon
For the pecan topping:
1 cup Stater Bros. pecan halves
½ cup Full Circle all-purpose flour
¼ cup packed Full Circle light brown sugar
¼ cup Full Circle plant-based butter
2 tablespoons Full Circle maple syrup
1 teaspoon ground cinnamon
¼ teaspoon ground nutmeg
½ teaspoon salt
Instructions:
1. Preheat the oven to 350°F. Add cut sweet potatoes to a large pot and cover with water. Bring to a boil and cook for 10 minutes, or until the sweet potatoes are fork soft. Drain.
2. Add coconut milk, brown sugar, maple syrup, vegan butter, vanilla, cinnamon, nutmeg and salt. Mash the mixture until smooth and transfer to an 8×8 baking dish.
3. To prepare the pecan topping, to a food processor add pecans, flour, brown sugar, vegan buttery spread, maple syrup, cinnamon, nutmeg. Pulse until evenly mixed.
4. Spread the pecan mixture over the mashed sweet potatoes.
5. Bake the casserole for 40 minutes. The pecan topping should turn a nice golden brown. Let cool for 10 minutes before serving.
Our gluten-free green bean casserole recipe is the perfect embodiment of the idea that good food should bring everyone to the table. In a world where dietary needs vary greatly, it's crucial to ensure that no one feels left out during holiday gatherings. This gluten-free twist on a classic green bean casserole not only caters to those with gluten sensitivities but also showcases the beauty of embracing diverse dietary preferences.
Libby's Corn and Mac Casserole
Looking for a comforting and delicious dish to grace your dinner table? Look no further than Libby's Creamy Corn and Mac Casserole — a delightful fusion of sweet corn, savory macaroni, and a velvety cheese sauce that promises to warm your heart and satisfy your taste buds.
The total time:  1 hour
Servings: 4
Ingredients:
1 can (15.25 oz.) Libby's® Whole Kernel Sweet Corn
1 can (14.75 oz.) Libby's® Cream Style Sweet Corn
8 ounces elbow macaroni (uncooked)
1 stick butter (8 tablespoons), softened and cubed
8 ounces Velveeta cheese, cubed
Instructions:
1. Preheat oven to 350°F.
2. In a large bowl, mix together both cans of corn (do not drain), macaroni, butter and cheese.
3. Transfer to a 2-quart casserole dish. Cover and bake for 30 minutes. Uncover, stir, and bake uncovered for an additional 30 minutes.
Libby's Crispy Shallot + Jalapeño Green Bean Casserole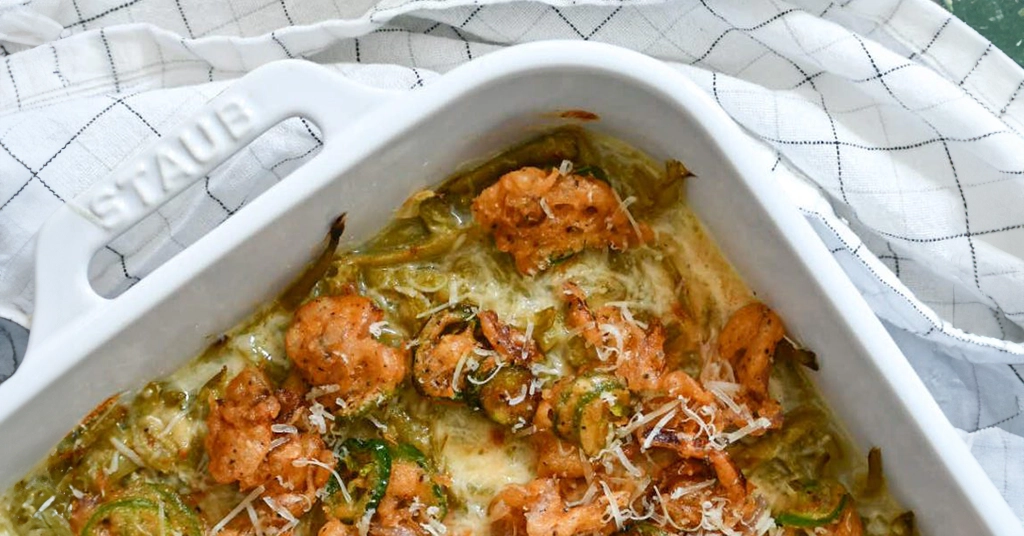 If you're looking for a way to elevate your Thanksgiving spread, this crispy casserole is a mouthwatering addition that combines the classic flavors of a green bean casserole with a modern twist. Get ready to tantalize your taste buds and impress your guests with this delightful recipe.
Total time: 40 mins
Servings: 6
Ingredients:
1/2 cup all-purpose flour
1 teaspoon smoked paprika
1/4 teaspoon ground black pepper
2 jalapeños, thinly sliced
3 tablespoons all-purpose flour
1 cup vegetable or chicken broth
1 cup grated gruyere cheese
1 cup grated white cheddar cheese
2 cans (14.5 oz.) Libby's® French Style Green Beans, drained
Instructions:
1. Add oil to a small saucepan. Heat on stovetop to medium-high.
2. In a small bowl, mix together flour, paprika, salt and pepper. Slowly stir in water until a thin batter forms.
3. Add shallots and jalapeños and toss to coat.
4. In small batches, add shallots and jalapeños into oil and fry until golden brown.
5. Remove with a slotted spoon and place on a paper towel to cool.
6. In a large pot, melt butter over medium-high heat. Add flour and mix until smooth. Stir in soy sauce. 
7. Slowly add in the milk and broth and stir until combined. Bring to a simmer.
8. Mix in both cheeses until melted and the sauce is smooth.
9. Preheat oven to 350°F. Add green beans to a 2-quart baking dish and cover with sauce. Top with the fried shallots and jalapeños.
10. Bake for 25 minutes. Let cool for 10 mins before serving.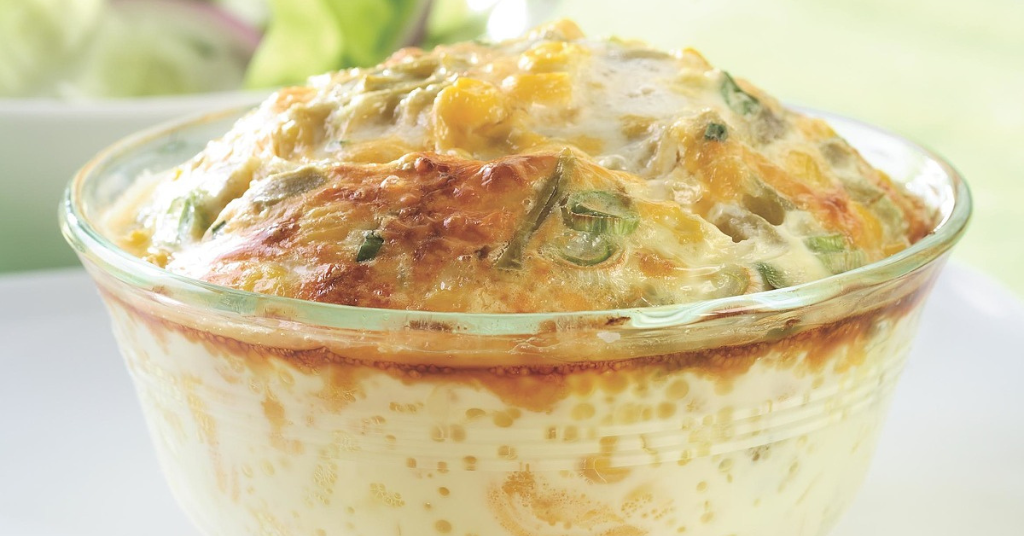 Are you ready to spice up your mealtime with a dish bursting with flavor and a hint of heat? Look no further than the mini chile relleno casserole! Inspired by the classic Mexican dish, chiles rellenos, this casserole brings together the bold flavors of roasted poblano peppers, gooey cheese, and a savory egg mixture.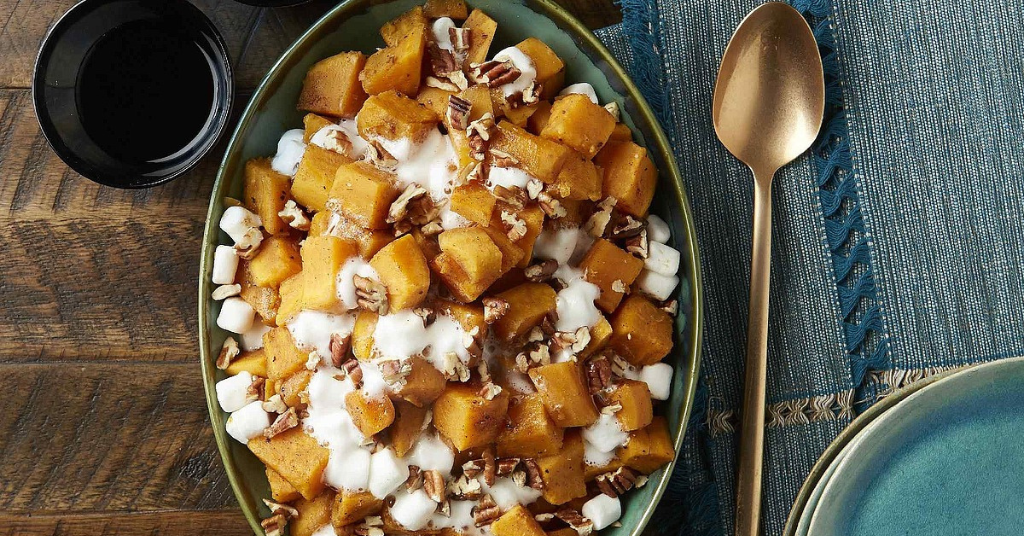 Are you running tight on time but want to create a delicious dessert casserole for Thanksgiving? Here's a mouthwatering recipe that's sure to be a hit around the table and is done in as little as 35 minutes! Made with sweet potatoes, spices, and marshmallows, this dish is perfectly tender and full of flavor!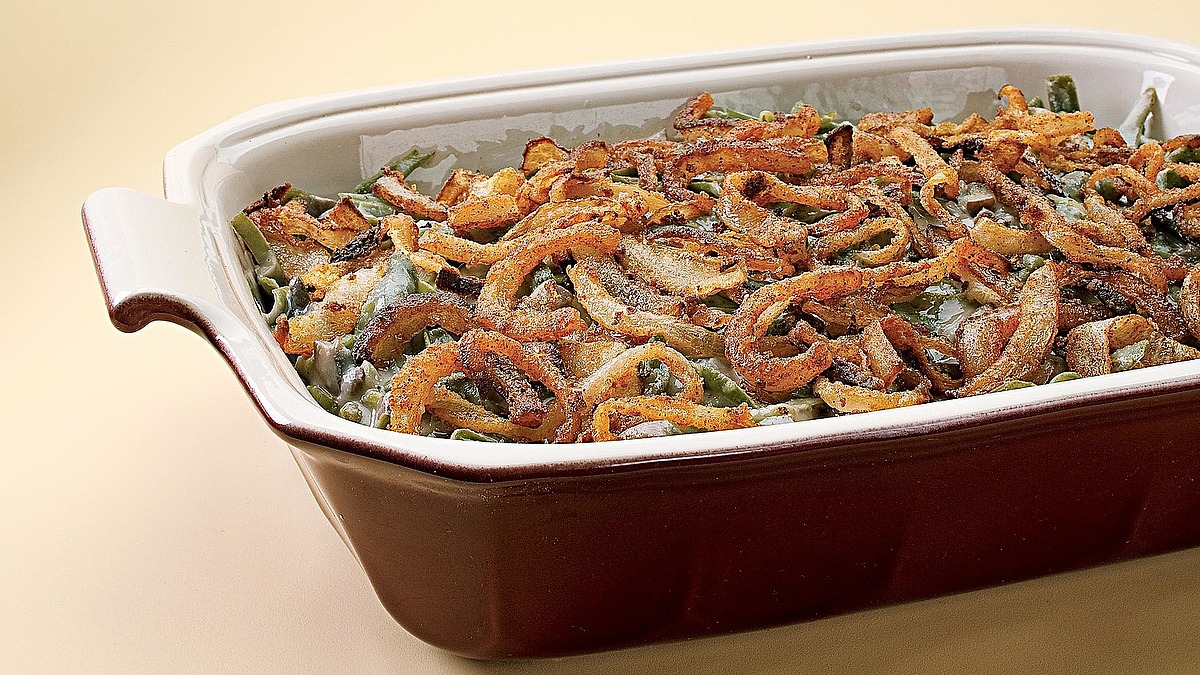 Thanksgiving dinner is a cherished tradition, filled with iconic dishes that evoke feelings of warmth and nostalgia. Among the classics, few are as beloved as the green bean casserole. This timeless side dish combines tender green beans, creamy mushroom sauce, and crispy fried onions to create a harmonious blend of flavors and textures that's sure to delight your taste buds.
The Thanksgiving feast is an annual culinary extravaganza, but what happens to all those delicious leftovers once the big day is over? Don't let your leftover turkey, mashed potatoes, and vegetables go to waste! Our Loaded Thanksgiving Bake is here to save the day.
Casseroles are a Thanksgiving classic for a reason. They have simple preparation, rich flavors, and delightful textures that make them crowd-pleasers year after year. As you gather with loved ones around the Thanksgiving table, don't forget to include their timeless favorites in your feast. It's a dish that embodies the spirit of the holiday season and brings comfort and joy to all who enjoy them.
For all your Thanksgiving needs visit in-store or order online for easy pickup.
Happy Thanksgiving!