Citrus season has officially begun! From now until April, mandarins, tangerines, oranges, and lemons are at the peak of their season. Citrus fruits are known and loved for their sweet and juicy taste, which makes them the perfect snack. Not only are these fresh fruits sweet and delightful, but they are also packed with vitamin C!
According to Mayo Clinic, citrus fruits are a good source of vitamin C, which helps support the immune system, reduce inflammation, and can help protect against infections. In addition, having healthy levels of vitamin C can help support your bones, teeth, and cartilage health. Check out the following list of seasonal citrus along with some delightful recipes.
Seasonal Citrus
Honey Tangerines-Are a small and sweet citrus fruit with a flattened oval shape. They are popular and known for their sweet taste and contain a great source of vitamin C, folate, potassium, and dietary fiber.
Sumo Tangerines-Have an easy-to-peel skin with a bump on top called the Top Knot. They are a sweet and large citrus fruit that provides a good source of vitamin C, fiber, and other nutrients. This fruit delivers great flavor without the mess, which makes it the perfect snack to enjoy on-the-go!
Navel Oranges–These oranges are a common variety known and loved for their sweet, tangy, and juicy taste. They have a skin and flesh that has benefits like high concentration of antioxidants, vitamin C and hesperidin.
Mandarin Tangerines–Are small, easy-to-peel citrus fruit that is super sweet and juicy. They are a great snack for both kids and adults, and fit perfectly in a lunch box. In addition, they are an excellent source of vitamin C and provide antioxidants.
Lemons-Are a versatile fruit that can be used in a variety of recipes and drinks. They are known for their strong, tangy bold flavor and for providing a great source of vitamin C, dietary fiber, citric acid, and iron.
Minneola Tangelos-Are a hybrid of tangerine and grapefruit. They are similar in taste to tangerines but are slightly sweeter and have a more tangy flavor. Additionally, they are a great source of vitamin C and can help heart health.
Try the following citrus recipes for a juicy and delicious way to make the most of the citrus season.
Citrus Vinaigrette
This citrus vinaigrette is a light and tangy dressing that will add flavor to any salad! It's made with simple ingredients like fresh citrus juice and is perfect to enjoy any time of the year! This dressing is also a healthier alternative and is great for anyone that looking to add more greens and fruits to their diet. You can also drizzle this recipe over roasted vegetable for an added zing.
Ingredients:
Juice of ½ lemon
Juice of ½ orange
1 tbsp. white wine vinegar
Zest of 1 lemon and 1 orange
1 clove garlic
Salt and pepper to taste
½ cup olive oil
Optional: Cleo & Leo Rotisserie Chicken shredded
Start by adding all ingredients to a bowl expect the olive oil.
Next, slowly whisk in the olive oil to create an more solid emulsion.
Finally add some shredded chicken and enjoy!
Chipotle-Orange Broccoli & Tofu
Elevate your taste buds with this delicious and nutritious dish! This recipe is the perfect combination of citrus flavor and textures. The orange sauce and spicy chipotle flavor over broccoli and tofu will make this your go-to dish. Whether you're a vegetarian or simply looking for a new meal, this dish is sure to impress.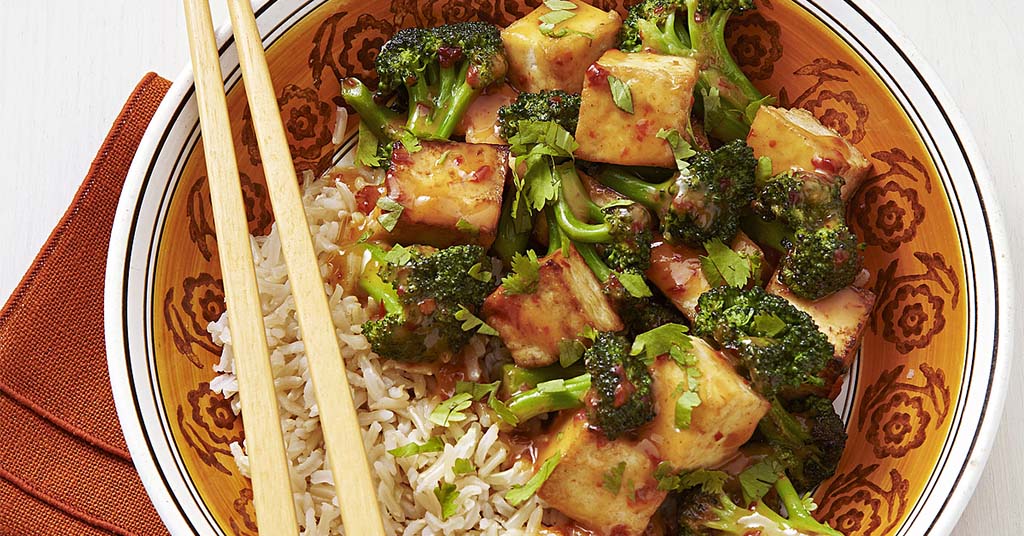 Ingredients:
Directions:
Drain tofu and pat dry; cut into 1/2- to 3/4-inch cubes. Sprinkle tofu on all sides with 1/4 teaspoon salt.
Next, heat 2 tablespoons oil in a large nonstick skillet over medium-high heat. Add tofu and cook in a single layer, stirring every couple of minutes, until golden brown, 7 to 9 minutes total. Transfer to a plate.
Then, add the remaining 1 tablespoon oil and broccoli to the pan and sprinkle with the remaining 1/4 teaspoon salt; cook, stirring, until the broccoli is bright green, about 1 minute. Add orange juice and chipotle and cook, stirring frequently, until the broccoli is just tender, 2 to 3 minutes more.
Return the tofu to the pan. Cook, gently stirring, until the tofu is heated through, 1 to 2 minutes. Lastly, remove from the heat and stir in cilantro.
Mediterranean Tuna-Spinach Salad
Bring the taste of the Mediterranean and citrus to your plate with this refreshing recipe. This dish is packed with flavors including feta cheese, citrusy lemon, all topped off with tuna and spinach. Perfect for a quick lunch or a light and delicious dinner.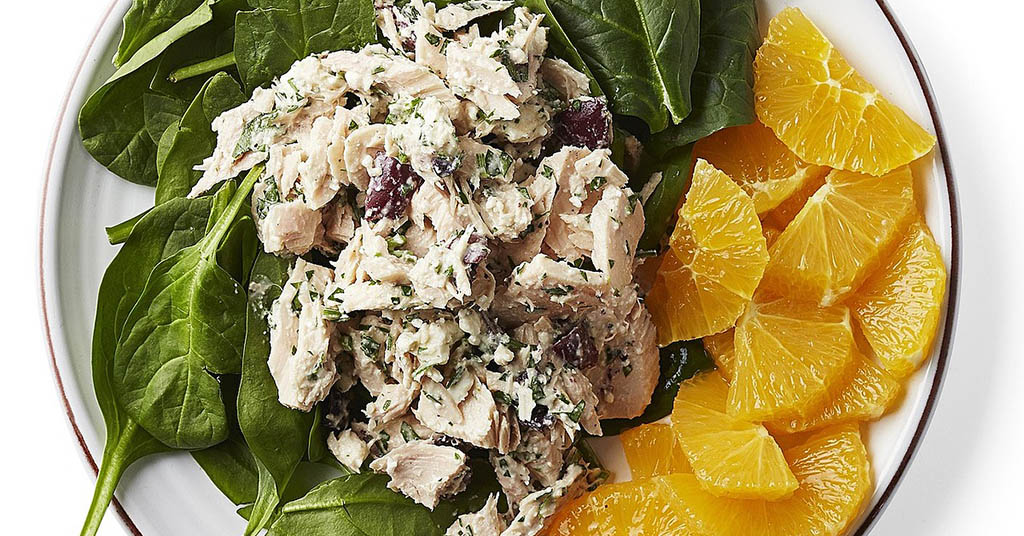 Ingredients:
Directions:
First, whisk tahini, lemon juice, and water together in a bowl. Next, add tuna, olives, feta, and parsley; stir to combine. Finally, serve the tuna salad over 2 cups of spinach, with the orange on the side.
Rainbow Chopped Salad
Add a pop of color and a burst of flavor to your next meal with this vibrant salad. Featuring an orange zest, crisp vegetables , and tangy dressing! This tasty meal can also be topped with grilled chicken for a quick and easy main dish salad.
Ingredients:
Directions:
First, place orange zest and juice, vinegar, oil, oregano, mustard, salt, and pepper in a jar. Next, cover and shake to combine. This makes about 1 cup of dressing.
To prepare salad, combine bell peppers, broccoli, carrots, radishes, and onion in a medium bowl. Then, add 1/2 cup of the dressing and toss to coat. Finally, refrigerate until ready to serve. Extra dressing can be refrigerated and stored for up to 1 week.
Lemon Burst Cupcakes
Indulge in a burst of sweet and tangy flavors of this lemon cupcake recipe. You can't go wrong with this classic dessert that is perfect for any occasion. Their bright and tangy flavor, combined with a soft and fluffy texture, make them the perfect treat.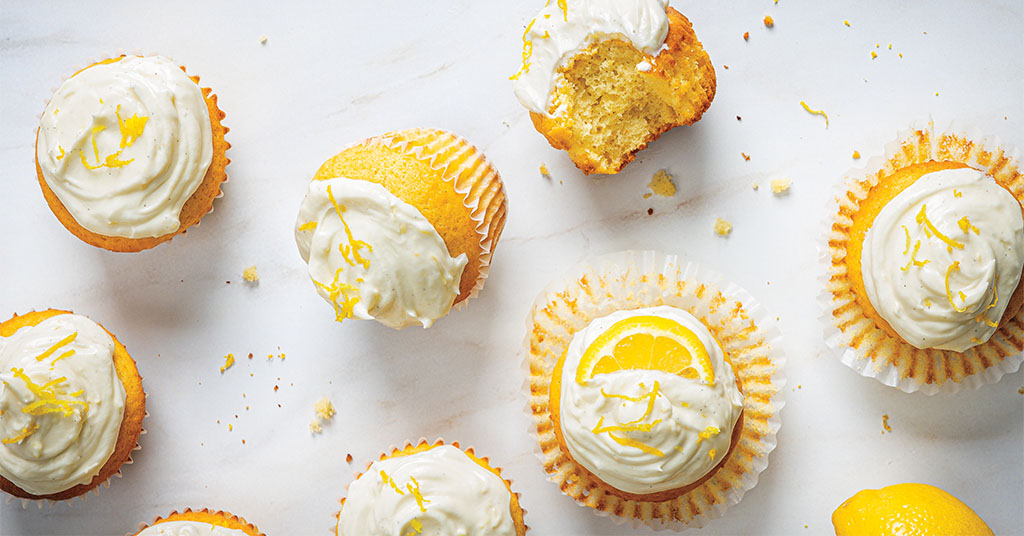 Ingredients:
Directions:
First, preheat oven to 350°. Line (12-cup) standard muffin pan with baking cups; spray cups with cooking spray.
Next, in a large bowl, whisk flour, baking powder, baking soda, and salt.
Then, in a separate large bowl, with a mixer on medium-high speed, beat 1/2 cup butter and sugar for 2 minutes or until light and fluffy; add eggs, 1 at a time, making sure each egg is fully incorporated before adding the next.
Next, add 3 tablespoons lemon juice, milk, and 1/2 teaspoon vanilla extract; beat for 30 seconds or until incorporated. Add flour mixture; beat for 2 minutes or until incorporated, scraping down the bowl occasionally.
Divide batter into prepared cups; bake 15 minutes or until toothpick inserted in center of cupcakes comes out clean. Cool cupcakes 10 minutes in pan on wire rack; transfer cupcakes to wire rack and cool completely.
In large bowl, with mixer on medium-high speed, beat cream cheese, powdered sugar, lemon zest, and remaining 1/4 cup butter, 1 tablespoon lemon juice and 1/4 teaspoon vanilla extract 2 minutes or until smooth. Makes about 1 1/4 cups.
Lastly, spread cupcakes with frosting; garnish with zest, if desired.
So, the next time you stop by your local Stater Bros. Market, pick up some delicious citrus fruits that are at the peak of their season!
The information contained in staterbros.com is presented for the purpose of educating consumers on citrus benefits. Always consult with your physician or qualified healthcare provider.