Lent season is here once again! For those who observe, it may pose a challenge to plan meals without red meat, poultry, and pork. Whether you're cutting out certain meat groups altogether for the season or you're going pescatarian, vegetarian, or vegan on Fridays; we've got you covered with fresh and new options for Lent. Also, we're adding in a few recipes and services we offer in the store to make your meal planning for the Lenten season even easier.
What is Lent?
Lent is a 40-day period of observation before Easter Sunday when Christians abstain from eating red meat and poultry as a form of penance and abstinence. It's common for many to "give up" something in addition to red meat and poultry; some common things that are given up include alcohol, sugar, and soda. However, even if you do not participate in Lent, we've still got plenty of delicious seafood and plant-based dishes to share with you.
When is does Lent start?
The start of the Lent season is different each year because it begins about 40 days before Easter Sunday, which falls on a different date each year. This Lent season begins on Wednesday, February 22, and will continue through Thursday, April 6. The beginning of Lent is marked by Ash Wednesday is concluded by Good Friday, the Friday before Easter Sunday.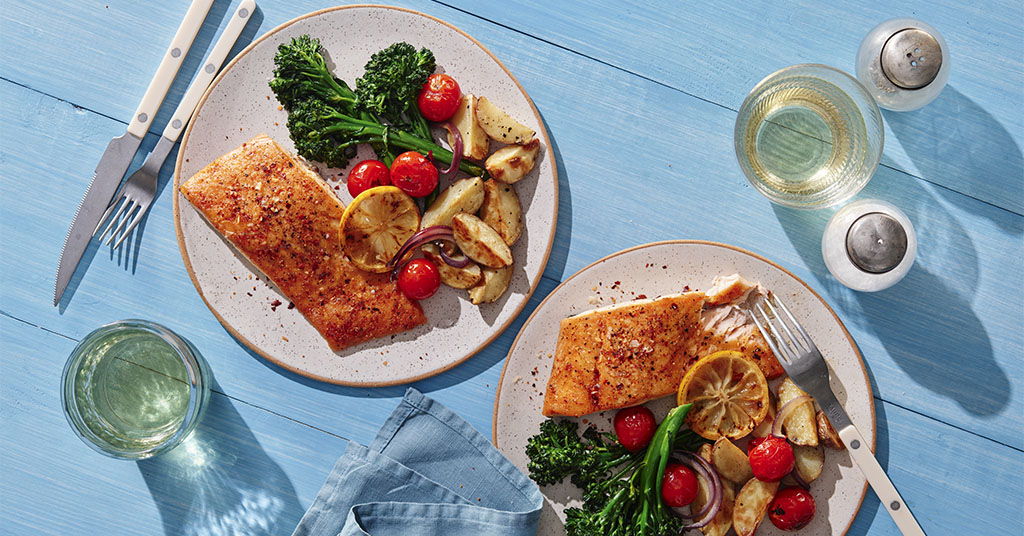 At our seafood counter, you can pick out your preferred cut of fish or lobster and we'll season and steam it for no additional charge. Also, if you're planning on cooking your seafood at a later time, ask us for a free microwavable steam bag. Each cut of fish and lobster will come out perfect and delicious every time!
Aguachiles are a traditional Mexican dish that's made with marinated seafood (usually shrimp) that's mixed with chili peppers like jalapenos and serranos, lime juice, and cilantro. It's typically served with thinly sliced red onions, cilantro, and cucumber. It's a perfect for a lent season lunch or dinner because it's made with made with fish or shrimp and fresh vegetables. Serve Aguachiles with crunchy Stater Bros. tortilla chips or round tostadas. Aguachiles are available and ready to go in our seafood department.
Vegan Cauliflower Aguachiles
Aguachiles can be made without fish or shrimp if you do not eat any type of seafood for the lent season! You can prepare the dish yourself with cauliflower, making this dish completely plant based. The cauliflower is perfect as it absorbs a lot of the flavor from the marinade, just like the shrimp and it retains its crunch, providing an excellent texture.
Ingredients:
1 small head of cauliflower
½ red onion
2 jalapeños
1 garlic clove
1 cucumber
½ of a cilantro bunch
8 limes
salt, to taste
Directions:
Julienne slice 1/2 a red onion. Place into a bowl and cover with cool water. To a blender add jalapeños, a clove of garlic, cilantro, the juice of 8 limes and a few pinches of salt. Blend until smooth. Remove cauliflower from ice bath. Add the rinsed red onion slices to the cauliflower. Add the blended cilantro lime juice mix to the cauliflower and onion, add salt to taste. Mix well and refrigerate for at least 30 minutes. Two hours is ideal.
When ready to serve, peel de-seed and slice cucumber and add to aguachiles. Serve with corn tostadas or chips.
Oyster mushrooms are a great alternative for meat during Lent, consider swapping them in your favorite meals. These delicious mushrooms are extremely versatile, as they contain lots of protein and because they mimic the texture and flavor of meat!
One of the best things about oyster mushrooms is how easily they can be added into dishes you already love. Whether you're cooking up a stir-fry, grilling them as a steak alternative, or sautéing them with garlic and herbs, they are a delicious addition to any meal. Due to their meat-like texture, oyster mushrooms can be shredded just like chicken or beef. They are also a great source of essential vitamins and minerals, including B vitamins, potassium, and phosphorus, making them a healthy choice for your Lenten diet.
For a quick and easy dinner, the always-ready Great American shrimp skillets are a go-to option. The shrimp are frozen immediately after being caught, peeled, and deveined, ensuring their freshness. With a range of flavors like gumbo, fajitas, and kung pao, these skillets are perfect for those days when cooking feels like too much work. Look for them in our frozen aisles.
If you haven't tried ceviche before, you're missing out! Ceviche is a classic Latin American dish that is made with fresh fish or shrimp, lime juice, cilantro, and onions. It's a perfect dish to have for Lent because it's light yet filling, healthy, and is only made with seafood. Find it at our seafood counter and serve it with fresh tortilla chips or tostadas.
You'd be surprised how flavorful plant-based proteins can be! Franklin Farms offers a wide variety of tofu, falafel, and other plant-based proteins that are delicious and easy to include in your meals. They also come in a wide selection of flavors like teriyaki, BBQ, and lemon pepper.
Looking for more recipes for Lent season? Visit our Vegan Recipes to Try for a Day or More blog for additional recipes you can cook all lent season long!