Unfortunately, vegan food has been given an unfair reputation. It's labeled as bland, unappealing, and unappetizing. However, we're proposing that it's the complete opposite. Including more fruits and vegetables in your meals add vibrant colors, enhances its texture, and makes it burst with flavors. Also, it's hard to argue that adding more plant-based foods to your diet is a sure way to ensure that you're eating all the nutrients you need for a well-balanced diet. So for November's World Vegan Month, we're challenging you to swap one of your meals or snacks for a vegan one. Or if you're up for the challenge, try eating vegan for a whole day – but we know it won't be too hard with these delicious recipes.
Veggie Tofu "Egg" Scramble With Crispy Potatoes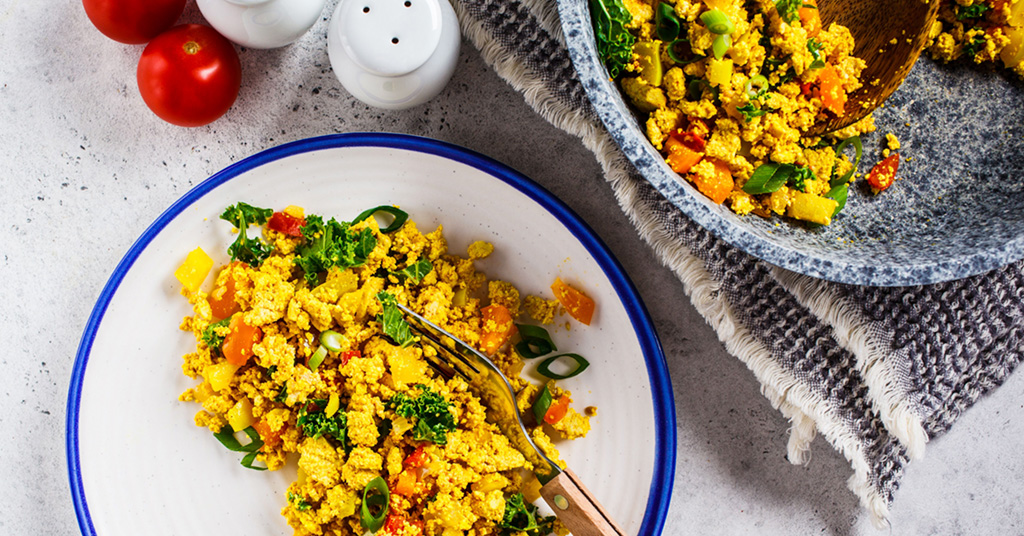 Crispy seasoned air fried potatoes, served with a filling and flavorful veggie scramble. Turmeric gives crumbled tofu the perfect yellow "egg" color.
Ingredients
1 block, extra-firm tofu crumbled
1 tbsp. neutral cooking oil
2 tbsp. water
1/2 tsp. cumin
1/2 tsp. chili powder
1/2 tsp. garlic powder
1 tsp. turmeric
1 tbsp. nutritional yeast
salt and pepper, to taste
1/2 small red onion, thinly sliced
1/2 red bell pepper, thinly sliced
1 1/2 cups spinach
salsa, for garnish
handful of fresh cilantro, chopped for garnish
1 bag of frozen, diced and seasoned potatoes
Directions
Using an air-fryer pre-heated to 350 degrees Fahrenheit, cook your potatoes until crispy on the outside and tender on the inside. Alternatively, you may pan fry the potatoes with a bit of neutral cooking oil. To a deep-sauté pan, heat neutral cooking oil over medium-high heat and add onions, peppers, spinach, salt and pepper and cook until slightly tender. Scoot the veggies to one side of the pan, add the crumbled tofu, and dissolve the spices in water then add to the tofu. Thoroughly mix and continue cooking for a few minutes until tofu is heated through and veggies are cooked. Serve tofu scramble with a side of crispy potatoes and garnish with your favorite salsa and cilantro as garnish.
Mediterranean Grain And Hummus Bowl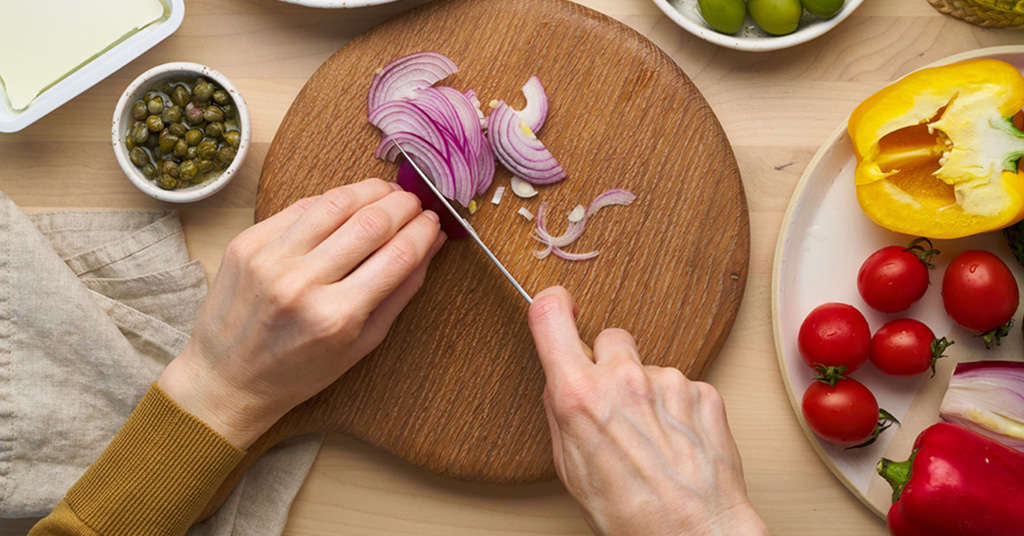 Garlicy yellow turmeric rice, freshly chopped Greek salad, crispy crunchy chickpeas, and topped with a super easy to make lemon tahini dressing. You might be making this lunch more than once! (Great for meal prepping by the way.)
Ingredients
Garlic and turmeric yellow rice
1 1/2 cups jasmine rice
2 tsp. turmeric powder
1/2 tsp. garlic powder
3 cups vegetable broth
salt and pepper to taste
Greek salad
1/2 cucumber, diced
2 roma tomatoes, diced
1/4 red onion, diced
1/3 cup pitted kalamata olives, cut in half
Olive oil, to taste
Red wine vinegar, to taste
1/2 tsp. cumin
1/2 tsp. chili powder
Roasted chickpeas
1 14 ounce can chickpeas, drained, rinsed, and dried
1/2 tsp. garlic powder
1 tsp. paprika
1 tsp. cumin
drizzle of olive oil
salt and pepper, to taste
Lemon Garlic Tahini Dressing
juice of half a lemon
1/4 cup tahini
1 clove of garlic, grated or finely minced
1 tbsp. extra virgin olive oil
1 tbsp. agave syrup
1 tsp. sesame oil
1/4 tsp. salt.
1/4 tsp. smoked paprika
2-3 tbsp. cold water
Garnishes:
hummus
pita bread or pita chips
lemon slices
Directions
Start by cooking the jasmine rice, to a small stockpot add all the ingredients and mix together. Cook over a medium-high flame until it starts to boil, then lower the heat, cover the pot with a lid, bring it to a simmer and finish cooking until rice is tender. Set aside. In a mixing bowl, combine the chopped vegetables and olives. Season with cumin, salt, pepper, chili powder, olive oil, and red wine vinegar. Mix well and set aside. In a bowl, season the chickpeas with the seasoning above and drizzle a nice amount of olive oil. Mix together until fully incorporated and roast on a sheet pan in a 350 degree Fahrenheit oven until they're golden in color and crunchy. Make the lemon garlic tahini dressing by whisking all the ingredients except for the water. To reach your desired consistency for the dressing, slowly add in the water and whisk. Assemble your bowl by layering the ingredients, starting with the rice, then Greek salad, chickpeas, and topping with the lemon garlic tahini dressing. Garnish with hummus, fresh sliced lemon's juice, and enjoy with pita bread.
Mushroom "Carne Asada" Tacos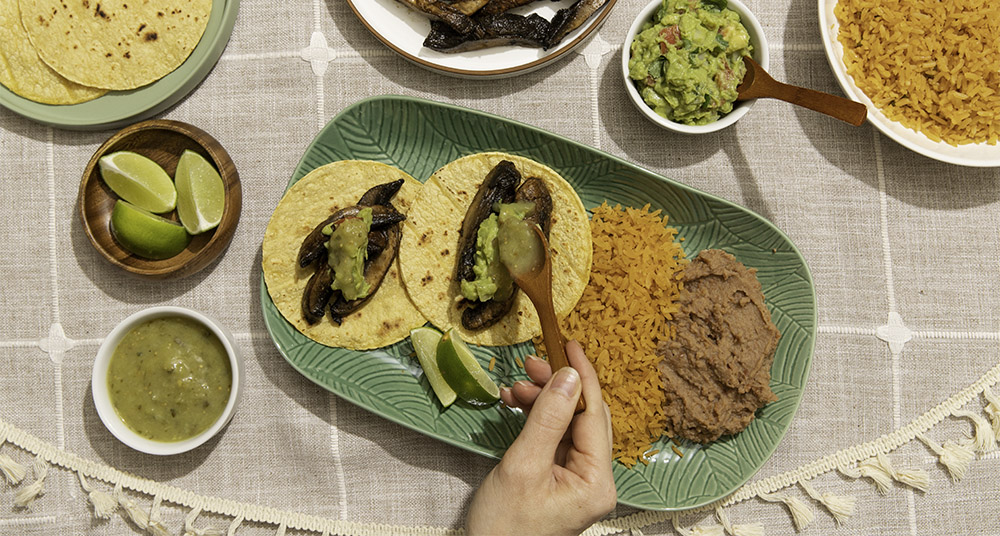 Marinated strips of portabella mushrooms give this taco plate the perfect meaty flavor. Serve alongside beans and rice for the perfect dinner.
Ingredients
Mushroom 'Carne' Asada Marinade
1 pound portabella mushrooms, cut into 1 inch strips
juice of half an orange
juice of 1 lime
2 tbsp. soy sauce
salt and pepper, to taste
1 tsp. chili powder
1 tsp. cumin powder
1 tsp. paprika
1 tsp. garlic powder
1 tbsp. olive oil
Mexican Red Rice
1 1/2 cups jasmine rice
1 tbsp. neutral cooking oil
1 small white onion, chopped and divided
3 roma tomatoes
4 garlic cloves
1 tbsp. vegetable bullion
1 tbsp. tomato paste
2 cups vegetable stock
1 jalapeño, slightly cut down the middle
handful of fresh cilantro
1 lime
Refried Pinto Beans
1 28 ounce can Stater Bros. pinto beans, half drained
3 chiles de arbol
1/4 cup minced white onion
2 cloves garlic, minced
1 tsp. cumin
1 tbsp. neutral cooking oil
Salt, to taste
Garnishes
warmed corn tortillas, for assembling
guacamole
salsa
diced onion
chopped cilantro
lime wedges
Begin by marinating the mushrooms in a large bowl with all of it's corresponding ingredients and allow to marinate at least 15 minutes. Cook the mushrooms on a hot skillet over medium high-heat until tender, making sure to char slightly and set aside. In a pot, heat oil over medium high heat and add the rice, toasting until it begins turning a golden color. Add half of the onion and keep cooking until they're soft. Using a blender, puree the tomatoes, other half of the onion, garlic cloves, tomato paste, and vegetable bullion. Add the puree to the rice along with the vegetable stock, and mix well. Then add the jalapeño and cilantro on top, bring the rice to a boil and then reduce to a simmer. Cover with a lid and cook until rice is tender, squeeze the lime over it once it's complete. To make the pinto beans, heat oil in a saucepan over medium heat and sauté white onion until it's tender. Add the cumin, salt, and chiles and toast them. Add in the beans and smash with a potato smasher until smooth. Mix well and cook until the beans reach the desired consistency. Assemble the tacos with desired amount of mushrooms, topping with cilantro, onion, salsa, and guacamole. Serve alongside lime wedges, beans, and rice.
Accidentally Vegan Snacks
You'll be surprised how many snacks are accidentally vegan. Here are a few of our favorites.
Sabra Hummus (original, roasted garlic, roasted red pepper, and roasted pine nut flavors) – enjoy with your favorite pita chips, pretzels, or veggies.
Justin's Dark Chocolate Peanut Butter Cups – rich dark chocolate with a smooth peanut butter center!
Popchips BBQ Flavor – light, crispy, and satisfying air popped potato chips.
Vegan Banana Split
An easy to make and easy to eat banana split. Just assemble as little or as big as you'd like and enjoy!
Full Circle Non-Dairy Ice Cream (all flavors are vegan!)
Raspberry Cheesecake
Sea Salt Caramel
Chocolate Almond Crunch
Strawberry with Chocolate Flakes
Sliced Bananas
Reddi Wip Non-Dairy Whipped Cream
Stater Bros. Nut Topping
Stater Bros. Maraschino Cherries
Hershey's Chocolate Syrup
Interested in more vegan recipes? Read our plant-based recipes for everyone blog.