For football fans, the most exciting day of the week is game day, especially if a football watch party is being planned! If you've ever hosted a watch party or gone over to a friend's party, you know that appetizers are an essential part of the experience. Not only do you get to cheer on your favorite team, you get to do it with your friends and share delicious appetizers. So which appetizers get the crowd cheering at a football watch party? Here are some of our favorites.
Chili Con Queso Dip
Add some heat to your game day snacking with our delicious chili con queso dip. It's perfect for dipping chips, crackers, and veggies or as a topping! This creamy and spicy blend of chili and cheese is sure to be a crowd-pleaser.
Ingredients:
1 white onion, diced
1 jalapeno, diced
3 serrano peppers, diced
3 Anaheim chiles, diced
12 oz. Stater Bros. Deluxe American cheese
4 oz. Stater Bros. sharp cheddar cubes
4 oz. Stater Bros. pepper jack cubes
2 Roma tomatoes, diced
3 garlic cloves, minced
1 lb. ground beef
1 12oz. can Stater Bros. evaporated milk
2 tsp. chili powder
1 tsp. garlic powder
1 tsp. onion powder
1 tsp. salt
1/4 tsp. cumin
1/4 tsp. black pepper
2 tbsp. avocado oil
Directions:
Over medium-high flame, heat a cast iron skillet and add avocado oil. Sauté the jalapeno, serrano, onion, and bell peppers until the onions are browned. Then add garlic and continue sautéing for an additional 30 seconds. Add the ground beef and all the spices including salt, and continue cooking until beef is cooked through. Remove from pan and set aside. Using the same pan, add the evaporated milk, all the cheeses, and diced tomatoes. Reduce the flame to low, and stir until the cheese is melted and incorporated. Then finally, add in the beef and vegetable mixture back to the skillet, stir to combine and finish it by bringing the queso to a slight bubble.
Grilled Sriracha-Lime Shrimp Skewers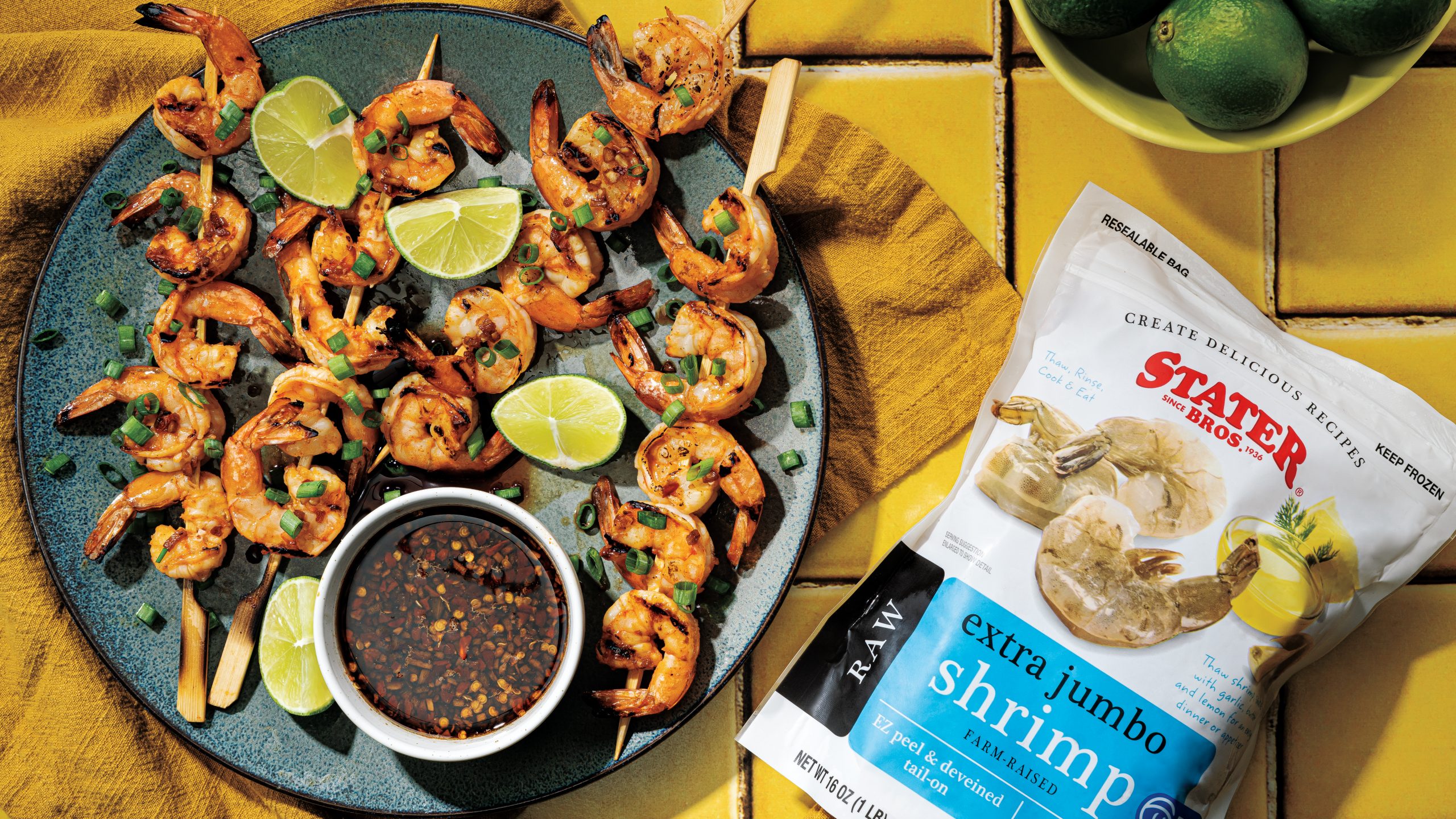 Sriracha-Lime Shrimp Skewers are a delicious and easy option for a football game day watch party appetizer. These skewers are packed with flavor, featuring juicy shrimp marinated in sriracha, lime juice, and brown sugar. They can be grilled to perfection in just a few minutes, making them a great option for feeding a large crowd. Serve the with an amazing garlic and soy dipping sauce and enjoy while cheering on your favorite team!
Ingredients:
1/4 cup fresh lime juice
2 tablespoons brown sugar
2 tablespoons sriracha chili sauce
1/2 teaspoon lime zest
1 pound Stater Bros. raw 16-20 jumbo shrimp, thawed if necessary, shelled and tail shells removed
Nonstick cooking spray
4 wood skewers
2 garlic cloves, minced
1/4 cup Stater Bros. less sodium soy sauce
1/4 cup rice vinegar
2 teaspoons sesame oil
1/2 teaspoon granulated sugar
1/4 teaspoon Full Circle Market organic crushed red pepper
thinly sliced green onions and lime wedges for garnish
Directions:
In small bowl, whisk lime juice, brown sugar, sriracha and zest. Place shrimp in large zip-top plastic bag; pour lime juice mixture over shrimp. Seal bag, pressing out excess air; massage shrimp in bag to coat. Refrigerate 1 hour. Prepare outdoor grill for direct grilling over medium-high heat; soak skewers in water 20 minutes. Remove shrimp from marinade; discard marinade. Thread shrimp onto skewers; spray both sides of skewers with cooking spray. Place skewers on hot grill rack; cover and cook 5 minutes or until internal temperature of shrimp reaches 145°F, turning once. In small bowl, whisk garlic, soy sauce, vinegar, oil, granulated sugar and crushed red pepper until sugar dissolves. Serve shrimp with soy dipping sauce garnished with onions and lime wedges.
Buffalo Chicken Sliders
Buffalo chicken sliders are the perfect game day snack. They're packed with bold flavor, easy to eat, and sure to be a crowd-pleaser. These sliders are made with spicy buffalo sauce and tender shredded chicken, all nestled on a toasted slider bun, and topped with crumbled blue cheese. They are perfect for game day parties, tailgates, or any casual gathering. Serve them with celery and ranch dressing for a satisfying and delicious addition to your game day spread.
Ingredients:
1 Cleo & Leo rotisserie chicken, shredded
3/4 cup Sweet Baby Rays buffalo wing sauce
1/2 cup Stater Bros. ranch dressing
1 1/2 cups Stater Bros. shredded mozzarella cheese
12 ct. Kings Hawaiian Sweet Rolls
Melted butter, for brushing
Directions:
Preheat oven to 350 degrees. Shred the rotisserie chicken. In a medium bowl, combine the chicken, buffalo sauce and ranch dressing. Keeping the rolls connected, slice them carefully, creating a top and bottom. In a baking pan, or on a rimmed baking sheet, place the bottom half of the rolls and sprinkle on a layer of the cheese. Add the buffalo chicken mixture and spread evenly. Top with the remaining cheese. Brush the top of the rolls generously with melted butter. If desired, add Italian seasoning, salt, and pepper. Bake in the oven for about 15 minutes. If you prefer a more toasted bun, do not cover. Otherwise, place foil over the rolls and remove for the last 5 minutes of cooking.
Cheesy Garlic Knots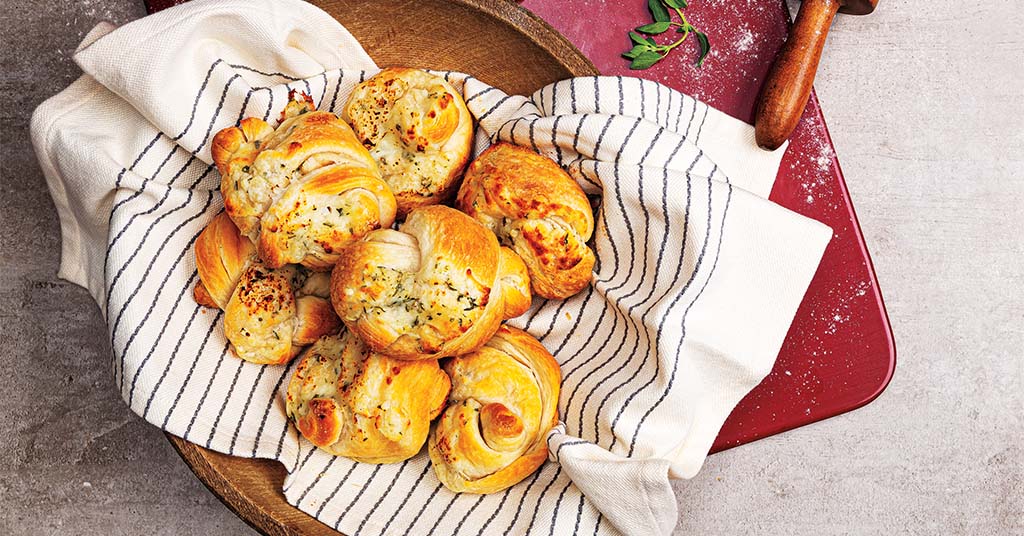 Pillowy soft and filled with a mozzarella, parmesan, and garlic herb butter mixture; these easy to make garlic knots will be your team's new favorite football food. They're also very easy to eat with one hand, leaving the other hand free for drinks and high-fives! Save time on game day by preparing them in advance, popping them into the fridge or freezer, and bake them before the game starts. They're best served hot with your favorite marinara sauce as a dip.
Ingredients:
Nonstick baking spray
1/2 cup Full Circle Market Organic Finely Shredded Low-Moisture Part-Skim Mozzarella Cheese
1/2 cup Full Circle Market Organic Sweet Cream Unsalted Butter, softened
1/4 cup grated Parmesan cheese
1 tablespoon Stater Bros. Minced Garlic
1 teaspoon chopped fresh oregano
1 teaspoon chopped fresh thyme
1 can (16 ounces) jumbo buttermilk biscuits
Directions:
Preheat oven to 375°F. Line rimmed baking pan with parchment paper; spray with baking spray. In large bowl, stir mozzarella cheese, butter, Parmesan cheese, garlic, oregano and thyme. Makes about 1 cup. On floured work surface, flatten each biscuit to 1/4-inch thick with hands or rolling pin; spread each with 1 1/2 tablespoons cheese mixture. Fold biscuits in half to enclose cheese mixture; roll each biscuit into an 8-inch-long rope and tie each into a knot. Place knots on prepared pan; top with remaining 1/4 cup cheese mixture. Bake knots 15 minutes or until golden brown.
Air Fryer Chicken Taquitos
These air fryer chicken taquitos are the perfect food for a football game day watch party! These delicious and crispy taquitos are made with tender shredded chicken and cheese, rolled in a crispy corn tortilla and cooked to a crunchy perfection in an air fryer. They are easy to make, and a healthier alternative to traditional deep-fried taquitos. Serve them with your favorite dipping sauce and enjoy while cheering on your favorite team!
Ingredients:
1 tablespoon olive oil
1 garlic clove, minced
1/4 cup finely chopped white onion
2 tablespoons finely chopped jalapeño pepper
2 cups shredded rotisserie chicken meat
3/4 teaspoon salt
3/4 teaspoon ground black pepper
1 large avocado, peeled, pitted and chopped
2 tablespoons chopped fresh cilantro
1/2 cup Stater Bros. sour cream
1 tablespoon fresh lime juice
16 corn tortillas
1 bag Full Circle Market shredded Monterey jack cheese
nonstick cooking spray
Directions:
In a large skillet, heat oil over medium heat. Add garlic, onion, and jalapeño; cook for 5 minutes or until tender, stirring frequently. Transfer to a large bowl; fold in chicken, and 1/2 teaspoon each salt and black pepper. In a small bowl, mash avocado with a fork; stir in cilantro, and the remaining 1/4 teaspoon of salt and black pepper. In a separate small bowl, stir sour cream and lime juice. Makes about 3/4 cup avocado mixture and 1/2 cup sour cream mixture. In batches, on a griddle or in a large skillet, cook tortillas over medium-high heat for 4 minutes or until lightly browned, turning once. Cover to keep warm.
Preheat 3.3-quart or larger air fryer to 400° for 5 minutes. Place 2 tablespoons cheese and 2 tablespoons chicken mixture on the bottom half of each tortilla; starting at the bottom, tightly roll up tortillas around the filling and spray with cooking spray. In batches, air fry roll-ups, seam side down, in a single layer for 4 minutes or until tops are golden brown; turn and cook 3 minutes or until crisp. Serve taquitos with avocado and sour cream mixtures.
Ready To Eat Game Day Appetizers
Want to just sit back, relax, and watch the game? Let us handle the cooking! Our service deli and fresh cut station have amazing appetizers that are always ready to go whenever you are. Also, our Crav'n snacks are always a favorite choice!
Crispy and crunchy, these potato chips always make an appearance at any game day party! Whether you have them solo or enjoy them with a dip, we're sure all your game day guests will love them!
Crispy, fried to perfection, and always hand-breaded. Cleo and Leo's famous fried chicken is a tasty and hassle-free option for game day football watching parties. Our fried chicken is cooked throughout the day so it's always juicy and fresh, no matter what time you pick it up. Serve with your favorite sides.
Our service deli is also cooking up fresh and hot chicken wings! A great addition to any football party spread, just serve with your team's favorite dipping sauce, carrots, and celery.
Avocados, lemon juice, pico de gallo, and salt are mixed together by hand every day to make our fresh guacamole. We know it's going to be a hit at your party! Use it as a topping or simply scoop some up with our tortilla chips.
Who can say no to freshly made potato wedges? Think of them as French Fry's big brother, they're thick-cut, crispy, and super dippable.
Loaded with pepperoni, sausage, red and green peppers, onions, and black olives; this pizza will be the star of the show! Everyone will love bite after cheesy bite. The best part is, all you need to do is put it in the oven for just a few minutes.
Now that you've got your appetizers planned, it's time to think about the main course! Read more about our Gourmet Burger Patties, we're sure they'll be a game changer at your party.