Full of summer-ripened goodness, these plant-based summer recipes are the perfect opportunity to add healthy fruits and vegetables to your BBQ. Whether you're vegan or not, these dishes pack plenty of flavor we're sure everyone will enjoy. So next time you gather your friends under the summer sun, consider adding a plant-based dish full of vibrant fruits and vegetables for a healthier meal.
Cucumber Salad with Chili Oil
Crunchy, spicy, and full of delicious flavor! This cucumber salad with chili oil is super easy to make. Chop or slice cucumbers, whichever is easiest.
Ingredients:
6 mini cucumbers
1 Tbsp. salt
4 Tbsp. rice vinegar
soy sauce to taste
½ Tbsp. sugar
2 cloves garlic
chili oil to taste
How to:
1. Wash and cut ends off of cucumbers.
2. Practice your knife skills and make diagonal cuts, being sure not to slice all the way through. 
3. Repeat on the other side then cut into thirds.
4. Mix cucumbers with salt and water and let rest for 15 minutes.
5. Rinse cucumbers twice with water. 
6. Add rice wine vinegar, soy sauce, sugar, and garlic then mix well.
7. Marinate in the fridge for 30 minutes to 1 hour.
8. Drizzle with chili oil and dig in.
Recipe by @derekkchen on Instagram and TikTok
BBQ Tempeh "Ribs"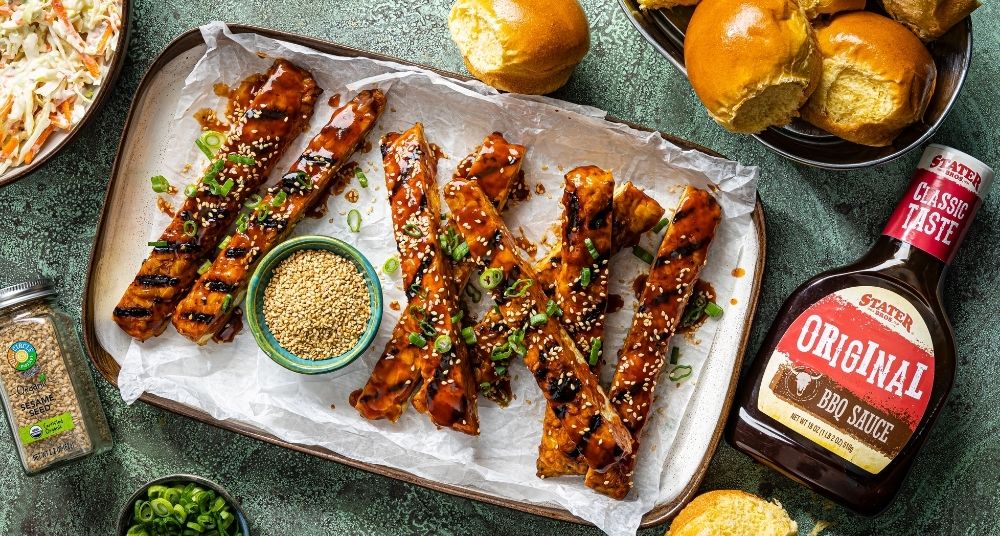 So good, even the most carnivorous of your friends will be going back to seconds. Adding the final sprinkle of sesame seeds adds a nice nutty flavor. Watch the recipe video here.
Ingredients:
2 packages (8 ounces each) tempeh
½ Cup Stater Bros. Original BBQ Sauce
2 green onions, thinly sliced
½ Tbsp. Full Circle Market Organic Sesame Seeds
Directions:
1. Prepare outdoor grill for direct grilling over medium-high heat.
2. Brush both sides of tempeh with ¼ Cup barbeque sauce.  
3. Place tempeh on hot grill rack; cover and cook 8 minutes or until grill marks appear, turning once.
4. Transfer tempeh to cutting board; cut lengthwise into ¾"-thick pieces. Makes 8 "ribs."
Vegan Aguachiles Verdes
Cauliflower acts as a perfect replacement for shrimp. Light and zesty, you'll love it scoop-after-scoop.
What you'll need:
1 small head of cauliflower
½ red onion
2 jalapeños
1 garlic clove
1 cucumber
½ of a cilantro bunch
8 limes
salt to taste
How to:
Wash cauliflower and cut into small bite-sized chunks. Blanche the cauliflower for about 2-4 minutes, until tender. Transfer cauliflower to an ice bath. Julienne slice ½ a red onion. Place into a bowl and cover with cool water.
Add jalapeños, a clove of garlic, cilantro, the juice of 8 limes and a few pinches of salt to a blender and puree until smooth. Remove cauliflower from ice bath.
Add the rinsed red onion slices to the cauliflower. Add the blended cilantro lime juice mixture to the cauliflower and onion, add salt to taste. Mix well and refrigerate for at least 30 minutes (two hours is ideal).
When ready to serve, peel, de-seed and slice cucumber and add to aguachiles. Serve with corn tostadas or chips.
If you add any of these salads to your next BBQ, tag us on our social accounts, we'd love to see them! Looking for more recipe inspiration? Check out our Top 4 Summer Salad Recipes and 5 Frozen Treat Ideas for Kids and Adults blog posts.