The fall season lends some really delicious flavors ranging from sweets to stews and everything in-between. However we'll admit, finding something to make that makes you feel cozy inside without pumpkin may pose a challenge nowadays. These three pumpkin-free cozy fall meals will make you feel all warm and festive for those that favor pumpkin a little less than most. Cozy socks, fuzzy blankets, and binge-worthy TV shows not included.
Chicken Tikka Masala
Tender, yogurt-spiced marinated chicken breast pieces cooked in a rich and savory tomato-based sauce. Chicken Tikka Masala is a dished that's loved all around the world, with a spice mix that originated from India. Best served with hot garlic naan bread and a hefty helping of freshly made basmati rice.
Ingredients
Chicken Marinade

2 pounds boneless skinless chicken breast, cubed into 1 inch pieces
1 tbsp. garlic paste
1 tbsp. ginger paste
¼ cup plain Greek yogurt
1 tsp. kosher salt
½ tsp. pepper
1 tbsp. garam masala
1 tsp. chili powder
1 tsp. turmeric
1 tsp. paprika
2 tsp. cumin powder
Juice of ½ a lemon

Sauce

1 ½ cups heavy cream plus 2 tbsp. for garnish
kosher salt, to taste
pepper, to taste
1 tsp. turmeric
3 tbsp. tomato paste
2 ½ cups tomato sauce
1 red onion, finely diced
½ tbsp. garlic paste
½ tbsp. ginger paste
2 tsp. garam masala
1 tbsp. chili powder
1 tsp. turmeric
1 tsp. paprika
2 tsp. cumin
2 tbsp. neutral oil, butter, or ghee
handful of fresh cilantro, chopped
In a large mixing bowl, add the chicken along with all the marinate ingredients. Stir to combine, cover, and let marinate for at least one hour. In a heavy sauté pan, add preferred oil or butter and heat over medium-high heat. Par cook and sear the chicken cubes for 6 to 7 minutes, flipping halfway through and cooking in batches if necessary. Remove from the pan and set aside in a bowl. To the same pan with the remaining oil, add the onion, ginger, and garlic. Cook until the onions have slightly softened. Then, add all the spices (except cilantro) and tomato paste, cooking until the tomato paste deepens in color. To the tomato-onion mixture, add the tomato sauce and chicken, then bring it to a simmer. Add the cream and continue cooking for another 10-15 minutes until the chicken is fully cooked through. Adjusting seasoning if necessary. Top with cilantro and a drizzle of heavy cream for garnish. Serve with warmed naan bread and fresh basmati rice for a truly cozy fall meal.
Spicy Vodka Pasta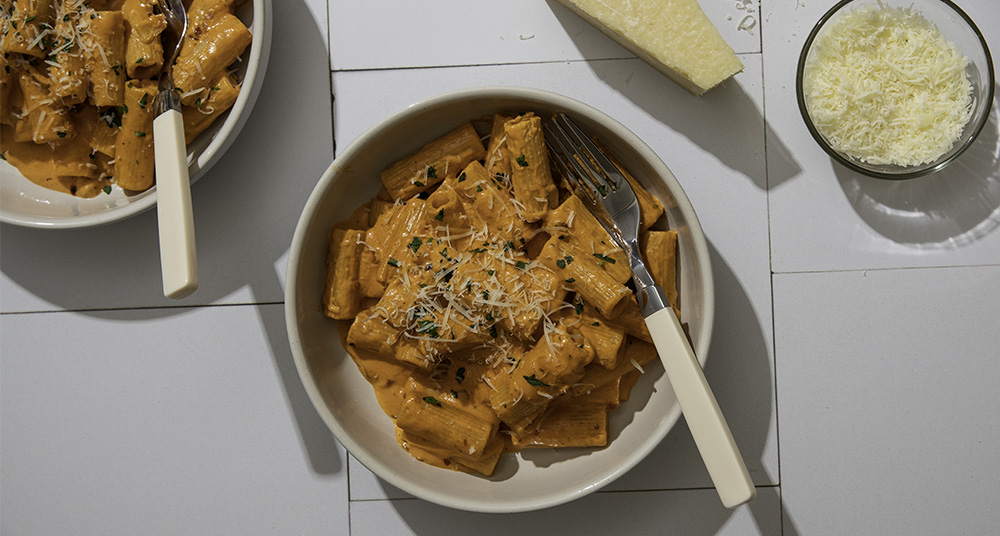 An American-Italian pasta dish that originated in New York. Its velvety, spicy, and rich flavor is mesmerizing. Best accompanied by a small mound of freshly grated parmesan cheese, a nice glass of red, and a slice of crusty baguette to mop up the sauce.
Ingredients
1 box of pasta, preferably rigatoni, orecchiette, or penne
½ red onion, finely diced
2 garlic cloves, whole
2 tbsp. extra virgin olive oil
1 ½ cups heavy cream
½ cup tomato paste
salt, to taste
fresh cracked black pepper, to taste
1 cup freshly grated parmesan cheese, divided
1 tsp. red pepper flakes
2 tbsp. unsalted butter
handful of fresh parsley, finely minced
1/2 tsp. dry oregano
¼ cup vodka
4 quarts of water
Directions
In a large stockpot, bring water to a rolling boil. Salt the water generously, cook the pasta al dente and reserve ¼ cup of pasta water. This step may be done simultaneously as you're cooking the sauce. In a large sauté pan heat olive oil over medium flame, add garlic cloves and cook for a few minutes to infuse the oil. Remove the garlic cloves once they reach a deep golden color crust. Add onions and salt, cooking them until they're slightly soft. Then add the crushed red pepper flakes, pepper, and oregano and sauté for an additional 30 seconds. Add in the tomato paste, stirring to incorporate it with the onion spice mixture and cook until the tomato paste turns into a deep red color. Deglaze the pan with vodka, scraping the sides and bottom and allowing the vodka's alcohol to fully cook through. Once the vodka reduces, add in the heavy cream and mix thoroughly until you reach a deep orange color. Add in the pasta, half of the cheese, pasta water, and butter to the sauce and mix to combine. Serve the pasta with a fresh topping of parsley and parmesan cheese, then head straight to the couch – the best spot to enjoy this cozy fall meal.
Chicken Tortilla Soup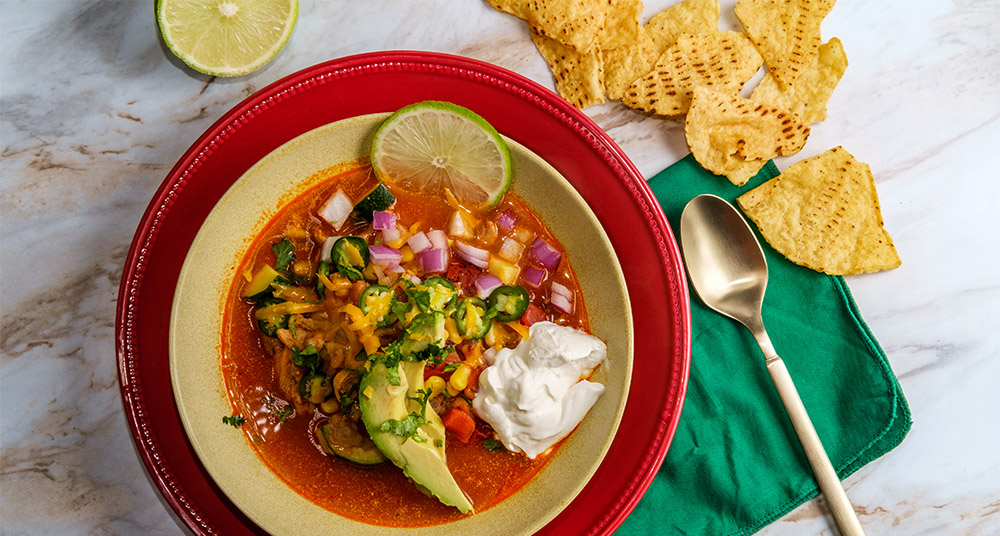 On a chilly night, not many can resist a warm soup filled with beans, chicken, cheese, and crunchy tortilla bits. Make sure you have some fresh sliced avocado and a dollop of sour cream on hand, they pair perfectly with this soup.
Ingredients
2 ½ cups shredded rotisserie chicken
1 small yellow onion, diced
1 red bell pepper, diced
2 Jalapeños, minced
3 tbsp. extra virgin olive oil
3 garlic cloves, minced
1 14 ounce can Stater Bros. sweet corn, drained
1 small can of chipotle peppers, diced
1 14 ounce can Stater Bros. diced fire roasted tomatoes
1 14 ounce can black beans, drained
1 48 ounce carton Stater Bros. chicken stock
Freshly fried corn tortilla strips, or pre-made tortilla chips
Cilantro bunch, divided and chopped
Limes, halved
Shredded sharp cheddar or monterey-jack cheese
1 tsp. chili powder
1 tbsp. paprika
2 tsp. cumin
1 tsp. oregano
Salt, to taste
Pepper, freshly ground to taste
1 avocado, sliced for garnish
Directions
In a large stockpot, heat olive oil over medium high heat. Once the olive oil is hot, add onion, garlic cloves, bell pepper, and Jalapeños. Add a sprinkle of salt and sauté until onions are slightly translucent and peppers are soft. To the pot add chili powder, paprika, cumin, oregano, and ground pepper. Stir to combine and bloom the spices. Continue cooking and add the chicken stock to de-glaze the pot, stirring and scraping up the bits at the bottom. Add the chicken, corn, beans, tomatoes, chipotle peppers, half of the cilantro, and a whole squeezed lime. Bring to a boil and then reduce to a simmer and cook for another 15 minutes. Serve the soup in a large bowl garnished with shredded cheese, sliced avocado, a dollop of sour cream, tortilla strips, cilantro, and lime.
Now that you have a few good recipes for fall, decorate and set up your dinner table with this festive pumpkin floral arrangement perfect for any gathering big or small.