Summer is finally here! And while you may want to relax, it's not exactly easy to do so. Since it's summer, the kids are now home from school; hungry and bored. How do you entertain them under the scorching sun? A pool party! It's too hot to cook inside, so that means it's summer grilling time! Put on your best apron and flip-flops, here's everything you need for a Grill N Chill BBQ.
Prepare for Fun in the Sun
When planning a pool party, you want to make sure only your food gets barbecued, not you. No one likes sunburns! So, make sure you stock up on sunscreen that is at least 30 SPF to prevent damage to your skin. To combat the pain from sunburns, you can use all-natural aloe vera. Just slice into patch-like slices and apply to the burnt area to soothe the pain. Aloe vera helps heal the potential damage to your skin while providing relief. If you don't want to buy and prepare the aloe vera, there's also an after sun soothing gel made with aloe vera.
BBQ Must-Haves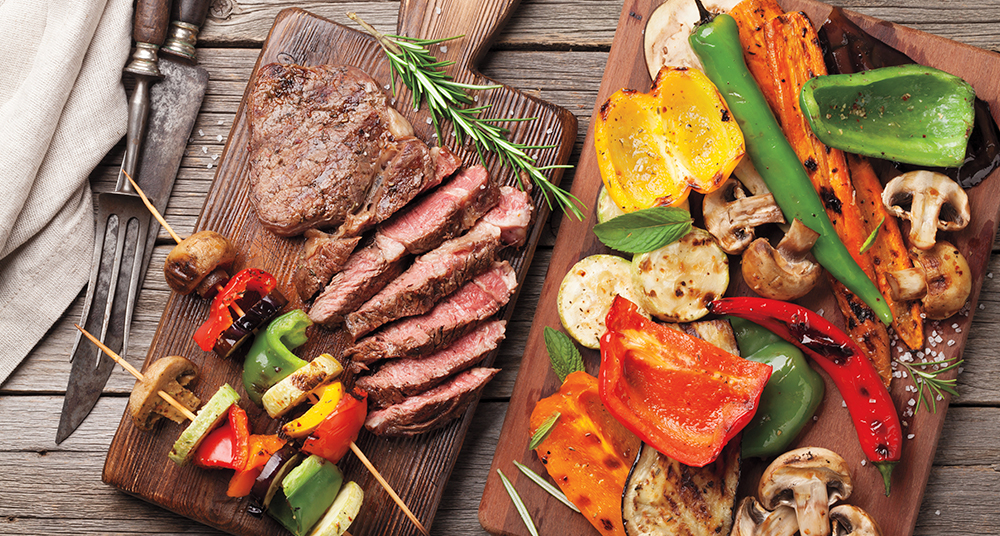 Whether you're hosting a barbecue or attending a cookout, summer is the perfect time to fire up the grill. From grilled kabobs to steak, try these barbecue must-haves at your next pool party.
Skewers are perfect for summer; they are easy and fun to prepare. For this recipe, you'll need bell peppers, mushrooms, chicken, onions, and zucchini. You'll also need skewers that you can find in the cooking supply aisle. Start by dicing your ingredients into equally sized pieces and placing them onto the skewers. With the kabobs assembled, season them with your favorite seasoning blend of choice. Then cook your kabobs on the grill for 12 – 15 minutes, flipping them halfway through.
Hot Dogs & Hamburgers
The dynamic duo of hot dogs and hamburgers should always be a part of a summer BBQ. They not only taste great, but they cook fast enough to make a lot for your whole party. Want your burgers to be more memorable? Try our gourmet burger patties, they all have their own unique flavor, that is sure to WOW the crowd. Put them together with St. Pierre's Hamburger Buns and you are sure to have your guests asking for seconds.
Grilled Steak
A steak is a great option for any dinner, but it tastes best when it's grilled. There are plenty of cuts of meat to purchase at the meat counter, but you should specifically use flap meat when serving multiple people. With flap meat, you can make Carne asada, which is a thin cut of steak in a marinade with cilantro and lime juice. Carne asada is best used to serve multiple people at a party and is traditionally served chopped in corn tortillas as tacos.
Setting Up The Ice Chest
There's nothing worse than hot drinks on a hot day. So before you leave the store, make sure you pick up a couple of bags of ice! When preparing your ice chest, you want to make sure you place the drinks first before the ice. This will allow the drinks to be fully covered in the ice to properly chill the drinks. Make sure you carry a variety of drinks for your guests to choose from. If you plan on making custom drinks or mixed drinks, make sure you get a separate bag of ice so you don't have to use the ice from the ice chest.
We hoped you enjoyed our list of everything you need for a backyard pool party. Don't forget to tag us on social media, so we can see how you're spending your grill n chill summer.