Thanksgiving is a cherished holiday, filled with gratitude and togetherness. However, it's no secret that the cost of hosting a Thanksgiving dinner can add up quickly. The good news is that you don't have to break the bank to enjoy a delicious and memorable Thanksgiving feast. In this guide, we'll explore smart shopping tips, affordable meal ideas, turkey dinner alternatives, and easy, budget-friendly side dishes to help you celebrate Thanksgiving without the financial stress.
Smart Shopping Tips for a Cost-Effective Thanksgiving
Plan Ahead: Start by creating a detailed shopping list well in advance. This will help you stay organized and stick to a budget.
Set a Budget: Speaking of budgets, determine how much you're willing to spend on your Thanksgiving dinner and stick to it. In the Stater Bros. Markets Mobile App, you can create a shopping list ahead of time to see what your total will be in-store.
Coupons and Discounts: Keep an eye out for coupons, sales, and discounts on our Weekly Ad page!
Our Family of Brands vs. Name Brands: Consider opting for our family of brands when possible. They are just as good as name brands but often come with a lower price tag. And if you're not satisfied with one our products, you can always return it no questions asked.
Buy in Bulk: Purchase non-perishable items in bulk, such as canned goods or spices, to take advantage of lower unit prices.
Frozen vs. Fresh: Frozen vegetables and fruits can be a cost-effective alternative to fresh produce, and they often have a longer shelf life.
Affordable Meal Ideas for a Delicious Thanksgiving Dinner
Explore creative yet budget-friendly meal options such as succulent roast chicken or getting the whole family involved by hosting a potluck-style gathering. You can still savor the essence of Thanksgiving without sacrificing flavor or your financial peace of mind.
Instead of a large turkey, consider roasting a chicken. It's a budget-friendly alternative that can be prepared similarly to your favorite turkey recipe.
Soup and Salad: Offer a selection of homemade soups, accompanied by a hearty salad with seasonal ingredients for a light yet satisfying meal.
Baked Potato Bar: Set up a baked potato bar with toppings like sour cream, cheese, chives, and bacon bits for a simple yet comforting dinner option.
Meatless Casseroles: Explore meatless casseroles featuring ingredients like lentils, beans, or tofu, combined with vegetables and spices for a nutritious and affordable feast. Looking for casserole recipes? Check out our collection of casserole recipes in our blog!
Make Your Family Gathering a Potluck: Encourage guests to bring their favorite side dishes or desserts to share the cooking responsibilities and reduce costs.
Focus on Budget-Friendly Sides: Focus on inexpensive side dishes like mashed potatoes, green bean casserole, and homemade stuffing.
Homemade Gravy: Making your own gravy from scratch is not only delicious but also more cost-effective than buying pre-made gravy.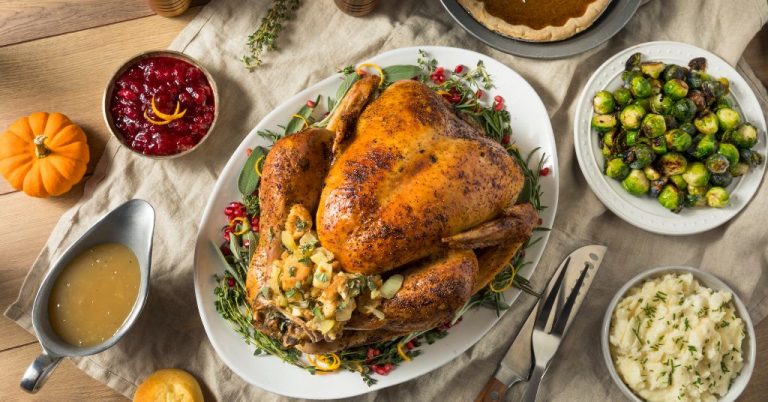 Let Us Handle The Holiday Cooking!
Simplify your holiday cooking, by getting one of our premade holiday dinners. They serve up to 6 people each and only take 2 to 3 hours to heat up.
More Turkey Dinner Alternatives
Consider delightful alternatives like a pork roast, glazed ham, or a convenient rotisserie chicken to keep your Thanksgiving dinner budget friendly. Don't be afraid to experiment with ground meat dishes for a unique and economical twist on your holiday feast.
Pork Roast: A well-seasoned pork loin roast or shoulder can be both flavorful and friendly to your wallet.
Ham: Glazed ham can be the star of your Thanksgiving meal and is often less expensive per serving than turkey.
Rotisserie Chicken: If you have a smaller group to feed, a rotisserie chicken can be a convenient and cost-effective choice.
Ground Meat Dishes: Get creative with dishes like meatloaf, meatballs, or a ground turkey casserole for a unique Thanksgiving twist.
Budget-Friendly Side Dish Ideas
Discover simple yet delightful side dish ideas like rice pilaf, herb-roasted vegetables, homemade cranberry sauce, and cornbread stuffing that won't break the bank. These wallet-conscious options will complement your main course without compromising on taste.
This simple blender hollandaise recipe with fresh herbs makes a luscious topping for steamed asparagus.
Make this classic comfort food side dish in an electric pressure cooker, like the Instant Pot, to get the potatoes soft and tender in a jiff! This easy, 5-ingredient recipe is perfect for the holidays because it's all done in one pot and doesn't take up any extra oven or stove space.
Use any multicooker or electric pressure cooker to make this classic Thanksgiving side dish. The sweet potatoes get perfectly tender and almost caramelized while cooking under high pressure, plus using your multicooker saves stovetop and oven space.
This holiday season, you can enjoy a fantastic Thanksgiving feast without stressing over your finances. By following these tips, you'll be able to create wonderful memories with loved ones while keeping your budget intact. Focus on what truly matters – quality time and gratitude – and have a delightful Thanksgiving!